From Mera Sultan to Nisa Sultan
Written by: Aleeza Rasool - Posted on: June 19, 2014 |

Comments | 中国 (Chinese)
Google Translation: اُردو | 中文

Nisa Sultan Express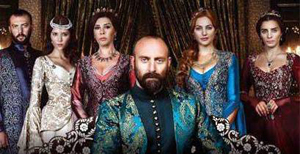 Mera Sultan
The last two years have witnessed an increasing fascination within Pakistan with everything Turkish, owing to the airing of popular Turkish dramas at prime time on a number of Pakistani drama channels. What began as an experiment by the channel Urdu 1 with Ishq-e-Mamnu (Prohibited Love) and Mera Sultan (My Sultan), soon became a trend for other channels to follow suit. Soon, there was a huge proliferation of Pakistani channels playing their own collections of Turkish dramas. Inevitably, Turkish dramas too had their share of influence over their viewers, affecting their taste not only in fashion but also in jewellery and cuisine. And while various jewellers and boutiques within Lahore have tapped onto this demand for Turkish fashion, a Turkish restaurant chain under the name of Nisa Sultan has met Lahore's demand for Turkish food.
Located on one of the busiest roads of the city, the M. M. Alam, the restaurant has, within a period of two months, gained extreme popularity amongst the food-loving folks of Lahore. Despite being smaller in comparison to many other restaurants on the M. M. Alam, it offers a fun environment with a live kitchen offering its customers the chance to witness the preparation of their much-loved Turkish food. Durum Doner, Tombik Doner, Tavuklu Kasarli Pide, Tam Karisik Pide, Sekerpare, Revani are some of the exotic names listed on the menu. To make things easy, the menu offers details regarding what each item listed on it entails, hence making the selection much easier for its non- Turkish-speaking clientele. There is a great variety of Turkish Doner Kebabs, Pides (Pizzas), drinks and deserts to choose from, with delicious Turkish sauces that the restaurant exclusively prepares. The food is evidently healthy, light, comprises different sets of flavours, and involves different styles of cooking and preparation.

Porsiyon Doner (Doner Platter) Tavuklu Kasarli Pide (Chicken Cheese Pizza)
According to Mr. Asif Ali, the manager at Nisa Sultan, the restaurant maintains a totally classic and healthy approach to traditional Turkish cuisine and aims to provide its customers with the best quality Turkish food, prepared in the most healthy and hygienic manner. He related that Mr. Safa, a Turkish entrepreneur, opened the first Nisa Sultan restaurant in the year 1989 in Berlin, followed by restaurants in Turkey, Iran, Afghanistan and now Pakistan. Mr. Ali explained that in order to make the food more special, authentic and standardized across all restaurants, the veal and the chicken fillets used at Nisa Sultan are imported directly from Germany.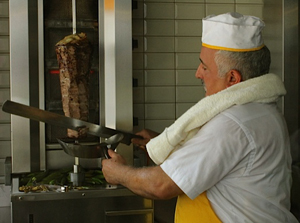 Head Chef
While one sits waiting for, or enjoying, one's food at Nisa Sultan, one can spot a middle aged Turkish cook busy slicing the chicken and veal fillets into thin strips. His expertise, his speed and his effortless preparation of the pita, make it obvious that he is the Head Chef and trainer of the rest of the cooks at the restaurant. Mr. Ali related that, "Despite Lahore's scorching heat, which he isn't used to, our Head Chef is very glad at the response that the restaurant is getting and feels very happy when people compliment him on the work he is doing. Customers are particularly happy with our food and service and we hardly are devoid of customers during anytime of the day."
With more than a dozen large restaurant chains adorning it on both sides, the competition amongst restaurants on the M. M. Alam is immense. Hence, in order to sustain the good reputation and popularity that it has acquired within a very short span of time, Nisa Sultan would have to continue to offer people great food and be highly competitive in terms of its services and prices. We at Youlin wish Nisa Sultan the very best of luck!
You may also like: