PROFILE: INTERVIEW WITH WANG QIANTING - Part I
Written by: Aiza Azam - Posted on: September 10, 2012 |

Comments | 中国 (Chinese)
Google Translation: اُردو | 中文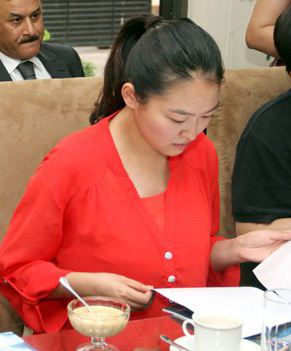 Wang Qianting was an Islamabad based correspondent for China Radio International, who has recently returned to China, after having completed a three-year tenure. Before her departure, she agreed to an interview with Youlin.

Wang Qianting, known to her friends by her Pakistani name, Musarrat, is a native of Suzhou but is based in Beijing. A graduate of the Communication University of China, with a four year major in Urdu, she joined China Radio International in 2007 after completing her degree. Her decision to study Urdu was based on her father's advice. He felt it would be beneficial for potential work opportunities in any area she chose, given the close relations between Pakistan and China.

As she studied Urdu, she gradually developed an interest in the country the language originated from. She credits one of her teachers in particular for this. Zhang Shi Xuan, a famous Urdu poet who changed his name to Intekhab Alam, would share stories with his students about Pakistan: about its people, its rich culture and its traditions. During the course of her studies, she also had the opportunity to visit the Pakistani embassy several times as a guest, and the interaction with embassy officials made a positive impression on her about Pakistani people. All of this fostered a growing desire to someday visit the country she was learning so much about.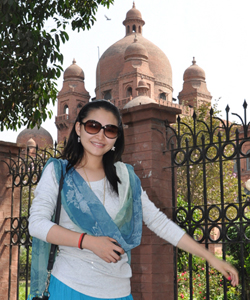 In 2008, she visited Pakistan as part of a Chinese youth delegation. Their first stop was in Karachi. Though her teacher had warned her that some cities in the country could be extremely hot, she was not prepared for the intensity of the mid-August heat and humidity, weather so different from what she was used to in Beijing. The next stop, Lahore, added to the overwhelming experience of summer in Pakistan. But while the weather was difficult to cope with, she and her fellow travelers enjoyed touring the ancient city. She recalls visiting the Lahore Fort, the Badshahi mosque and the lowering of the flags ceremony at Wagah border.

The final city on their itinerary was Islamabad and she fell in love with the capital on first sight, taking instantly to its clean beauty and its cool weather. She was surprised, though, to see that there were no big shopping malls nor a large number of high rises as they had expected.

In Islamabad, the delegation was taken to meet Prime Minister Gilani. At the reception, then ambassador to China, Salman Bashir, was also present. He remembered Musarrat from the Pakistani embassy in Beijing and introduced her to Gilani. The Prime Minister expressed his appreciation at her learning the Urdu language and suggested she come and work in Pakistan. She found the words encouraging.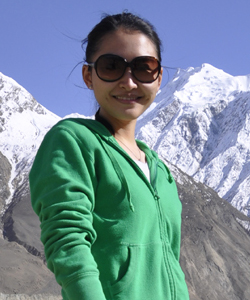 Before leaving, they also visited CRI offices in Islamabad and talked to a number of Pakistani people there. She and the other delegates were enamored with the warm hearted reception and hospitality accorded to them at the place, as it had been everywhere else they had visited. For Musarrat personally, the entire experience added to a rising conviction that she wanted to come and work in Pakistan and do what she could on her part to strengthen relations between the two nations. On her return to Beijing, she discussed it with her director. The fact that she had studied the language and culture were a big plus, and her director agreed.

Before she had arrived in Pakistan, her friends and relatives back home were apprehensive about her visit, owing to the law and order situation. She recalled the tight security that surrounded them at all times. A hundred of them in total, the delegates were not allowed to move around alone, always travelling in groups. "You could feel the tension all the time," she said. They stayed at the Marriott while in Islamabad, and the bombing of that hotel occurred a week after they returned to China. Yet, none of these experiences deterred her from her decision. She felt she had already established a connection with the people and felt a strong bond with the country.

In 2009, she moved to Islamabad to begin work.
Click to view picture gallery
RELATED STORIES:
You may also like: