PROFILE: INTERVIEW WITH WANG QIANTING - PART III
Written by: Aiza Azam - Posted on: December 18, 2012 |

Comments | 中国 (Chinese)
Google Translation: اُردو | 中文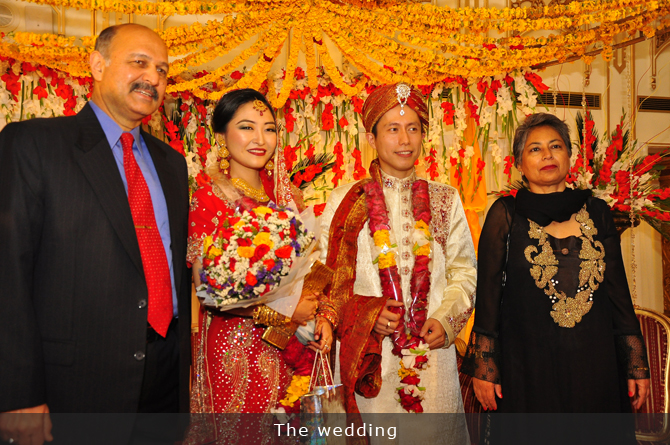 Musarrat met her future husband at the Chinese embassy in Islamabad, in 2010. When they decided to get married, they both agreed that they wanted the ceremony to be held here, in the country where they had fallen in love and which held a special place for them. They also decided that it would be a traditional Pakistani wedding, complete with all the different rituals that were so different from Chinese ceremonies.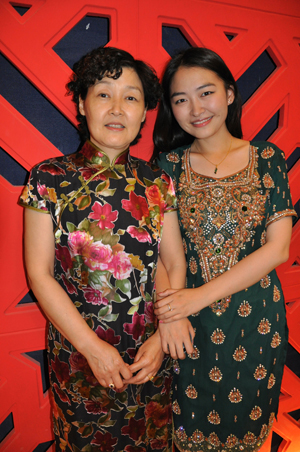 With mother at the Pak-China Friendship Centre
The wedding, she mused, was a mixed version of sorts, as they decided to have both the mehndi and baraat functions on the same day. An event organizer was hired but both were invested in all details of planning. She had her bridal makeup done from a very popular beauty salon, and a red wedding lehnga, the traditional color for Chinese and Pakistani brides alike, was located in Pindi. She recalled that it was so heavy that she needed help from friends to carry it while walking. "And when I was walking from my room to the wedding hall," she laughed, "my friends kept telling me to look down modestly and adopt a sober expression, like a traditional bride would. But I just couldn't help smiling!"
The event was held in the Crystal Ballroom at the Marriott. All their friends had been invited and both their parents had travelled in from China. The Pakistani media had not been invited, but a friend who attended worked for the APP, and Musarrat later found out that her wedding had made a sensational story even back home in China. They observed doodh pilai, a ceremony where the newlywed couple share a few sips of milk from the same glass, in their first drink together as husband and wife, and joota chhupai, in which all the girls from the bride's side of guests take off and hide the groom's shoes, and do not return them until he has gifted them a certain amount of money. The wedding photographs featured Musarrat with her husband in the traditional poses and postures adopted by Pakistani brides.
She even danced during the ceremony, until a friend said it wasn't traditional and she ought not to do it!
"It was the perfect ceremony," she smiled.
When I asked her what were some of the things she would miss most about Pakistan, she instantly replied, "The food!" Musarrat explained that when she first visited Pakistan in summer, she found the local food too spicy and oily. But after she came here to live, it grew on her very quickly. "Now, I have to have Pakistani food at least three or four times a week. And I wont be able to find good Pakistani food in China easily, so I've been learning to cook Pakistani dishes and am taking back lots of local spices so I can make them for myself." Her favorite dish was chappal kebab, and the eateries she frequented most were those that served traditional food entirely. Bolan and Jehangir were a couple of restaurants whose names popped up. It was particularly interesting that like a true Pakistani, she loved sampling food at roadside dhaabas, which everyone will agree serve delicious local fare.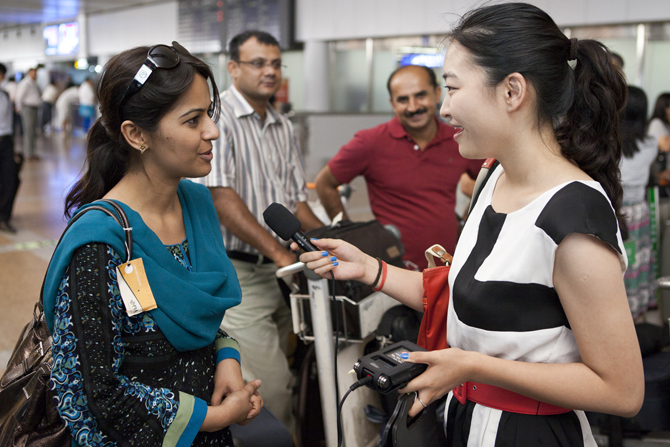 Interviewing a GEO News TV anchor
Musarrat expressed her admiration for Pakistani women. "Pakistani women here are so capable and hard working. They are creative and devoted to their work. Most of them are housewives, but they are also working women. You wont find a lot of those in China." She felt that Pakistani women were more efficient and professional in their approach to work than most Chinese women are. And for that, they are well respected. She talked about the large number of women serving in important posts across Pakistan, and said it was something she regarded very highly.
She also talked about the need to encourage greater interaction between the Pakistani and Chinese youth. "There are so many Chinese people who are not very well aware of what Pakistan is like, and it is the same for Pakistanis and their ideas about China. Youth exchanges are a good way to bridge this gap. Especially since the people of both countries feel so warmly towards one another."
As we were winding up the interview, she told that while she was looking forward to returning to China, she knew she would miss Pakistan tremendously. It had become her second home, and she would always hold fond memories of her life here.
Click to view picture gallery
RELATED STORIES:
You may also like: