Pukhtun Women: Challenging Stereotypes
Written by: Ismail Umar - Posted on: March 16, 2015 |

Comments
Google Translation: اُردو | 中文
(l-r) Noor-e-Saba, Samar Minallah Khan, Barkat Shah, Zakia Wardak & Shad Begum
The Pukhtun Festival Committee, in collaboration with the Aga Khan Trust for Culture (AKTC) Afghanistan, the Institute for Preservation of Arts & Culture (IPAC) and Kuch Khaas, organized the Pukhtun Festival 2015 in Islamabad. The festival celebrated the resilience of the Pukhtuns, who have withstood decades of unrest. The three-day event included modern and traditional Pushto music, songs and dance, documentary screenings, art displays, poetry sessions, and a range of food and craft stalls. Panels of experts also discussed key social and political issues faced by Pukhtuns today.
The first of these panel discussions, titled Pukhtun Women: Challenging Stereotypes, was held on Saturday morning. The panel focused on the stereotypical perception of Pukhtun women and their negative portrayal in mainstream media, and the steps required to counter these stereotypical images and perceptions. Women in Pukhtun society are commonly portrayed as powerless, but the women who participated in this panel are all pioneers in their respective fields of work, symbolizing socioeconomic empowerment. Their various achievements served to challenge the stereotypical representation of Pukhtun women.
The session was led by Samar Minallah Khan, a research anthropologist and documentary filmmaker. A University of Cambridge graduate, she has been a pioneer in using film as a tool for development and social change. She holds a special interest in issues related to Pukhtun women, and has made several influential documentaries on the topic.
The panel also included a number of other inspiring individuals. Noor-e-Saba works as Project Manager at the "Special Talent Exchange Program" in Khyber Pakhtunkhwa and trains women with disabilities. Shad Begum is an award-winning activist and development practitioner. Zakia Wardak is a distinguished entrepreneur from Afghanistan who fights for women's economic empowerment through skill development. Lastly, with the belief that men's participation in the matter is equally important, the panel included Barkat Shah, a researcher and academician from the University of Balochistan.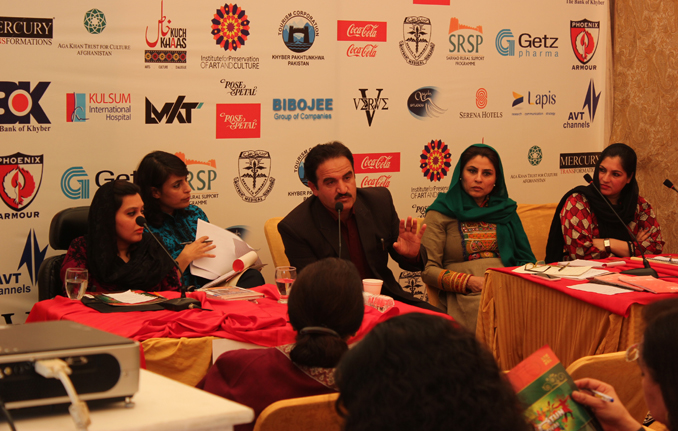 The talk was attended by a number of distinguished guests, including Afghan ambassador to Pakistan H.E. Mr. Janan Mosazai and Senator Afrasiab Khattak. The panelists touched upon a number of key issues during the discussion. They argued that while Talibanization is certainly one of the factors leading to discrimination against women, it is by no means the only factor. This discriminatory culture has its roots in a false and prejudicial interpretation of religion in the country. The teachings of Islam have been greatly misconceived, and the falsely interpreted message of Islam is even being taught in our public school textbooks.
The discussants also highlighted the steps needed to eradicate the discrimination against Pukhtun women. Attitude, communication and acceptance were emphasized as the three factors needed to bring about social change. The panelists opined that steps should be taken to educate, empower and encourage women to participate in all areas, including politics, so that they are a part of the decision making process. Men also need to be educated, so that they accept and acknowledge women as equals. Finally, the discussants gave examples of empowered, autonomous women such as Malala Yousafzai and Tabassum Adnan, who break barriers and challenge the stereotypical perception of Pukhtun women.
Click to view related video
RELATED STORIES:
You may also like: