Pukhtun Festival and Pukhtun Food
Written by: Imran Khan - Posted on: 17 March, 2015 |

Comments
Google Translation: اُردو | 中文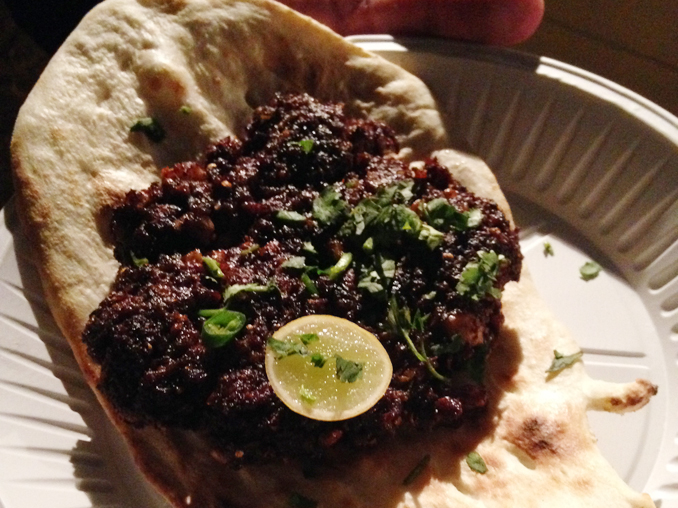 Chapli Kabab
Nothing evokes old memories like music and food, and for me this past weekend was a flood of nostalgia all thanks to the food and music at Pukhtun Festival in Islamabad. Those who have grown up in Peshawar during the 80s and 90s would probably agree that Gulzar Alam's voice, Chappli Kabab from Jalil, and tikkay from Charsi, were integral parts of that Peshawar of the past. One with far fewer checkpoints, and bombings.
The food at the festival included three icons of Pakhtun cuisine; Chapli Kabab, barbequed lamb, and qawa (green tea). But I must say that the menu was overly representative of Northern Pakhtunkhwa (Peshawar, Khyber), and missed out on other signature dishes, such as "Painda (sohbat)" and "Dum Pukht" from Central Pakhtunkhwa (Bannu, Waziristan) and also "Rosh" from Southern Pakhtunkhwa (Quetta). This probably could be explained in the proximity of the venue (Islamabad) to Peshawar, as the organizers had arranged for some of the best in the business in Peshawar to cook at Islamabad.
The Chappli Kabab for instance were from Jalil Kabab House, which is a household name in Peshawar. One of my fondest winter memories from childhood is to sit on the grass on a sunny Friday and to have a Chappli Kabab served on a naan with a freshly plucked lime squeezed on top. The Kabab would usually have been either from Jalil Kabab House or Bakhshu Pull. One could either have a "saada" (simple) kabab or a "special" one, these latter ones would have a scrambled egg as well as boiled bone marrow medallions added into the mix.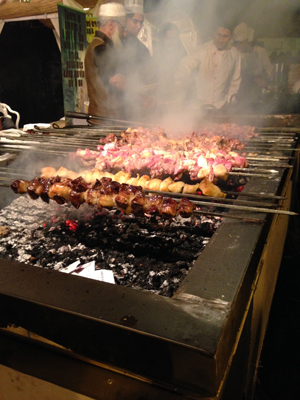 Lamb & Patta Tikka
The Kababs at Pakhtun Festival looked the part, and were great, but they were fried in cooking oil only. The real deal is fried in a mixture of oil/ghee and animal fat, and gives that instant greasy comfort that one craves for on a cold day. But nevertheless, these Kababs were good on the "honesty" factor, as the ratio of meat to flour was much better than what one gets at regular places.
The barbequed lamb made up for whatever was lacking in the Chapli Kababs. In my opinion, nothing celebrates lamb meat like this Shinwari style of barbeque. It is amazing when one considers that these divine tasting meat morsels had just had a sprinkling of salt and nothing else. An expert once told me that the secret of barbequing this way is to ensure that the lamb meat is well rested, the coals are not in big chunks but small embers and that you choose meat cuts that include the bone; i.e. ribs, chops and shanks. The stall at the Pakhtun festival both looked as well as tasted the part. Apart from the lamb tikka they also served "Patta tikka", which is double roasted lamb liver covered in lamb or cow fat netting. The first roasting is done without the fat netting, while the second roasting is done with it. Both were really good.
The Pukhtun Festival was a celebration of all those aspects of Pukhtun culture that are currently getting overshadowed by ignorant generalizations about Pakhtuns. Kudos to the organizers for doing an excellent job.
Given the influx of displaced Pakhtuns all over Pakistan, efforts such as these are needed in other cities as well. Not only to allow Pakhtuns to celebrate their own culture, but also for others to see that those who think that "Pakhtuns are at peace when they are at war" are just being extremely ignorant.
The author is a freelance contributor. He blogs at https://iopyne.wordpress.com/ and tweets @iopyne.
Photography by: Lindsay North
Click to view related video
RELATED STORIES:
You may also like: