Jaaray Ki Daastan
Written by: Amna Javed - Posted on: March 07, 2015 |

Comments
Google Translation: اُردو | 中文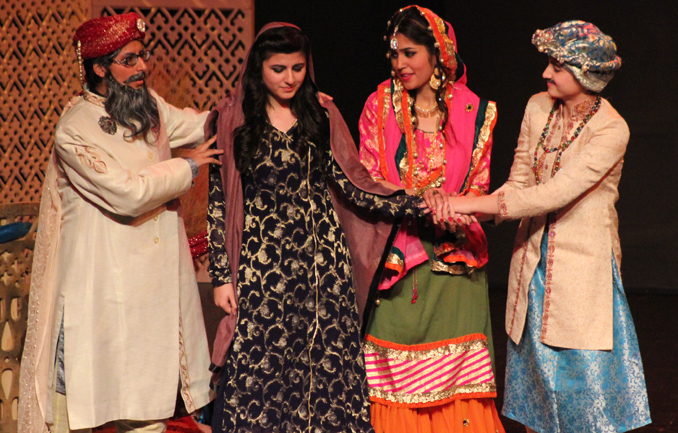 King Lukman, Parivash and Prince Mehroze
As the Youth Drama Festival moved into its fifth day, Fatima Jinnah Women's University presented 'Jaray Ki Daastan' before a packed hall, here at PNCA Auditorium on Friday, 6th March 2015.
The play was an adaptation of Shakespeare's masterpiece A Winter's Tale, and had been reincarnated in an eastern setting. It portrayed a Mughal era setting with a modern touch; references to modern-day gadgets and shopping stores had the audience in fits.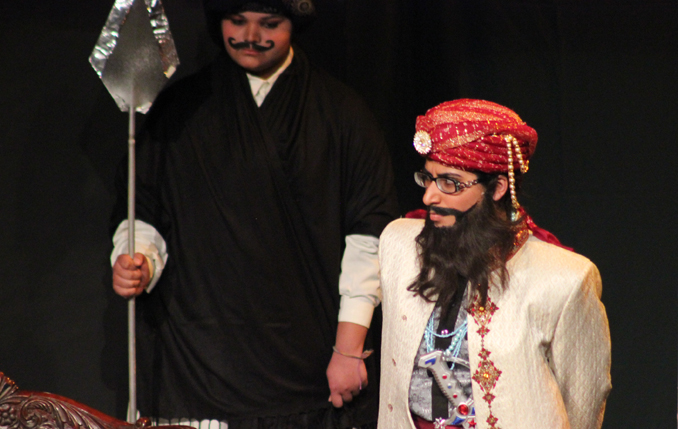 Sarah Noor as King Lukman
The play opens in Emperor Lukman's courtyard where he is playing a game of chess with his friend, King Paaras of Deccan. Lukman was trying to convince the King to spend a few more days with him, however King Paaras refused to do so. In order to convince Paaras, Lukman asks his Queen to charm the King and persuade him to stay. When Lukman sees his wife (the Queen) with King Paaras, he accuses her of being unfaithful and throws her into prison. With the help of Lukman's Chief Minister, King Paaras manages to escape the palace unharmed.
As the story continues, in his arrogance and foolishness, Emperor Lukman loses his only son and wife, who both die while he tenaciously abandons his newly born daughter. Upon losing all his loved ones, Lukman realizes the grave mistake that he had committed and repents on his sins.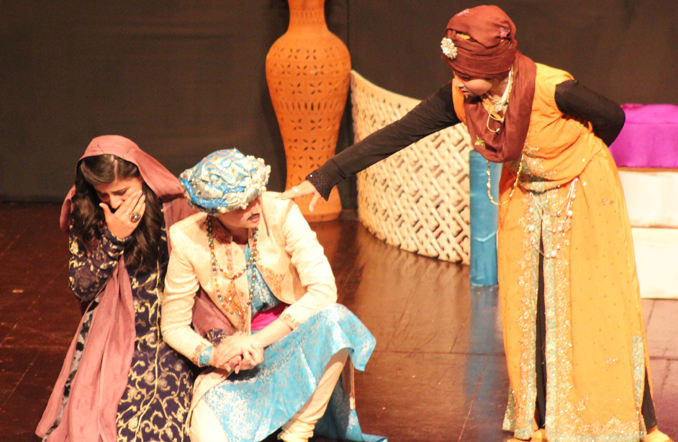 Prince Mehroze trying to console Parivash after King Paaras rejects her
The story then fast-forwards several years where the Emperor's daughter, Parivash, blooms into a beautiful young girl, and is in love with King Paras's son, Prince Mehroze. When the Prince introduces Parivash to his parents, King Paaras refuses to accept her, as she does not belong to a royal family. The Prince then runs off to Emperor Lukman's court in order to seek refuge from his father. That is when Emperor Lukman learns that Parivash is his daughter, the daughter that he chose to abandon many years ago. Upon finding out that Parivash is Lukman'sdaughter, King Paaras asks for her hand in marriage for Prince Mehroze and the festivities at the Palace start.
In all the celebrations, Lukman recalls his wife and articulates his love for her. While he is repenting his mistakes, the Queen appears and announces that his punishment has ended. The Queen informs him of how she chose to disappear to teach the Lukman a lesson. The play ends on a happy note as the whole family is reunited and Prince Mehroze marries Parivash.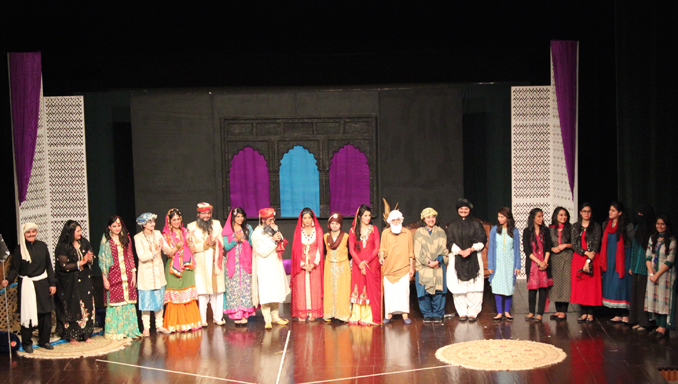 Cast of the play 'Jaray Ki Daastan'
The fifty-minute paly was a sheer delight to watch with some brilliant performances by Mariam Malik as Prince Mehroze and Sarah Noor as King Lukman. A tinge of modern-day humor and a mix of songs and dance performances grabbed the viewers' attention from beginning till the end. The energeticexecution by students from Fatima Jinnah Women's University forced the crowded hall to applaud generously throughout the play.
Clips from the play 'Jaaray Ki Daastan'
Students of National University of Science and Technology will perform the next play at the Festival, 'GuriyakaGhar', on Saturday, 7th March 2015.
Click to view picture gallery
Click to view related video
RELATED STORIES:
You may also like: