Youth Drama Festival Concludes on a High Note with 'Khwaab'
Written by: Ismail Umar - Posted on: March 09, 2015 |

Comments
Google Translation: اُردو | 中文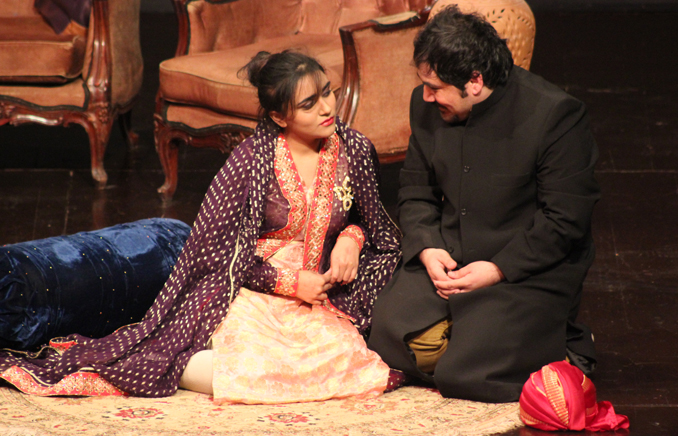 The play uses humor to confront the social issue of dowry in the country
The final play of the Youth Drama Festival 2015 was performed at the PNCA on Sunday, 8th March by students of Bahria University. Titled "Khwaab", it is directed by Ali Butt, and tells a humorous story about a quirky family consisting of an eccentric father, mother and son. Although the play is full of laughs, it uses humor to confront the grave social issue of dowry in our country. Coinciding with International Women's Day, the performance reflected on the important issues facing families with daughters.
Through a number of comical situations and settings, the talented young actors depicted the growing acquisitiveness in contemporary society. They showed that many of today's families go after big houses, luxurious cars and extravagant furniture when arranging marriages, and forget the things that really matter, such as human compatibility and companionship.
The story centers around a young, jolly man named Babloo (played by Khawar), who is eager to get married. His parents (played by Shoaib and Zuberia Rasool), greedy for a large dowry, choose a girl for him (played by Asma) who is a Canadian national and who has a wealthy background. Initially, Babloo is ecstatic about marrying her, and often dreams of her. However, in one of his dreams, he sees his married life, which is nothing like he expected. His wife treats him like her servant and makes him do all the household chores. When he finally wakes up, he gets so terrified that he decides not to marry the girl in pursuit of her dowry.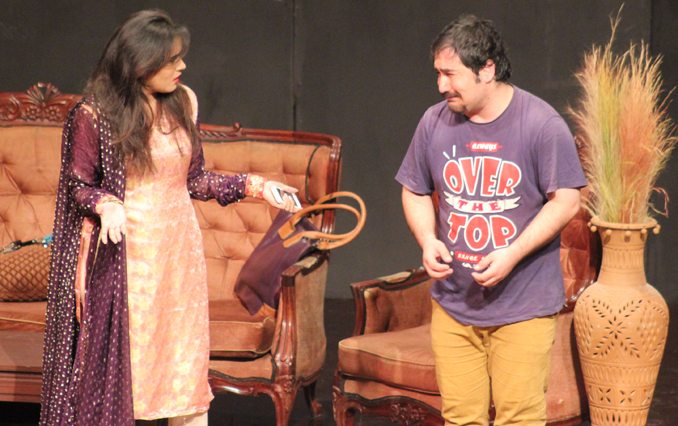 In the meantime, Babloo's parents demand the girl's father (played by Bilal Satti) to arrange a house, a car, and lots of furniture for them as dowry. When he is unable to meet their unrealistic demands, Babloo's parents become furious. They don't just call off the wedding, but also make immoral accusations against the girl on the baseless assumption that since she grew up in Canada, she must be morally corrupt. Disheartened and disappointed, the girl's father decides that such people aren't worth it, and heads back to Canada. Unfortunately, such cases are ever-present in our society, and need our immediate attention.
Although the final scene had a very serious tone and message, it did not take away from the humorous aspect of the performance, generating big laughs from beginning to end.
The performance was followed by a closing ceremony of the Youth Drama Festival 2015, which included the presentation of shields and certificates by PNCA Director General Muhammad Naeem, as well as the announcement of best actor/actress and play by the judges, Mr. Afzal Latifi, Mr. Sabir Khan and Mrs. Fauzia Tahira.
The award for best actress went to Fatima Rizwan for "Guriya Ka Ghar", and best actor was won by Taha Humayun for "Ibtada-e-Ishq".
Out of the seven plays performed in the week-long festival, the third prize was won by Quaid-i-Azam University's "Meri Kahani". Second place went to "Jaaray Ki Dastaan" by Fatima Jinnah Women University, and first position was deservedly taken by Comsats' "Ibtada-e-Ishq".
Click to view picture gallery
Click to view related video
RELATED STORIES:
You may also like: