The Symbolic 'Devta'
Written by: Amna Javed - Posted on: March 06, 2015 |

Comments
Google Translation: اُردو | 中文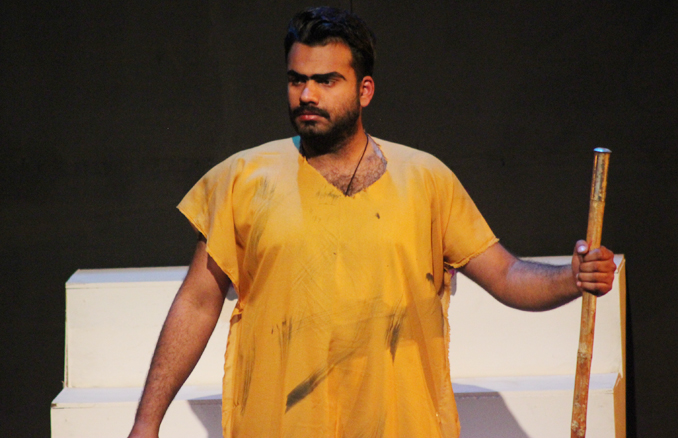 The Commander of the clan
As the Youth Drama Festival continued on the third day, students from Preston University Theatre Group presented the play titled 'Devta' at the Pakistan National Council of Arts Auditorium on Wednesday.
In contrast to earlier plays, Devta revolved around a serious and thought provoking theme. While it did have a few light moments, the play compelled the audience to ponder over 'symbolism', a message that the young performers zealously intended to highlight.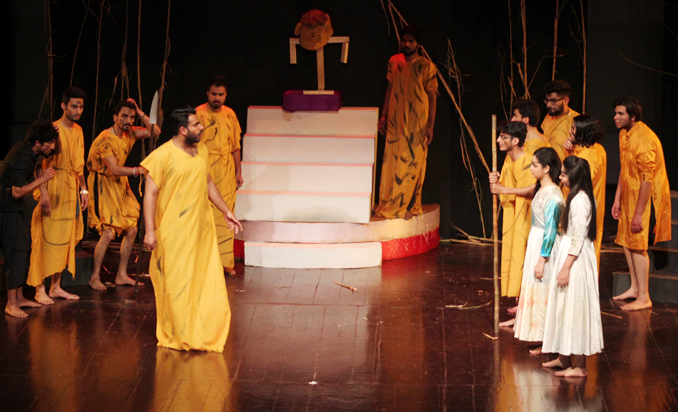 The clan gathers around their commander to learn more about the 'Devta'
The play depicted how the powerful people in a society use symbolism and religion to exploit the masses. Intrigued by superstition, these people blindly follow what their leader articulates. Devta, set in ancient times, describes the story of a clan where the leader creates a false god to fool his own people. The commander assures his villagers that the Devta (god) descended on their village to protect them against all harm and ensure that they never have to sleep hungry. The commander of the clan, with the help of his two aides, convinces the simple village folk to offer sacrifices to the new god in order to receive his blessings. Once the people start believing that the commander's rule is divinely ordained, they easily submit to his authority and do not question his actions.
Based on an original script penned by William Pervez, a student of Preston University, the play portrays how influential individuals manipulate situations to serve their own vested interests. The young writer remarked, "Marred by the hypocrisy of religious interpreters, our society also faces the same dilemma today. This play was our humble attempt to portray the duplicity of the people of our times."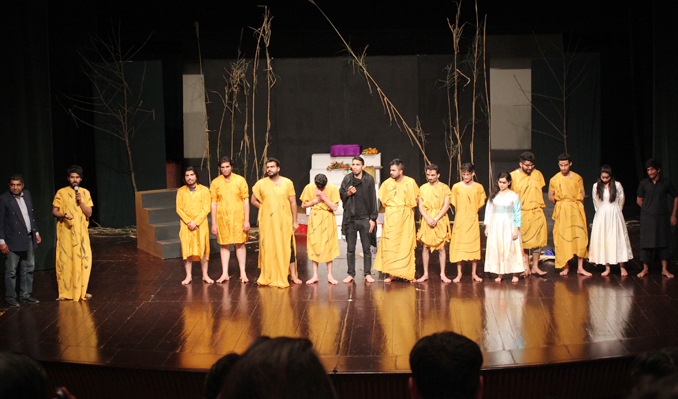 The cast of the play being introduced by William Pervez (second from left)
This was the first time these students had performed at such a platform. William added, "We are still learning and require your appreciation and support." The young performers were lauded by the audience, however some of them found the performance too somber for their taste.
The next play, 'MeriKahani', will be staged by students from Quaid-e-Azam University on Thursday, 5th March 2015.
Click to view picture gallery
Click to view related video
RELATED STORIES:
You may also like: