Absolut Manto 2 - Let's Tolerate Manto (Once Again)!
Written by: Salma Chaudhry
Posted on: January 26, 2016 |

Comments | 中文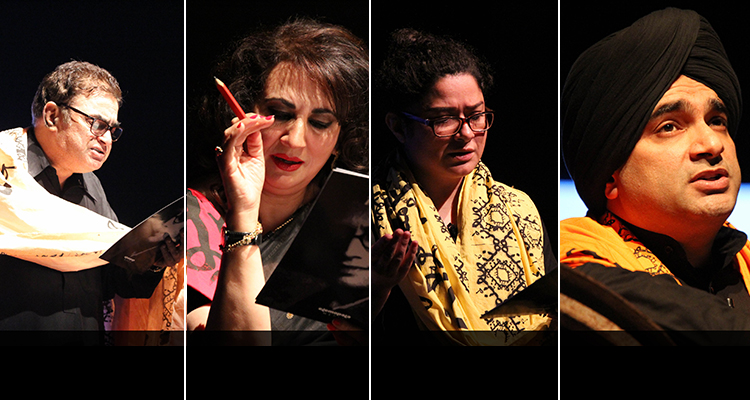 Irfan Khoosat, Feryal Gauhar, Sania Saeed and Sarmad Khoosat
Olomopolo Media's 'Absolut Manto 2' was a careful, elusive glimpse into the characters that Manto created, some of which remain controversial to date. The stories chosen were a good mix of Manto's popular works like Khol do and his lesser known stories such as Mochna, Harnaam Kaur and Ghussal Khana. A stellar cast performed dramatic readings of the works of the great writer, along with a graphic illustration of short stories that Manto wrote about partition, collectively known as Siya Hashiye. This was the second chapter of Absolut Manto, performed last year by Olomopolo, a production hub for performing arts and graphic media based in Lahore.
The evening began with the legendary Irfan Khoosat's reading of Khol Do, the story of a man and his daughter, Sakina, who becomes a victim of the partition riots. It's not easy to keep the audience engaged with a story that has already been read and performed on numerous platforms. However, whether it was joy, stress, anxiety or contentment, Irfan's powerful voice and remarkable enunciation possessed the power to express each of these emotions admirably. An inimitable sonority in his voice resonated with the audience and made him seamless in his reading of this thought-provoking short story on partition.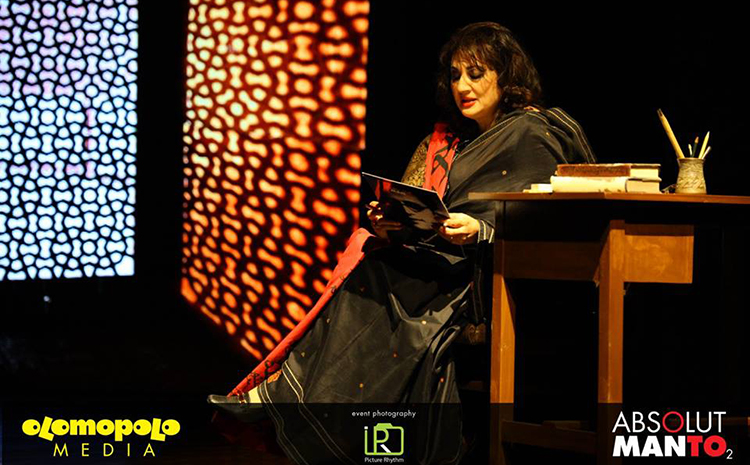 Feryal Gauhar read one of Manto's lesser known works, Mochna. This is a story about Maya, a girl who is obsessed with her Mochna (tweezer). Having love affairs with multiple men, she is in a habit of leaving one man for the other, but never forgets to request them to send her mochna to her new house. The wonderful script, carved in language purposely filled with facetiousness, views the tabooed and controversial characters of our society in an immaculate manner. Feryal Gauhar, in her beautiful sari and the various accents of her characters, enacted several roles in this reading including that of Maya, Shakeel and Manto himself, without changing costumes or arranging any props. The audience particularly enjoyed her portrayal of Ameen Rangbaaz.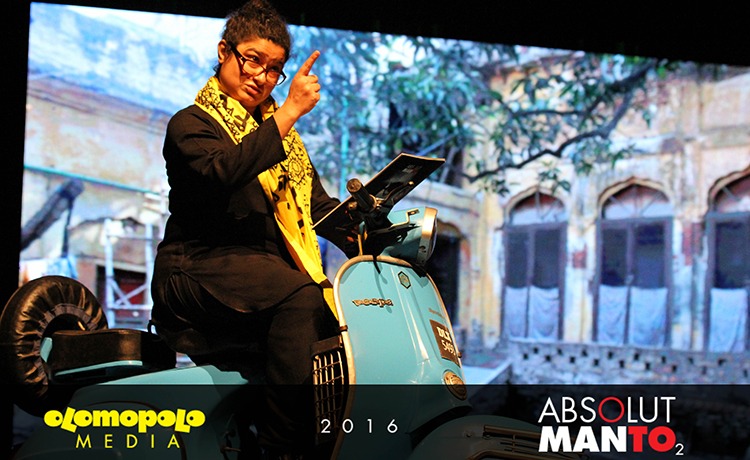 Sania Saeed's reading of Ghussal Khana and the comical approach to something as mundane as a restroom was hilarious. She sat on a scooter during the narration, and the background image of a courtyard gave the reading a perfect context. The dim light that cloaked the stage created an ambience that was conducive to a story of this kind. This act depended more on recitation and conversation, and Saeed pulled it off brilliantly, as she moved on the stage with a strong sense of tenacity.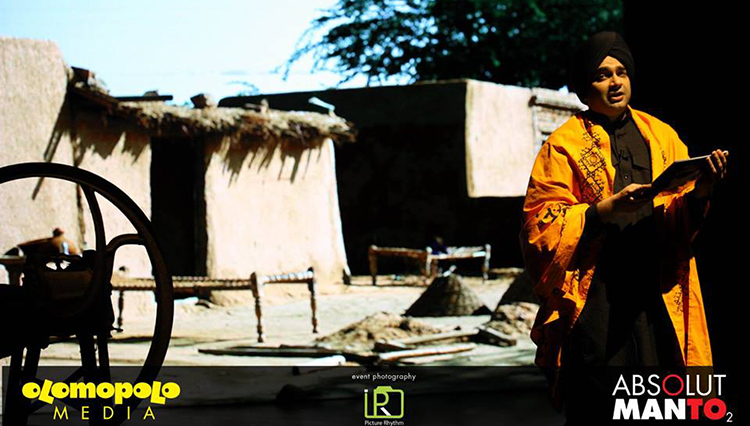 Sarmad Khoosat, as anticipated, stole the show with his impeccable narration. He read Manto's Harnaam Kaur, and the beauty and ease with which he adapted to the various characters of this story was incredible. In complete Sikh attire, Khoosat was absolutely in the role as he continued to amuse and astound the audience with his remarkable dialogue delivery. The stage was turned into a backyard of a village haveli, and the use of lights gave a nice touch as Khoosat continued to move between the charpai and charkha. The humour in the story was distinctive and on point with a twist in the end, a characteristic of every Manto story.
Although expectations were very high, Absolut Manto 2 certainly lived up to them. The four narrations were a tribute to the works of one of the greatest short story writers that this region has ever produced. It was also an accolade to the essence of good theatre, which only needs a captivating story and powerful acting. The set, design and space don't seem to matter when you have a star-studded line-up reading someone as startling as Manto.
RELATED ARTICLES:
You may also like: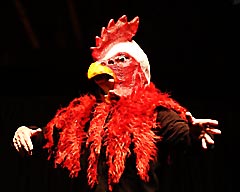 Rafi Peer International Puppet Festival 2018
(January 23, 2018)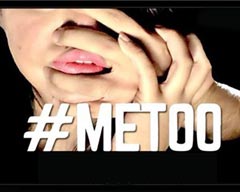 Theatre Review: #MeToo by BlankPage Productions
(January 12, 2018)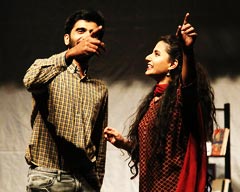 Theatre Review: Bol Kay Lubb Azad Hain Teray
(December 21, 2017)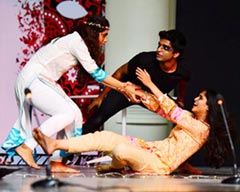 The Fringe 2017 – Intra-IBA Theatre Competition
(December 15, 2017)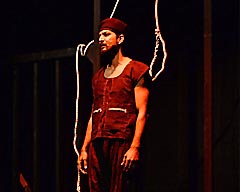 Theatre Review: Ajoka Theatre's 'Intezaar'
(November 30, 2017)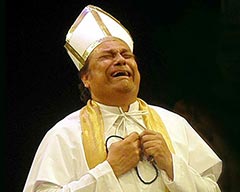 Theatre Review: 'Yahudi ki Larki' by NAPA at National Theatre Festival 2017
(November 02, 2017)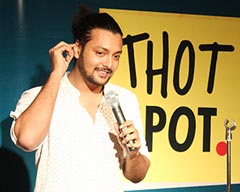 Bachay Panch Hi Achay (5 Kids are Enough) - A Saturday Night Comedy Show
(October 17, 2017)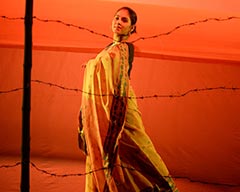 Ajoka Theatre's 'Shehr-e-Afsos - A City of Sorrow'
(October 13, 2017)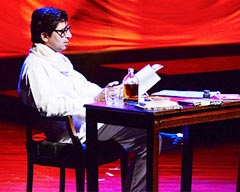 Theatre Review: 'Kaun Hai Yeh Gustakh' - Ajoka's Play about Manto
(October 12, 2017)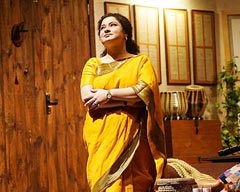 Theatre Review: 'Mushk - Fragrance' in Lahore
(October 10, 2017)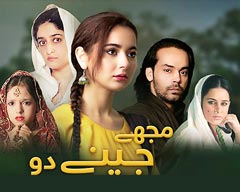 Drama Review: 'Mujhay Jeenay Doh'
(September 22, 2017)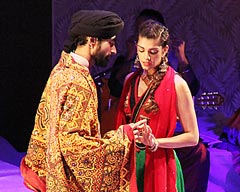 Heer Ranjha – Retelling Kaifi Azmi's Script in an Urdu Musical
(September 11, 2017)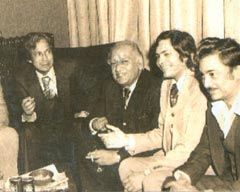 70 Years of Theatre: A Flashback Through the Ages
(August 30, 2017)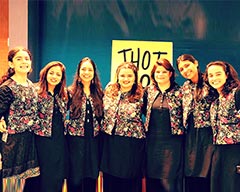 'The Khawatoons' Celebrate their First Anniversary!
(August 02, 2017)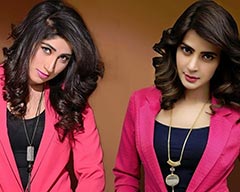 'Baaghi', a serial inspired by Qandeel Baloch
(July 31, 2017)