'Hash Stags' – From Theatre Stages to Electronic Screens!
Written by: Farheen Abdullah
Posted on: March 15, 2017 |

Comments | 中文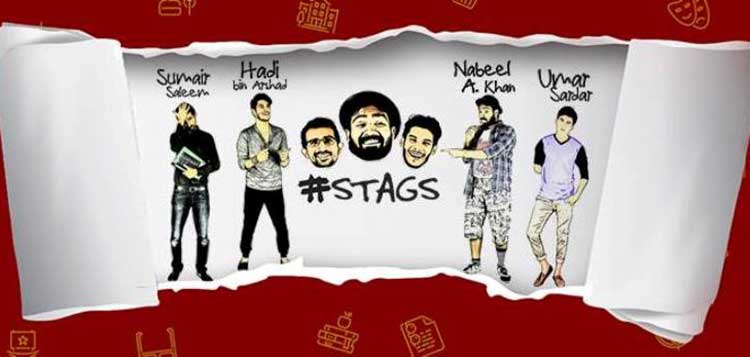 'Hash Stags', the new web series directed by Hadi bin Arshad
When one thinks of "drama" in the Pakistani context, the first image that pops up is that of soap operas with formulaic themes of heartbreak, family conflicts and other tragedies. Hence, it is no surprise that the millennial generation of Pakistan finds refuge in international television series, which only seem to be gaining popularity in the country with every passing year. But then, what becomes of the people who simply want to have a good laugh, without having to turn to foreign content, which often does not even match our cultural context? Well, Hadi bin Arshad and his team have the answer!
Hash Stags is a web series that aims to change the stereotypical perception of Pakistani dramas, while also reaching out to our tech-savvy millennials through social media. With two episodes of its first season already out, Hash Stags has attracted thousands of viewers online, thanks to its entertaining characters, relatable themes and great comic timing. The series is written and directed by Hadi bin Arshad, a young actor who began his career soon after completing his A Levels, and who will also be starring in Hamza Bangash's upcoming movie, Rang Raaz.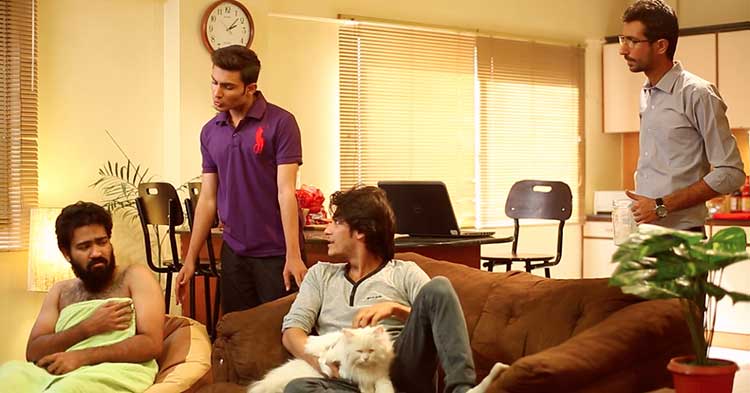 (L-R) Nabeel Khan, Umar Sardar, Hadi bin Arshad and Sumair Saleem
The series revolves around the troubled life of Babar Ashraf (played by Sumair Saleem), after he loses his job as a chartered accountant. Struggling to maintain a financially and emotionally stable life, Babar turns to a real estate agent in desperation and opts to rent out two rooms of his apartment. This is when he first meets his two annoying paying guests, Javaid Jamshed Omar Nizami Takkar Yousafzai aka Jonty (played by Nabeel A. Khan), and Sameer Rana Khan (played by Hadi bin Arshad).
A lawyer by profession, Jonty is a lazy, careless, and oversized man, while Sameer is an over-confident, self-loving playboy who aspires to be an actor, and hence refers to himself as SRK. Babar sees his life taking a turn for the worse as soon as these two stags enter his apartment. He formulates a set of rules and makes them sign an agreement. However, the rulebook has no effect on Jonty or Sameer, and they begin ruining Babar's life in the most hilarious ways.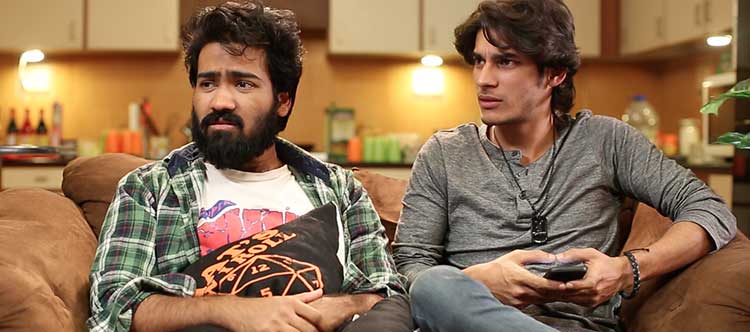 The two paying guests, Jonty and Sameer
Having previously starred in plays such as Haseen – A Gamble of Honour, Suno, Kaun Sunta Hai and Baraf Paani (which won an award at the Karachi Youth Festival), Hadi is no stranger to the theatre industry. When asked about the concept behind Hash Stags, Hadi explains, "After Haseen, we decided it was time to take up a new project. I suggested we make a drama, Nabeel suggested making a comedy play, and Sumair suggested a theatre series. On the other hand, our producer Omar Ghanchi suggested we make a talk show and release it online. Not sure which option to pursue, we made paper chits and asked a rickshaw driver to randomly pick one. This was how Hash Stags came into being! Initially, we had aimed to air it on TV, but that didn't work out. So we decided to go with a web series, giving our audience a new experience, while also exploring a platform that we hadn't worked on before."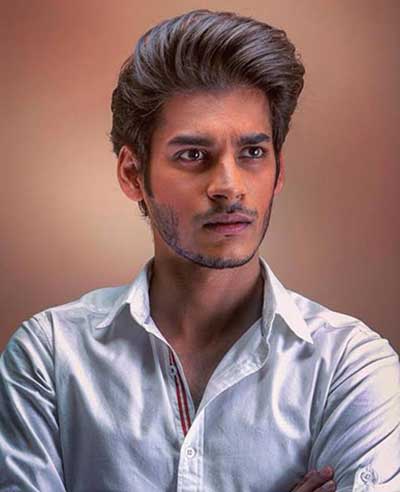 Actor, writer and director - Hadi bin Arshad
Another interesting story is how the name of the show came about. "We were sitting at Sumair's office", Hadi recalls, "and our producer had a bottle of Sting in his hand, which had a hash logo on it. That was where the name originated. Plus, the hash symbol on the keyboard is number 3, and the series has three male leads – three stags, who are very different from each other. Hence the name Hash Stags!"
"For some reason, the TV channels failed to promote our idea. According to them, viewers won't be able to understand the kind of content that Hash Stags generates", Hadi adds. "One of the channels that we approached loved the concept, but said that the audience isn't "ready" for this kind of drama yet. However, the positive feedback that Hash Stags has received within a matter of weeks only goes to show how enthusiastic our audience really is, and how we no longer have to rely on international series for entertainment."
Sumair, who plays 'Baby Bhai' in Hash Stags, elaborates: "Our generation has grown up watching American television shows such as Two and a Half Men, Suits and Friends, and a few Pakistani comedy shows like Sub Set Hai, which came out years ago. However, our industry has been focused on dramas revolving around family politics for way too long. Even our own stage plays had sombre themes, with two of them focusing on mental illness and honour killings. This is why Hash Stags has been created, so that the audience – as well as our own team – can experience something refreshing."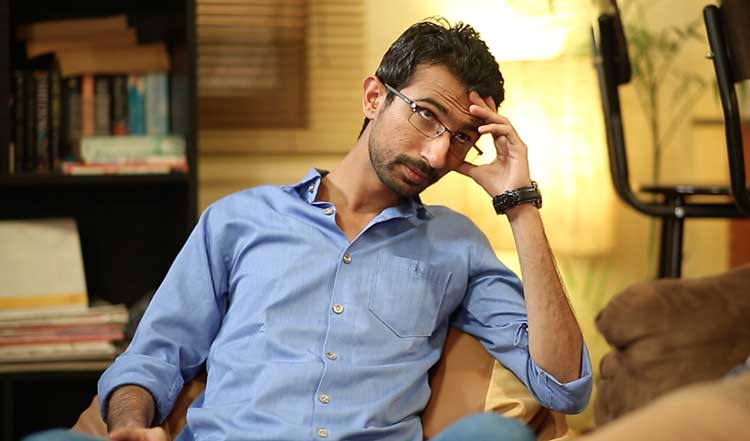 Sumair Saleem as 'Baby Bhai'
The concept behind Hash Stags was first developed back in February 2016, after which the team spent months working on its implementation, and the first episode finally came out in February 2017. The first season will have five weekly episodes, with the second season following soon afterwards. "Every alternative episode of season 2 is going to have a guest appearance by a celebrity", Hadi revealed.
"Our main aim right now is to make the series go viral. And once we get a good sponsor, we can easily bring in star value and attract a larger audience", says Sumair. "Since billboards are no longer being put up around Karachi, brands are looking for various platforms to market their products. The money that they previously invested in billboards can now be redirected elsewhere. That's how we went about with Haseen, and we hope to do the same with Hash Stags.'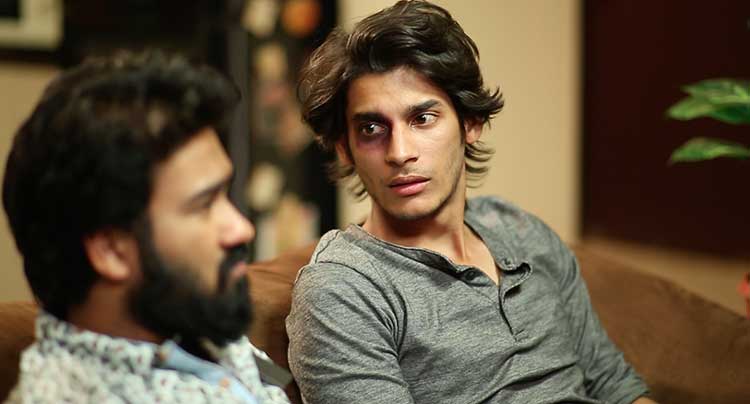 The attitude of team Hash Stags makes it evident that they are carrying out this project purely out of love for drama and acting. With the first season currently airing, the team plans on shooting the second season during April, with regular trailers to be released in the meantime to keep the audience engaged. For those of you who have been following the online series, the third episode is coming out soon. And for those who are lagging behind, now would be a good time to catch up and see what all the hype is about!
A clip from the first episode of 'Hash Stags'
You may also like: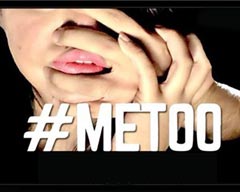 Theatre Review: #MeToo by BlankPage Productions
(January 12, 2018)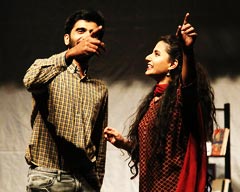 Theatre Review: Bol Kay Lubb Azad Hain Teray
(December 21, 2017)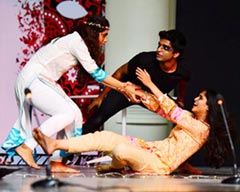 The Fringe 2017 – Intra-IBA Theatre Competition
(December 15, 2017)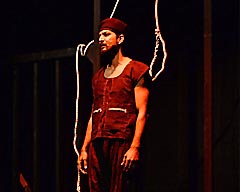 Theatre Review: Ajoka Theatre's 'Intezaar'
(November 30, 2017)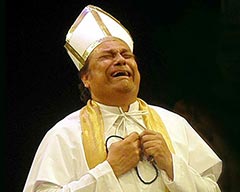 Theatre Review: 'Yahudi ki Larki' by NAPA at National Theatre Festival 2017
(November 02, 2017)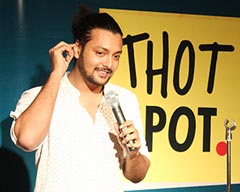 Bachay Panch Hi Achay (5 Kids are Enough) - A Saturday Night Comedy Show
(October 17, 2017)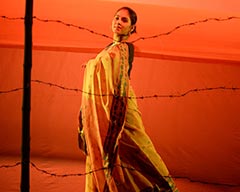 Ajoka Theatre's 'Shehr-e-Afsos - A City of Sorrow'
(October 13, 2017)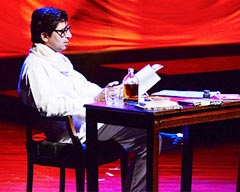 Theatre Review: 'Kaun Hai Yeh Gustakh' - Ajoka's Play about Manto
(October 12, 2017)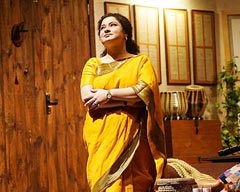 Theatre Review: 'Mushk - Fragrance' in Lahore
(October 10, 2017)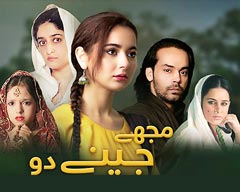 Drama Review: 'Mujhay Jeenay Doh'
(September 22, 2017)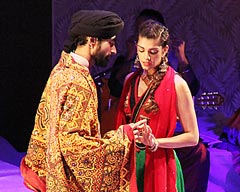 Heer Ranjha – Retelling Kaifi Azmi's Script in an Urdu Musical
(September 11, 2017)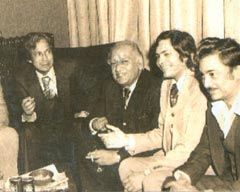 70 Years of Theatre: A Flashback Through the Ages
(August 30, 2017)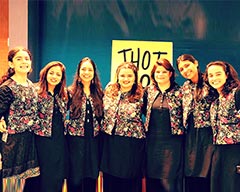 'The Khawatoons' Celebrate their First Anniversary!
(August 02, 2017)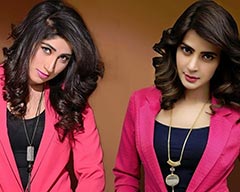 'Baaghi', a serial inspired by Qandeel Baloch
(July 31, 2017)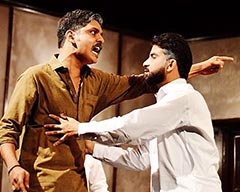 'Mulzim Ya Mujrim' – A Theatrical Production
(July 25, 2017)