Noorjehan Bilgrami: Of Art, Colour and Sensation
Written by: Aiza Azam
Posted on: May 23, 2016 |

Comments | 中文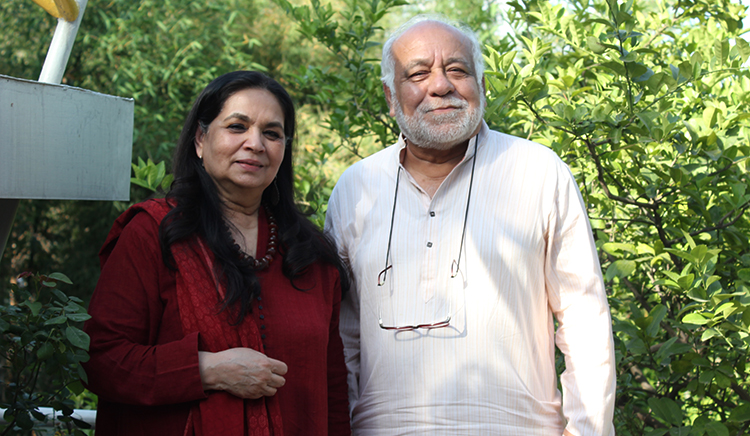 Noorjehan with her eminent architect husband, Akeel Bilgrami
"I've never done anything I didn't want to, or because I was forced to do it."
Noorjehan Bilgrami is soft-spoken with an elegant, understated presence; a dynamic native of Karachi. She has single-handedly rescued the art of block printing from oblivion, revived the use of natural dyes in fabric making, helped establish an art institution of higher learning, and worked on architectural conservation and restoration. A well-known artist in her own right, she is also the lady behind Karachi's popular Koel Gallery.
Noorjehan's creative sensibilities were nurtured in her childhood in Hyderabad Deccan, a city known for its rich culture and history, where she lived with her maternal grandmother. Noorjehan would accompany her cousin Siddiqua Bilgrami, an art student, to the Hyderabad College of Fine Arts, and her natural talent and affinity for painting and art was nurtured. After moving to Karachi, she continued painting in her A-Levels at the Karachi Grammar School, where her art teacher, Mrs. Tahira Rafiq, instilled in her the importance of cultural identity in artistic expression.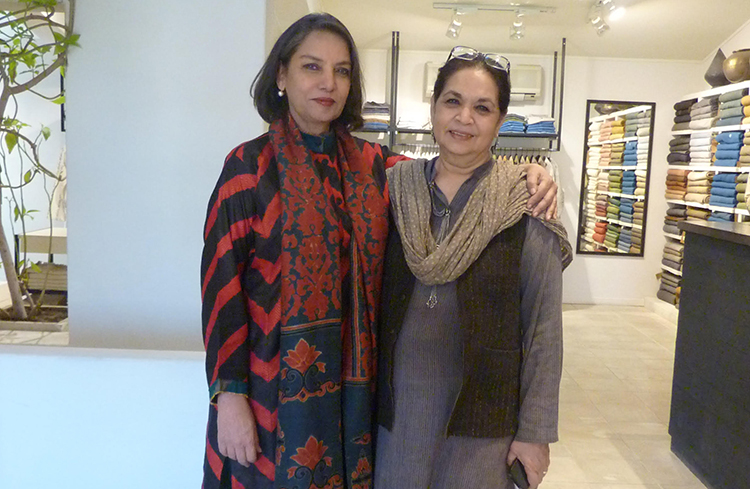 Shabana Azmi visiting Koel Gallery
She joined the National College of Arts, Lahore, in the late 1960s, and studied under the famed masters of art, Khalid Iqbal and Colin David; Shakir Ali was the Principal at that time. Lahore evoked memories of Hyderabad with its rich heritage, but she was drawn back to Karachi two years later, where the art scene was more vibrant. She enrolled at the Central Institute of Arts and Crafts at the Arts Council, headed by the artist Ali Imam at the time, graduating in 1974. She married her cousin, Akeel Bilgrami, a recent graduate in architecture from Hyderabad in 1970, but continued to work and study while raising a family.
While working with her husband on an interior design project, a search for upholstery fabric led to the discovery of block printing in an obscure part of old Karachi. This dying art was being practiced by a handful of craftsmen clumsily printing dastarkhwaans in awful patterns and garish colours, while their exquisite blocks lay in a corner gathering cobwebs. This area had once been famous for its block printed saris, but the demand had dwindled post-Partition, and all but a few craftsmen had drifted away into other vocations, while their equipment lay rotting on rooftops. Noorjehan had no training in textiles, but her love of textiles dated back to Hyderabad and childhood memories of the feel of saris in varied rich textures, and the cloth dolls she had made by hand. Here began her romance with textiles, and she learnt the technicalities of printing from the block printers and was soon experimenting with her own cloth and designs. A friend offered her an empty garage as a workspace for the craftsmen, and Noorjehan was persuaded to hold an exhibition of the work produced. This did not start as a business venture, but the overwhelming response from the viewers was inspirational. Dozens of people placed orders for the prints. Thus began the revival of a lost art, and countless livelihoods were saved. A languishing craft is a thriving industry now.
Noorjehan's ajrak odyssey began with a Lok Virsa exhibition in the early 1980s, where she came across a craftsman making ajrak. Her knowledge of the subject was limited, and her conversation with him led to a visit to Tando Muhammad Khan, where Bhalley Dino worked. He accompanied her through numerous ajrak producing centres and she observed the complex production process first-hand. The passion with which Noorjehan works comes through when she declares that, "My work went into junooni stages, where everything I was involved in fed into my soul. I lost my heart completely on that journey and knew I had to come back and document the textile." Her book, 'Sindh Jo Ajrak' ('The Ajrak of Sindh'), was published in 1990. She has also worked with the government sponsored 'Aik Hunar, Aik Nagar' ('One Village, One Product') in order to revitalize and contemporize ajrak.
Noorjehan's discovery of natural dyes sparked another quest, taking her from New Delhi to Dhaka and eventually to Japan, where she conducted research on the production of indigo. She refers to this as one of the most important things she has learnt. In her subsequent visits to India, Bangladesh and Japan, she learnt more about the production and use of natural dyes. An ajrak craftsman told her his family cultivated indigo in Budh, Muzaffargarh and that inspired Noorjehan to undertake a trip to see southern Punjab's indigo fields. Dried indigo leaves were exported primarily to the Middle East and only rarely converted to a natural dye. Worse still, she learnt that indigo cultivation had just about disappeared in the past few decades, though swathes of it had once grown on the banks of the River Indus. Determined to retain what would soon vanish entirely, Noorjehan and a friend, Masuma Lotia, undertook a pilot project. With seeds obtained from the Miani forest, they cultivated indigo and made the dye through the traditional method over a period of four years. Unfortunately, all this came to a stop a few years later as conditions became difficult due to water scarcity and security issues.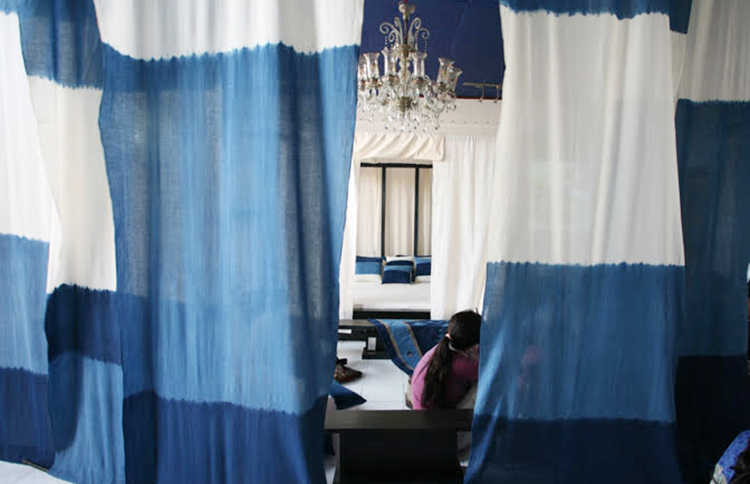 Indigo exhibition at Croweaters Art Gallery, Lahore
Natural dyes and block printing are not the only crafts Noorjehan Bilgrami has been trying to preserve. She laments that indigenous cotton and silk production in Pakistan is almost extinct. Not surprisingly, she has been working on reintroducing hand-spun yarn with cotton grown from desi seeds. At a time when the fashion industry has taken the country by storm, Noorjehan declares, "I don't subscribe to consumerism, and the whole idea of inventing fashion and then discarding it with each season is at odds with the worth of quality textiles that will be treasured through generations. For me, the true value of a product lies in its craftsmanship and quality."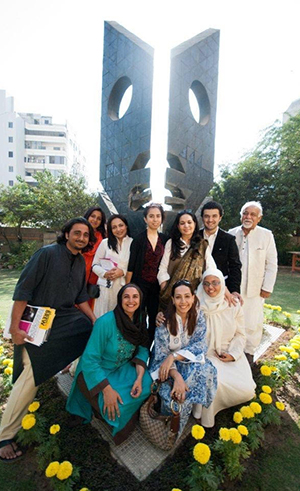 Symbol of Indus Valley School, designed by late Zahoorul Akhlaque, with Alumni of IVSA
In the late '80s, when Karachi was undergoing a cultural decline, Noorjehan and a small group of concerned people were trying desperately to stem it, but had no support from government quarters. Spurred by the need to give something back to the city, they pooled their resources to establish an Art and Architecture Institute – an educational institution with an underlying philosophy to inculcate awareness among the youth about their cultural heritage. A friend rented them a house for three years, at one rupee per year, with the stipulation that they complete their own building within that period. They began with 8-week workshops and each member of the steadily expanding group gave instructions, though none of them were experienced educators. Gradually, their ranks swelled with more friends and students from the workshops joining in. This was how the Indus Valley School of Art and Architecture came into being in 1989.
"The city was amazing," says Noorjehan as she recalls the support they received. Everyone gave what they could. For instance, the carpenters hired to make donkey stools wouldn't take any remuneration, as they wanted to make their own contribution to the cause. Wary of red tape, the group eschewed government involvement, and the fledgling institution survived on the support of friends and members of the art community in Karachi and Lahore. They applied for their own charter immediately, in order to be able to award a degree to the first batch of students at the end of four years. The bill was passed unanimously in the Sindh Assembly and Noorjehan was asked to be the first Executive Director of the degree awarding Indus Valley School of Art and Architecture, now a premier institution of art education in Pakistan.
Noorjehan then worked on craft-related publications and exhibitions of traditional textiles. The exhibition 'Tana Bana, the Woven Soul of Pakistan' travelled to various venues, including the prestigious Mingekan, the Japan Crafts Museum. In 2009, the Koel Gallery came into being and is now an integral part of the Koel complex.
More recently, Noorjehan's interest in cultural heritage and community work has taken a different turn. She spearheads a group of artists, designers and architects who formed 'Pursukoon Karachi' ('A Peaceful Karachi'), an organization that stands by the credo that creativity and aesthetics can generate awareness and achieve social goals. With that intention, original, creative projects that engage with the community and larger audiences were organized. Pursukoon has made a substantial contribution to architectural conservation by working on the restoration of the historic Karachi Cantonment Railway Station. It is a colonial building hidden beneath layers of construction added on to the original by successive administrations. She and her team plan to create a space to be used for public gatherings and a lecture hall in the abandoned upper floor. While the Sindh government has given them some money, the work is dependent upon the ebb and flow of funds, but Noorjehan and her team continue to forge ahead. She is also restoring a Revenue Complex in Khairpur, working with a team of experts to salvage a dilapidated colonial structure that was earmarked for demolition, until a rescue effort was initiated by MNA Nafisa Shah.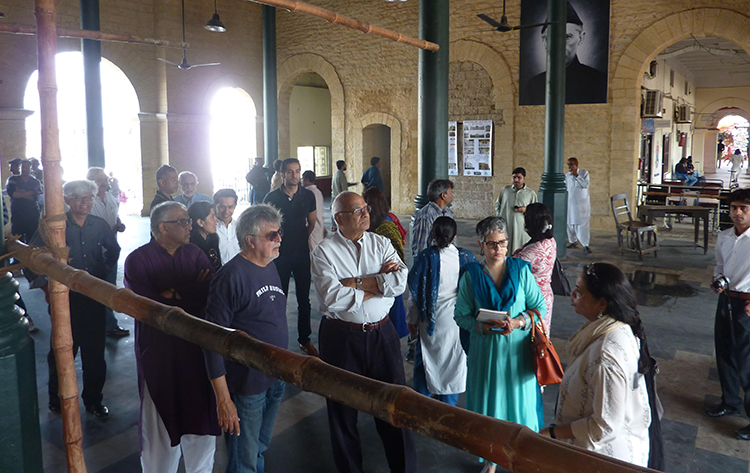 With the city's leading architects at the Karachi Cantt. Railway Station
Despite all these preoccupations, she has managed to find time for her own creative pursuits. "Painting is a luxurious self-indulgence; it is an activity only for myself, and the one that gives me the most satisfaction." She believes her art to be the most honest expression of her self, and has never let commercial interests influence what she creates.
When asked what will be her legacy, Noorjehan is at a loss, as if the concept is alien for her. She is too rooted in the present, unconsciously leaving an indelible mark in the many fields she has chosen to traverse.
You may also like: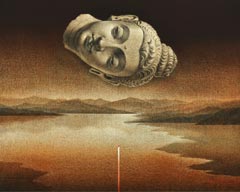 To Reflect: To Recognise
(February 12, 2018)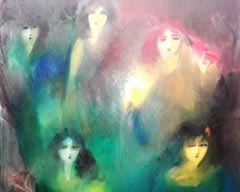 Art Review: Raja Changez Sultan at Tanzara Gallery
(January 19, 2018)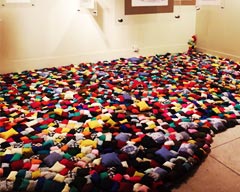 NCA Rawalpindi Degree Show 2017
(January 17, 2018)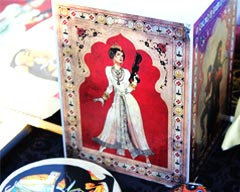 Winter Fete, Islamabad
(January 09, 2018)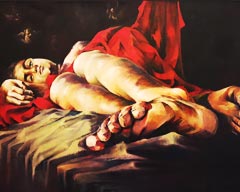 Review: 9th National Exhibition at PNCA
(January 02, 2018)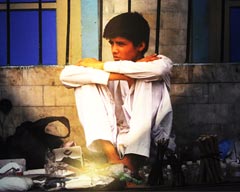 Yeh Hai Karachi 2: Photography and Film Exhibition
(December 20, 2017)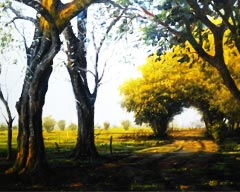 Art Review: Punjab Romanticism by Zulfiqar Ali Zulfi at Tanzara Gallery, Islamabad
(December 18, 2017)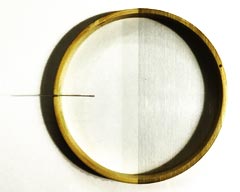 Art Review: Reading Between the Lines at Sanat Initiative, Karachi
(December 05, 2017)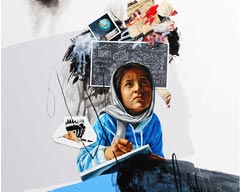 Art Review: The Onrushing 2 at Gallery 6, Islamabad
(December 04, 2017)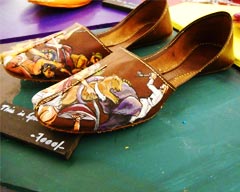 Daachi Arts and Crafts Exhibition 2017
(November 13, 2017)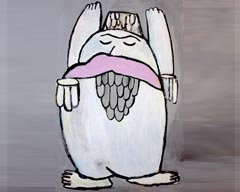 Art Review: 'Loompaland' at Studio Seven, Karachi
(November 09, 2017)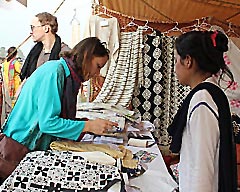 The Behbud Bazaar, Islamabad
(November 07, 2017)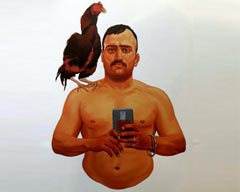 The Karachi Biennale 2017 (KB17)
(October 27, 2017)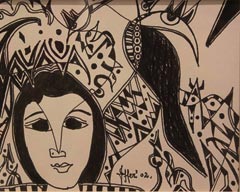 Wahab Jaffer Exhibition Opens at Tanzara Gallery, Islamabad
(October 20, 2017)