Film Review: Saawan
Written by: Noor Ul Ain
Posted on: September 19, 2017 |

Comments | 中文
(L-R) Arif Bahalim as Saawan's father, Syed Karam Hussain as Saawan, Najiba Faiz as Saawan's mother
I watched a late night show of Saawan at some obscure cinema, since the film was barely showing anywhere. Sitting among the five people in the audience, I wasn't sure what to expect, since Saawan had no promotion events that I knew of, no advertisements I'd seen and barely any publicity through social media. This didn't alarm me though; the last time I had stumbled into a cinema for an underrated film was in 2015 with Jami's Moor, which I now hail as my favorite Pakistani film to date.
Saawan, a film by Farhan Alam, written by Mashood Qadri, is no Moor though. While it comes from the ruggedness of a similar Balochi landscape, with barren valleys and hard, unforgiving mountains, the story it tells is quite different. It opens with a random sequence of Nadeem Baig sitting his two grandchildren down for a story, about a boy named Saawan. I say "random sequence" because nowhere are the trio referenced to in the remainder of the film. I forgot they existed until I reflected on the film retrospectively.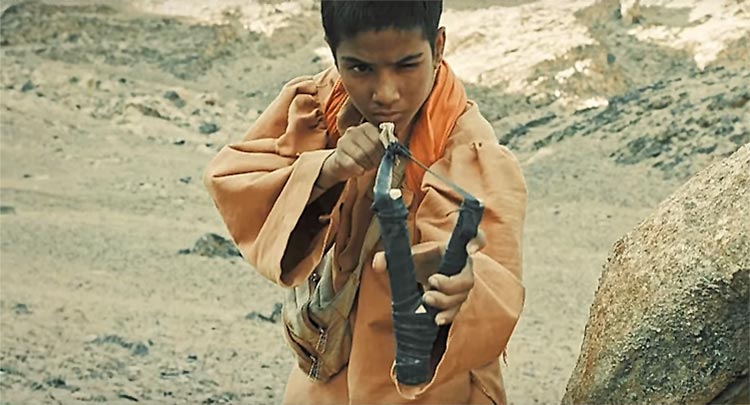 Syed Karam Hussain as Saawan
The narrative shifts to Saawan (Syed Karam Hussain), a nine-year-old disabled boy whose family are the only ones left in a village that has been struck by famine. However, in a cruel twist of fate, Saawan is abandoned by his family in this ghost town, as they too flee to the city. The story that follows is one of struggle, survival, battling odds and outsmarting death itself, in hopes of a possible reunion of the family.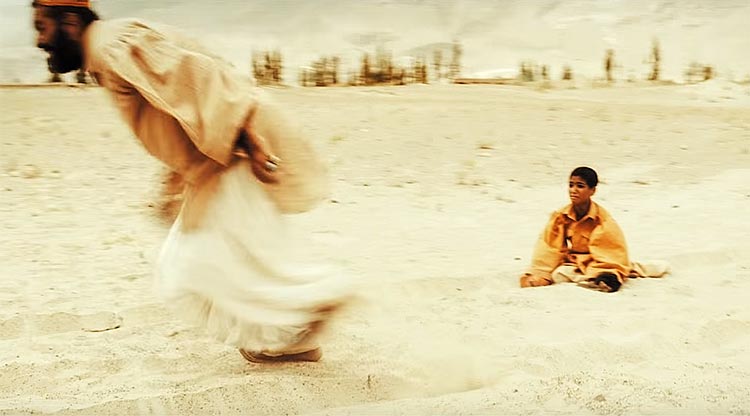 Saawan is abandoned by family
Inspired by a true story, Saawan touches upon several problems plaguing Balochi society; it's a rollercoaster ride of corrupt sardars, domestic violence and toxic masculinity, child abductors/ molesters, inhumane mafias and terrorist attacks. Also, to make matters a little more convoluted, around halfway through its running time, the film suddenly turns into a Polio Prevention Public Service Advertisement (PSA), which I realized is supposed to be a dominant theme of the film, courtesy of many poor attempts at product placement. It seems to have been artificially grafted onto the narrative halfway through it's making, for no particular purpose.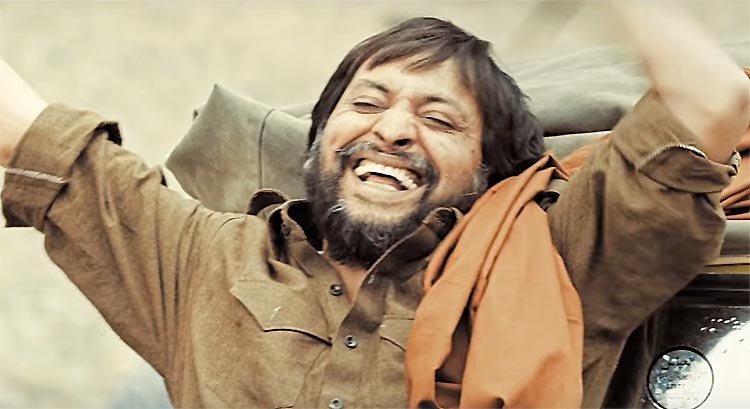 Saleem Mairaj, one of the kidnappers
However, what the film lacked in story, dialogue and production value, it made up for in cinematography and art direction. At several points, shots such as the aerial view of the landscape, silhouetted figures against a setting sun or the centrifugal churning of a candy floss machine, create a visual spectacle so pronounced, you wish to pause the film and stare at the screen a little longer. The journey of the children (Saawan and a group he rescues), plucked from their homes and thrown into this vast wilderness to fend for themselves, also makes for an emotionally investing story, if only it had remained just that. The constant shift from a child's perspective, to more adult problems, back to the children's playground politics, made me think that this mess could have been avoided, had the creators just turned this into a children's movie.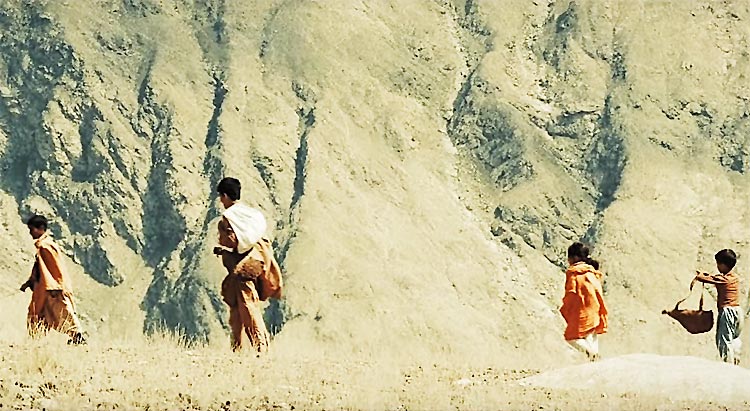 Saawan saved other children
The film had all the ingredients for it: it's a tale of the bravery of a child whose disability comes secondary to his intelligence, perseverance and kindness. There is the necessary fairytale-esque character of a balla (monster), who is actually just a misunderstood old man, and constant flashbacks to a loving mother's advice and confidence, which accompanies Saawan on his journey. It even has the random emergence of a three-legged dog, to mirror and befriend our protagonist. Had the film stayed true to one genre and edited out the unnecessary drama, which dragged it on for an excruciatingly long running time, Saawan might have emerged as a true gem of Pakistan's parallel cinema.
With regards to acting, Syed Karam Hussain emerges as one of the best actors. The rest of the ensemble consists of Saleem Mairaj, Arif Bahalim, Najeeba Faiz and Imran Aslam amongst others, all of whom are satisfactory in their roles, minus some bouts of overacting. The sound editing and music score is also impressive, and adds to the pathos-laden crux of the film.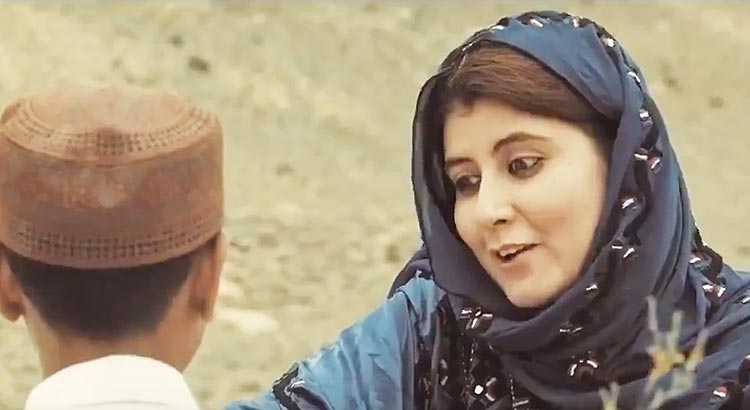 Najiba Faiz as Saawan's mother
Saawan has already won awards at international film festivals and is Pakistan's entry to the Oscars for Foreign Language Film category. Clearly then, Saawan had potential, but it seems to have been lost somewhere in its genre-jumping, tragedy-documenting, futile theatrics, all of which the film could have done without.
You may also like: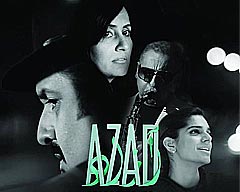 Film Review: 'Azad'
(February 14, 2018)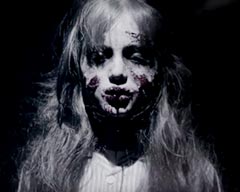 Film Review: Pari
(February 09, 2018)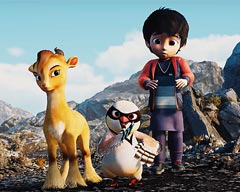 Film Review: Allahyar and the Legend of Markhor
(February 07, 2018)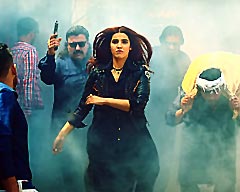 Film Review: Parchi
(January 08, 2018)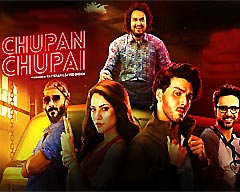 Film Review: Chupan Chupai - A Comedy of Literal Errors
(January 03, 2018)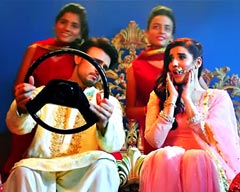 Parchi: Redefining Music Videos
(January 01, 2018)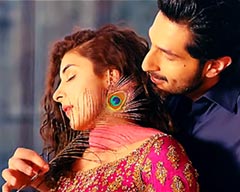 Film Review: Rangreza
(December 26, 2017)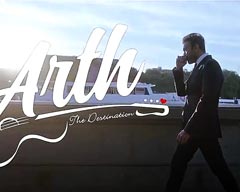 Film Review: Arth - The Destination
(December 22, 2017)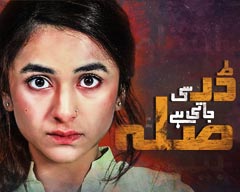 Drama Review: Dar Si Jati Hai Sila
(November 20, 2017)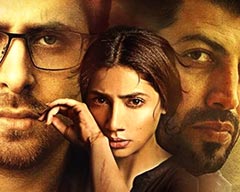 Film Review Verna: hell hath no fury as a woman scorned
(November 19, 2017)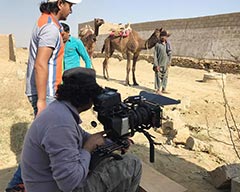 Farhan Alam: Director of 'Saawan', Pakistan's Nomination for the Oscars
(September 28, 2017)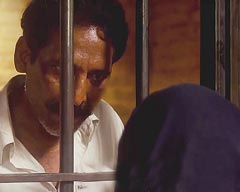 Film Review: My Pure Land
(September 18, 2017)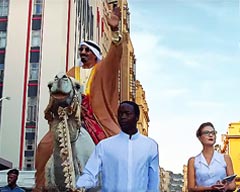 Film Review: Na Maloom Afraad 2 - Forgettable, If Not a Complete Failure
(September 05, 2017)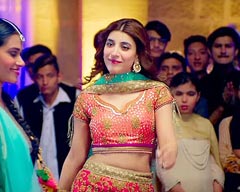 Film Review: Punjab Nahi Jaungi
(September 03, 2017)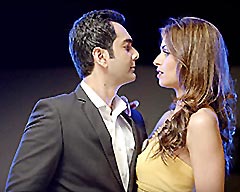 Film Review: 'Chain Aye Na,' - What true love is not!
(August 17, 2017)