Theatre Review: 'Kaun Hai Yeh Gustakh' - Ajoka's Play about Manto
Written by: Mahnaz Shujrah
Posted on: October 12, 2017 |

Comments | 中文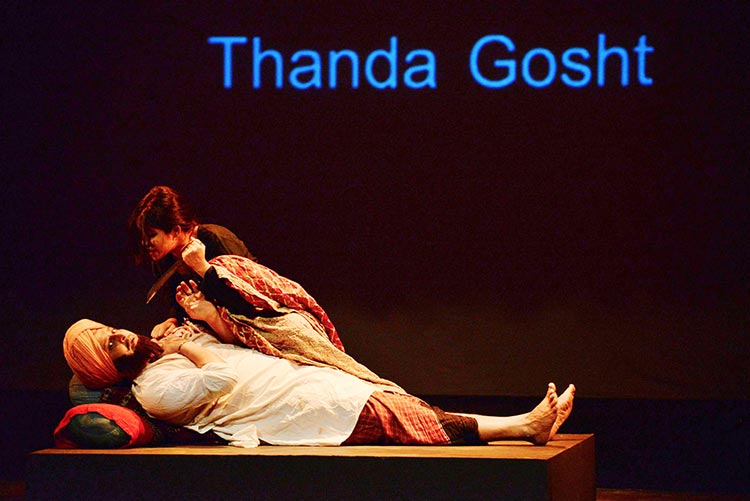 Characters of Ishwar Singh and Kalwant from story, Thanda Gosht
As part of Ajoka Festival, 'Revisiting 70 Years of Partition,' Ajoka Theatre has organized three plays this week, from October 10th to 12th, at the Alhamra Arts Council, Lahore. As a nation we always celebrate Independence, but it is also important to reflect back on the journey of Partition. Independence and Partition, though rooted in the same event, evoke separate sentiments, and the festival explores this idea. To see how different stories about and by Manto, one of the greatest Urdu writers of the subcontinent, would be weaved together to form a cohesive drama, I attended the play titled, "Kaun Hai Yeh Gustakh."
The evening began with director Madeeha Gauhar coming onstage, and introducing the audience to Ajoka Theatre, as well as the play. For the past 33 years, Ajoka has been actively working to present a counter-narrative to contemporary issues, through their thought provoking plays. 'Kaun Hai Yeh Gustakh' was first performed in 2012, and since then it has remained popular in Pakistan, while also being appreciated in Amritsar and Delhi. Its title is borrowed from a Majeed Amjad poem, which pays tribute to Manto. The play is written by Shahid Nadeem, a renowned Pakistani playwright, director and activist. He is also the writer of the film Manto, which was a spin-off of the play.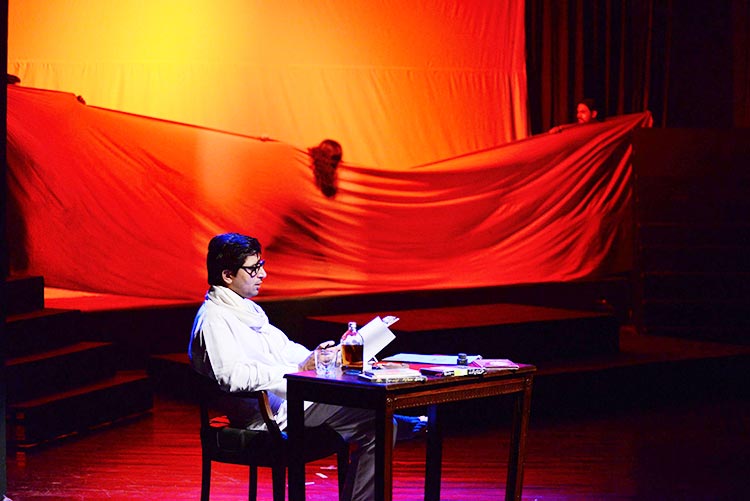 Usman Raj as Manto
In the next two and a half hours, the audience experienced the life of Saadat Hassan Manto after he migrated from Bombay to Lahore in 1949. Many of Manto's most renowned works were written in Lahore, and the play enacted the situations behind these stories, and their implications. Manto never reconciled with Partition, and this can be felt in his work which highlights the atrocities of the time, thus as the play progressed, masterpieces such as Khol Do, Thanda Gosht, and Toba Tek Singh, came to life.
Patients in the mental hospital that Manto was admitted to, with the character Toba Tek Singh in the background
The play brilliantly employed digital media. The stage was empty, except for a single raised platform in the center, two flights of stairs on each side, and of course, Manto's writing table on one end. However, through the usage of black and white videos, and images from Partition, projected onto a large screen in the background, the right mood for the play was created. Through the course of the play, the audience found themselves in the city of Bombay, Lahore, Karachi and Amritsar of 1950s. Music, acting like another character, contributed immensely to the atmosphere. The transitions were also smooth. At times, Manto would be writing a story, and narrating it, when the characters of the tale would appear behind him, and the story would turn into a first person narrative. As compared to just narrating stories, the play managed to immerse you in them, evoking new emotions about Manto's work.
Manto taken to court over his short story Thanda Gosht
The cast of the play was truly phenomenal. The words of Manto came to life through the brilliant Usman Raj, who captured what it meant to be the famous writer - from his expressive silences to his impactful monologues. Manto had several important people in his life, including his famous friend Shyam played by Kamran Mujahid. Many characters from his stories also came alive, one of the most prominent played by Nayyab Faiza. The talent of the actors lies in how they effectively played multiple characters.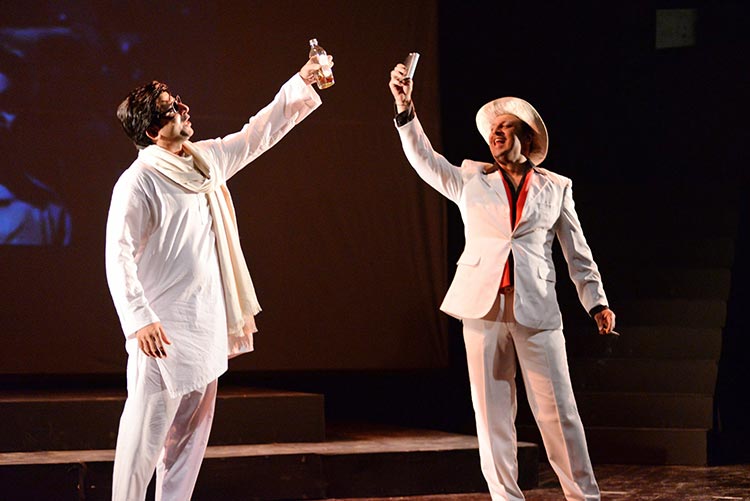 Manto and Shyam played by Usman Raj and Kamran Mujahid respectively
Doing justice to a complex personality and a sensitive issue, in a stage performance, is no easy task. Ajoka's wonderful work is increasingly appreciated by the audience, with a rise in the numbers of their organizers and actors as well. Manto faced tremendous opposition during his time for his work, but he carried on, knowing that if he didn't tell these stories, no one else would. One of his quotes, "Agar aap meri kahaniyon ko bardasht nahi karsaktay toh jaan lijiye ke ye zamanana kabal e bardasht nahi," encapsulates how a writer's reflections on society, should motivate us to change society, rather than to censor his work. Though the truth may be hard to bear, only after accepting it can any country truly progress.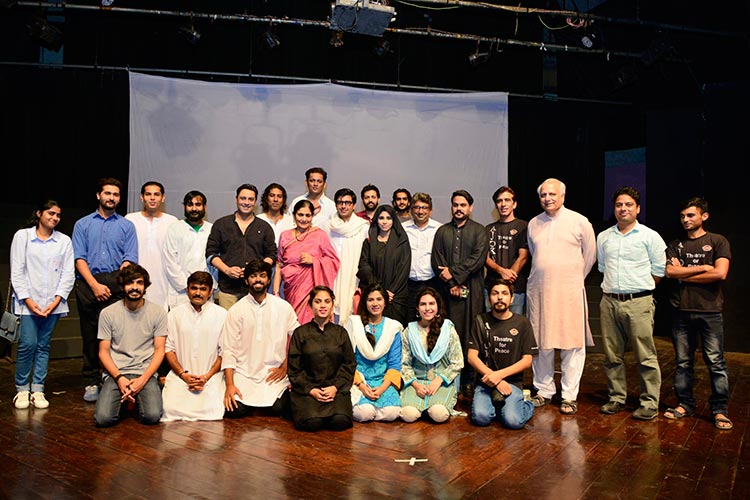 The cast and crew with Madeeha Gauhar and Shahid Nadeem
All pictures provided by Usman Javaid and Bilal Mughal.
RELATED ARTICLES:
You may also like: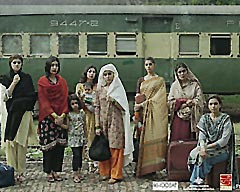 Drama Review: 'Akhri Station'
(February 19, 2018)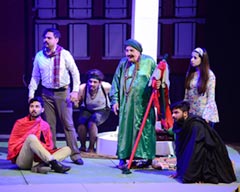 Theatre Review: Charing Cross - A Witness to Changing Times
(February 02, 2018)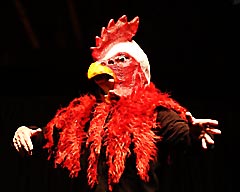 Rafi Peer International Puppet Festival 2018
(January 23, 2018)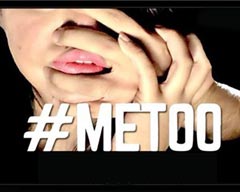 Theatre Review: #MeToo by BlankPage Productions
(January 12, 2018)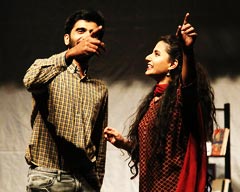 Theatre Review: Bol Kay Lubb Azad Hain Teray
(December 21, 2017)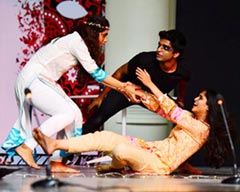 The Fringe 2017 – Intra-IBA Theatre Competition
(December 15, 2017)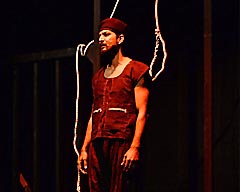 Theatre Review: Ajoka Theatre's 'Intezaar'
(November 30, 2017)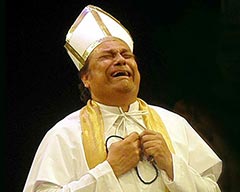 Theatre Review: 'Yahudi ki Larki' by NAPA at National Theatre Festival 2017
(November 02, 2017)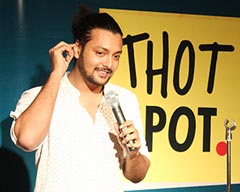 Bachay Panch Hi Achay (5 Kids are Enough) - A Saturday Night Comedy Show
(October 17, 2017)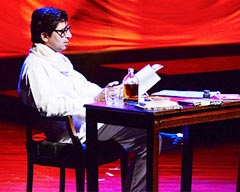 Theatre Review: 'Kaun Hai Yeh Gustakh' - Ajoka's Play about Manto
(October 12, 2017)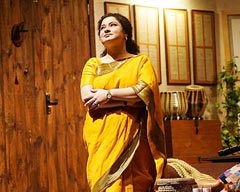 Theatre Review: 'Mushk - Fragrance' in Lahore
(October 10, 2017)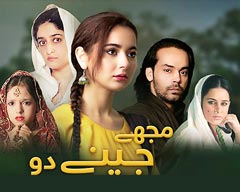 Drama Review: 'Mujhay Jeenay Doh'
(September 22, 2017)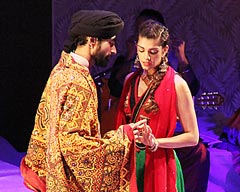 Heer Ranjha – Retelling Kaifi Azmi's Script in an Urdu Musical
(September 11, 2017)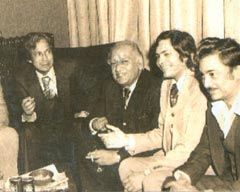 70 Years of Theatre: A Flashback Through the Ages
(August 30, 2017)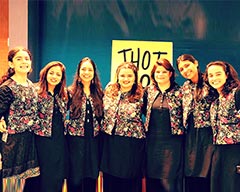 'The Khawatoons' Celebrate their First Anniversary!
(August 02, 2017)