Where is Marina Khan?
Written by: Dr Dushka H Saiyid
Posted on: April 13, 2015 |

Comments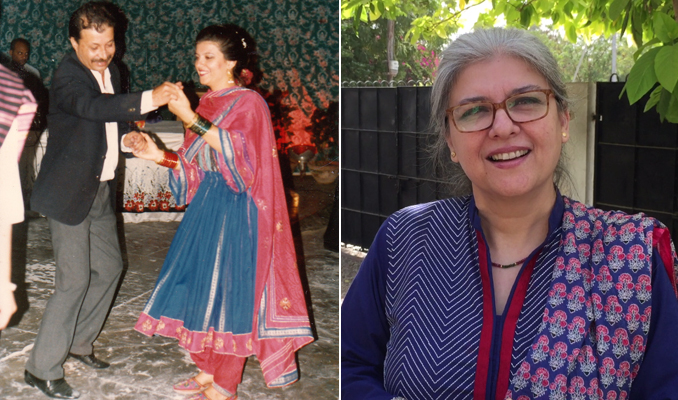 Dancing with Shahzad Khalil at her wedding, 1989 &
Marina Khan, unlike most celebrities, agrees to an interview without any fuss. As on screen, so in real life, she has an unpretentious and bubbly personality, who doesn't quite fit the mold; it might be because of her mixed parentage, a Pushtun father and an English mother. Almost thirty years have passed since she burst onto our television screens, a lissome, insouciant girl with a shock of raven black hair, cut unconventionally short.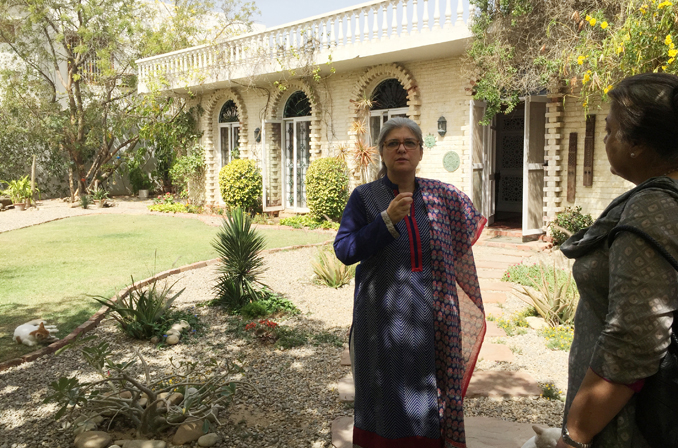 Marina being interviewed at her home
Pakistan Television or PTV, as it's popularly called, was the only show in town; both private channels and cinema houses were non-existent. The 70s and 80s are referred to as the "golden age" of Pakistani drama. Serials like Waris, Uncle Urfi and Khuda ki Basti had established television drama as a forceful and popular art form. It is well known that when one of the popular serials was on air in those days, the roads often wore a deserted look.
Marina Khan was an athlete in school, with little interest in school plays, and even less in academics, but her mother was a film and television buff, and that exposed her to the world of acting. Marina had accompanied her friend, who was acting in a play, to the television station, and caught the eye of the legendary director Shehzad Khalil. He was auditioning actors for Nishan-e-Haider and looking for a fresh face, and she fit the bill. She made her debut on television as the love interest of Rashid Minhas, and later also did the mini-series Ahsaas with Shahzad Khalil. When the casting for Tanhaiyaan was taking place, Hasina Moin had reservations about Marina Khan's suitability as Sania, but it was Shehzad Khalil who pushed for her. Marina took the country by storm as the innocent and vivacious younger sister of an anxiety prone, smoldering Zara, played by Shahnaz Sheikh. She waxes eloquent about the brilliance of Shahzad Khalil as a director, and describes him as "a great human being", and shows me a picture of her dancing with him at her wedding in '89. A week later he was no more; a sudden heart attack had deprived Marina of her mentor, and Pakistan of a highly gifted director, who was only forty-three years old and at the prime of his career.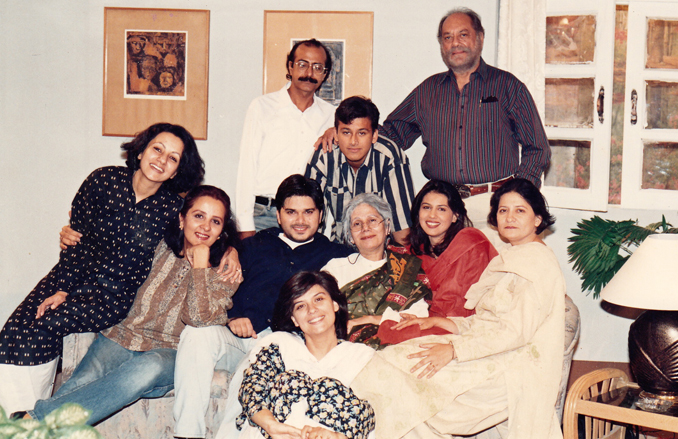 Full cast of the serial Tum Say Kehna Tha (1995), directed by Sahira Kazmi
Dhoop Kinare, another very popular serial followed, but this time directed by Sahira Kazmi, with Rahat Kazmi in the lead male role. She declares that Sahira Kazmi's directorial style was very different from that of Shahzad Khalil, but when you saw the finished product, her finesse as a director was impressive. In Dhoop Kinare her cult like following reached new heights. She had the lead female role as a young trainee doctor, who gets involved with her much older boss. Maybe her involvement with Jalil Akhter, at the same time that Dhoop Kinare was being shot, helped her act on screen the intense emotions she was experiencing in real life. She also did Tum Sey Kehna Tha, and Nijaat with Saira Kazmi, but it was the latter that she "loved" doing.
The question that nags me is, why has this star of the 80s and 90s disappeared from our television screens? She is surprisingly direct and candid: she woke up one morning, about fifteen or sixteen years back, with the realization that she was not enjoying acting any more. She attributes her disenchantment to the changed circumstances in television productions: lack of professionalism and the absence of a good team. She declares that, "if you can't have an intelligent conversation with the team, then it's frustrating". She ruefully recalls that the quality of plays and directors went down, and the Pakistan Television (PTV) stagnated, while the private channels have no system, and the level of cast and crew is poor. Actors have become dominant, creating an imbalance, while "in my time, the Director was the master of the ship".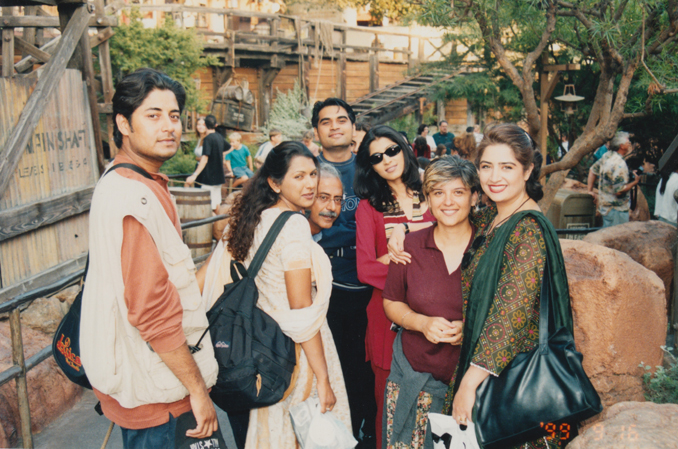 Cast of telefilm Tu Lakh Chalay Ri Gori (2001), directed by Marina Khan
She and her husband, Jaleel Akhter, had saved some money and decided to direct. They did a romantic comedy, Ghar To Akhir Apna Hai for NTM, which was a success. A cooking show for NTM followed, which had about 50-60 episodes. The husband and wife team then produced Umeed-e-Seher, a romance about a kid who is about to join the Pakistan cricket team and discovers he has cancer. Indus ran it as a serial of half an hour each. In the late 90s she took to directing, and did a number of serials and long plays. Very recently she again did a career shift when A&B (Geo productions) offered her a job, and she was happy to take up the challenge. Her latest venture into acting has been under the direction of Mehreen Jabbar, that she thoroughly enjoyed. It is part of a project in which six telefilms will be made in Pakistan, and another six in India, all by different directors.
Marina Khan is well settled in a suburb of Karachi, surrounded by cats and her soul mate, open to new ideas and opportunities and willing to re-invent herself. For someone who experienced the delirious status of a celebrity at a very tender age, she is surprisingly grounded and happy.
You may also like: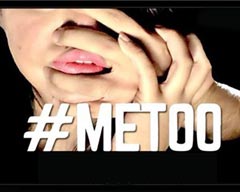 Theatre Review: #MeToo by BlankPage Productions
(January 12, 2018)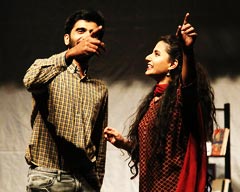 Theatre Review: Bol Kay Lubb Azad Hain Teray
(December 21, 2017)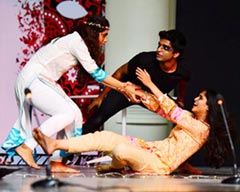 The Fringe 2017 – Intra-IBA Theatre Competition
(December 15, 2017)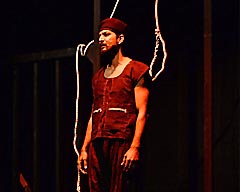 Theatre Review: Ajoka Theatre's 'Intezaar'
(November 30, 2017)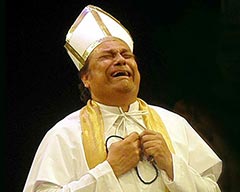 Theatre Review: 'Yahudi ki Larki' by NAPA at National Theatre Festival 2017
(November 02, 2017)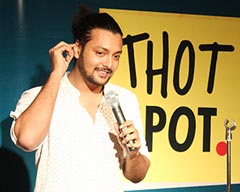 Bachay Panch Hi Achay (5 Kids are Enough) - A Saturday Night Comedy Show
(October 17, 2017)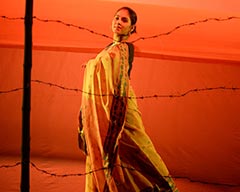 Ajoka Theatre's 'Shehr-e-Afsos - A City of Sorrow'
(October 13, 2017)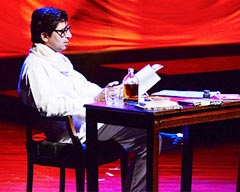 Theatre Review: 'Kaun Hai Yeh Gustakh' - Ajoka's Play about Manto
(October 12, 2017)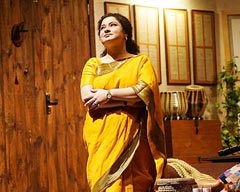 Theatre Review: 'Mushk - Fragrance' in Lahore
(October 10, 2017)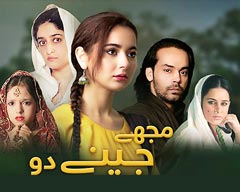 Drama Review: 'Mujhay Jeenay Doh'
(September 22, 2017)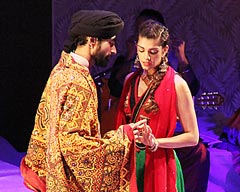 Heer Ranjha – Retelling Kaifi Azmi's Script in an Urdu Musical
(September 11, 2017)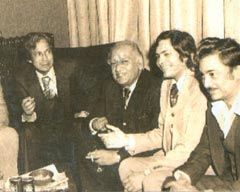 70 Years of Theatre: A Flashback Through the Ages
(August 30, 2017)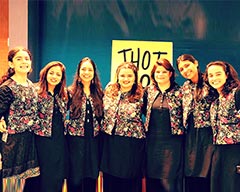 'The Khawatoons' Celebrate their First Anniversary!
(August 02, 2017)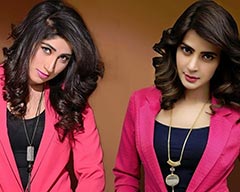 'Baaghi', a serial inspired by Qandeel Baloch
(July 31, 2017)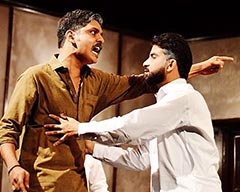 'Mulzim Ya Mujrim' – A Theatrical Production
(July 25, 2017)