Walking Through Tianzi Fang, Shanghai
Written by: Fizza Urooj
Posted on: August 21, 2017 |

Comments | 中文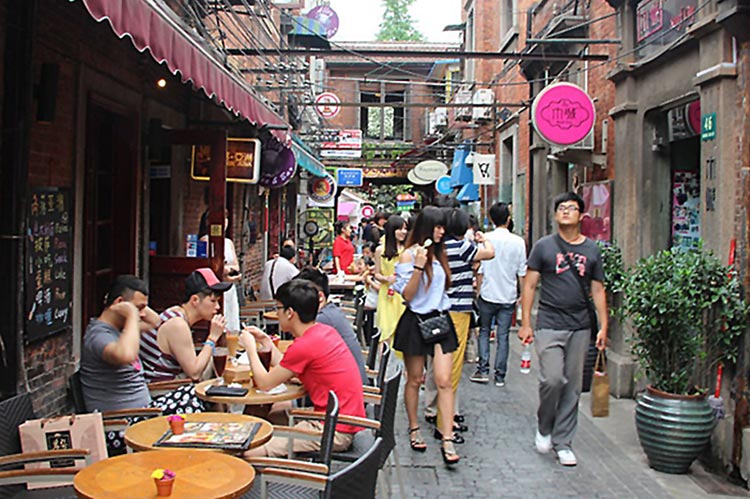 Tianzi Fang, Shanghai (source: Top China Travel)
As a Pakistani student in Shanghai, I have received a lot of love from the Chinese community. From taxi drivers to salespeople, whosoever finds out that I'm a Pakistani, joyfully addresses me with the words, "China and Pakistan are best friends!" They then ask me questions about my experience of learning Chinese language, aspects of Pakistani culture and what I miss about home. Once, upon hearing that I crave Pakistani food, a Chinese friend directed me to Tianzi Fang, and this began my many walks down its alleys.
Located in the French Concession area of Shanghai, Tianzi Fang is an arts and crafts district. Easily accessible via metro, the area takes up lanes 210 to 248, and is located beside the Taikang Road. Aptly named after Tianzi Fang, the earliest recorded painter of China, the area is a hub of Chinese art and culture. Even when it was threatened with demolition in 2005, the famous artist Chen Yeifei whose own art studio was located here, convinced authorities to preserve the unique ambiance of the district.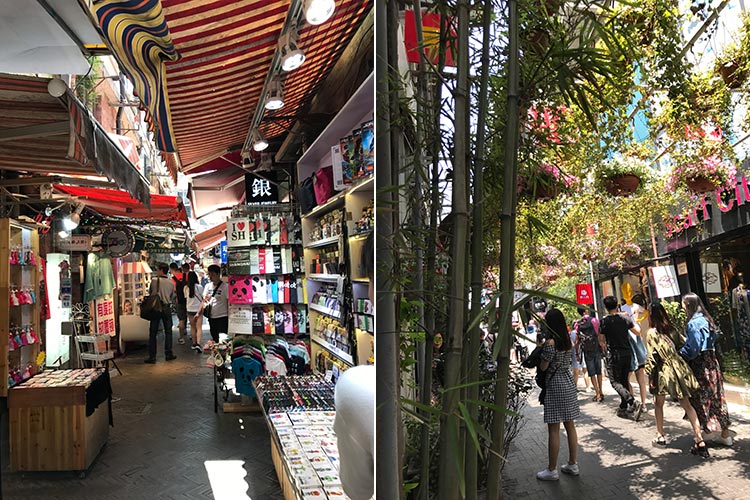 Alleys of Tianzi Fang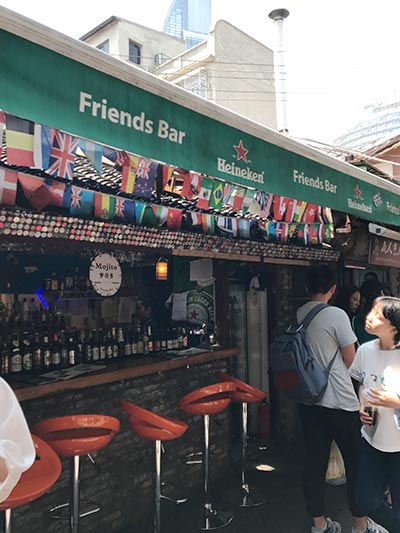 Friends Bar
Often called a blend of past and present, Tianzi Fang once used to be a completely residential area with shikumen houses (small stone houses). Years later, the traditional architecture, which hints at French influence, has been retained. The shikumen houses have been restored to become art studios, boutiques, restaurants and salons, transforming the district into a chic shopping enclave. Especially during spring, I find the alleys of Tianzi Fang to be a sight for sore eyes. Beautiful flower pots hang from above and evergreen plants bloom all along it.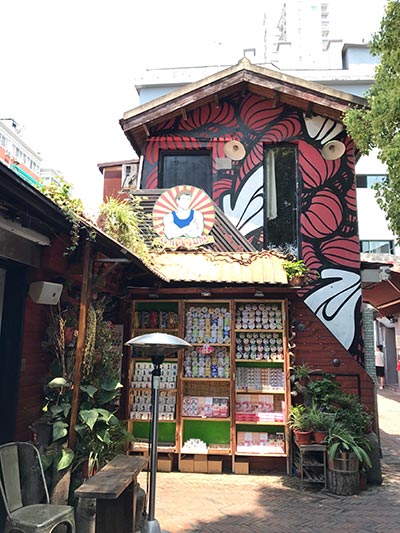 Kommune Cafe
Due to its attractiveness, the district has become quite culturally diverse. In fact, while development of Tianzi Fang began back in 1998, the street gained real popularity in 2006 when Chinese cafés and French Bistros were launched here. Not only have I found South Asian cuisine here at the restaurant 'Lotus Land' to satisfy my food cravings, but other items like Chinese tofu and Mexican churros are also easily available. One famous café-style eatery, 'Kommune' is owned by an Australian man, and offers BBQ. The café has taken up an entire old alleyway, and transformed it into an outdoor eating and leisure space. In spring and summers, locals and expats can be seen lounging here.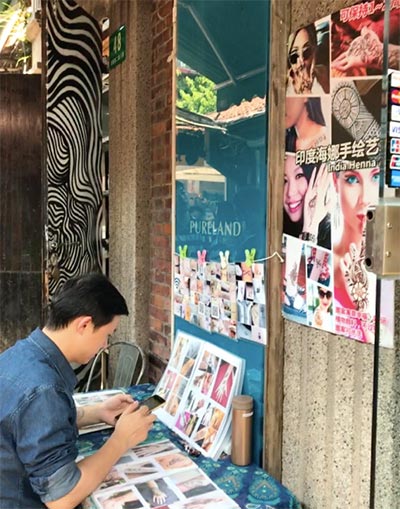 Henna Stall
Another interesting aspect of Tianzi Fang is its complicated arrangement of alleys. In fact, if one looks at the map of Tianzi Fang, it comes across as a jigsaw puzzle. I often end up walking around the district in circles and getting lost, because each alley looks exactly like the others. And yet, this is also the charm of Tianzi Fang, where at any moment you can come upon a dumpling stall or a flower tea shop. Some alleys beckon you with the scent of handmade soaps, while others attract you with intricate clay art on display. While exploring the streets, I once even stumbled upon a henna store, where a Chinese boy had mastered the art of making beautiful mehndi designs. Day or night, the street is always crowded in a manner similar to the busy Mall Road in Murree, Pakistan.
Due to the diverse cuisine available as well as the charm of the shikumen architecture, Tianzi Fang is considered a 'must-visit' spot by all those visiting Shanghai. It's also the best place to buy souvenirs for family and friends, since one can find anything from traditional Chinese hand fans to a variety of Chinese tea here. Handmade candies and decorated ice cream cones are some of the novelty items being sold, but what I find most interesting are the dumplings which are sold in every shape imaginable- from flowers to ducks and penguins!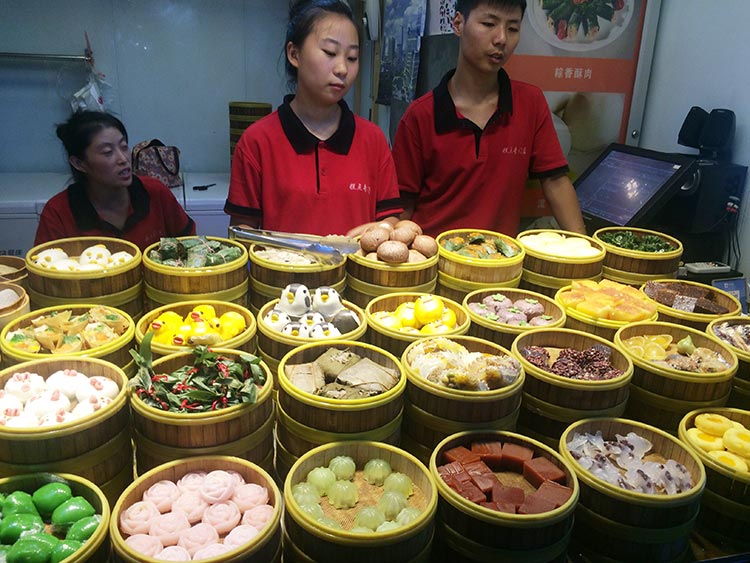 Dumplings
The intermingling of Chinese and Western arts, craft and culture, has resulted in a plethora of shops, cafes and art studios creating a niche market in Tianzi Fang. It has created a wonderful district which attracts foreigners and locals alike.
You may also like: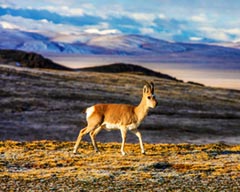 Hoh Xil: Kingdom of Wild Animals
(January 18, 2018)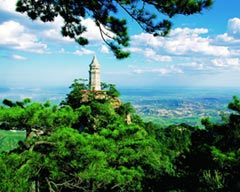 Panshan Mountain of Ji County
(January 11, 2018)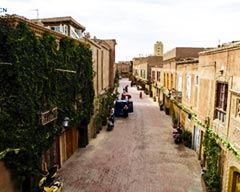 Stories from the Old Town of Kashgar
(January 04, 2018)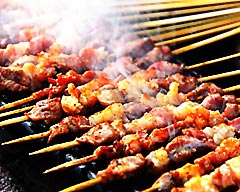 International Cuisine in Urumqi
(December 27, 2017)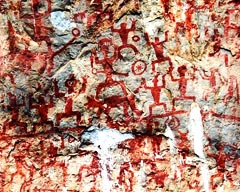 Zuojiang Huashan Rock Paintings, Guangxi
(December 19, 2017)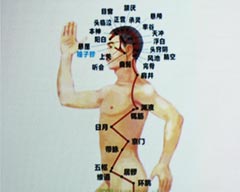 Seminar on Chinese Outlook on Life and Contemporary Value of Chinese Medicine
(December 15, 2017)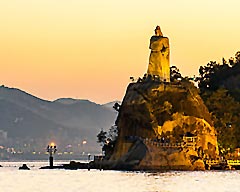 Gulangyu Island: The Island of Music
(December 13, 2017)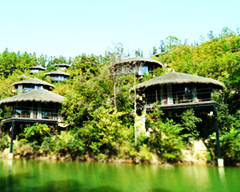 Mogan Mountain Farm Villas
(December 06, 2017)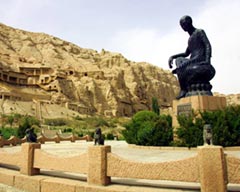 Kuqa: The Old Town on the Silk Road
(November 29, 2017)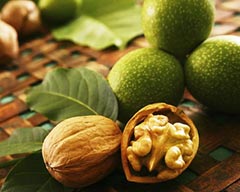 The Walnut Trees of Xinjiang
(November 23, 2017)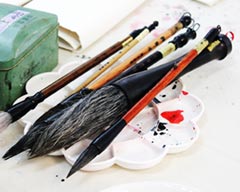 Chinese Ink-Wash Painting at China Cultural Centre, PNCA
(November 23, 2017)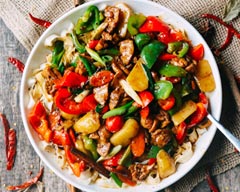 Famous Xinjiang Delicacy: Big-Plate Chicken
(November 16, 2017)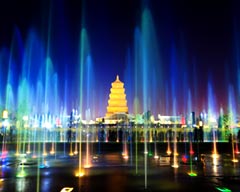 Shaanxi: New Glories on the Silk Road
(November 08, 2017)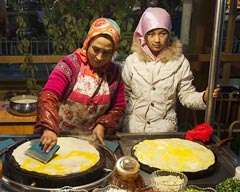 The Bustling Moyu Night Market
(November 01, 2017)