THE MAN BEHIND THE FARMERS MARKET
Written by: Adeel Wahid - Posted on: January 16, 2014 |

Comments | 中国 (Chinese)
Google Translation: اُردو | 中文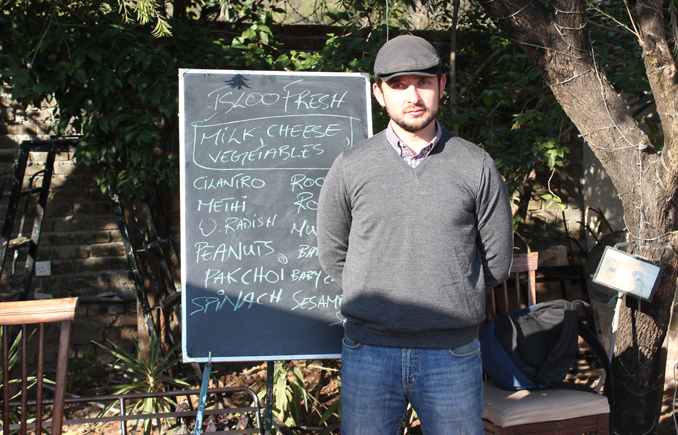 Entering the Farmers Market at Kuch Khaas, it feels as if one has stepped back in time in the Victorian era. The whole air exhumes a sense of a closely knit community, with gentlemanly farmers interacting with their buyers in a manner that speaks of a relationship deeper than that established by mere trade.
On every Saturday morning, the open area outside Lime Tree, Kuch Khaas is crowded with families enjoying themselves with something which has always been considered a hectic duty; shopping for fruits and vegetables. This is because Kuch Khaas' Farmers Market is no ordinary market.
In a 'subzi mandi' (Vegetable Market) there is no live cooking taking place, there is no breakfast being served, and there is no atmosphere of camaraderie where the families socialize, having fun while purchasing fresh, organic fruits and vegetables. Along with offering all this, Farmers Market also has fresh bread, hand-made pasta, honey, milk, cheese and even fish, a delight for people who believe in healthy eating.
The first farmer's market was set-up at Kuch Khaas in September 2013. It was a brain child of a young and energetic entrepreneur farmer, Qasim Tareen, who eventually combined forces of his 'Organic Reri' with Ali Saigol's 'Ciao Cheese' and Brigadier Aftab's 'Simli Farms', to establish an entity known as 'Isloo Fresh'. From the initial four stalls at the market, the venture has expanded to an extent where the farmers have to put their names on a waiting list in order to get a stall.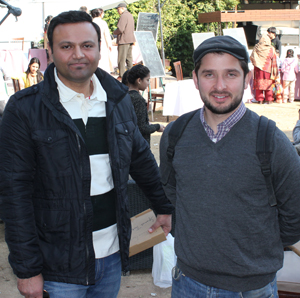 Ali Saigol (Ciao Cheese) and Qasim Tareen (Organic Reri)
Qasim Tareen, with his looks and manners, seems more like a fictional character from a classic novel of Victorian era rather than a person of 21st century living in Pakistan. It all started with his desire to become a farmer, a career not many young, educated people in Pakistan usually opt for.
In 2009, Qasim's family moved back to Islamabad from Karachi, and it was then that Qasim took over 5 acres of his family's land which was lying idle on Simli Dam Road in Jhandala and decided to become a farmer. His parents were not happy. Qasim had not become a doctor or a lawyer, the conventional fields which are considered "safe" professions in Pakistan. But now that Qasim's farming has reached a self sustenance level, even bringing in profits, the skepticism of his parents has started to give way. "None of this would have been possible without the constant and unconditional support of my wife" relates Qasim.
From childhood, Qasim had his heart set for farming though. "Children usually go to places such as Disney Land for their vacations, I went to my grandparents' farms located in Haripur and Chitral" says Qasim. "It was the time I enjoyed the most, playing around farms and eating fresh food".
It was, perhaps, this nostalgic feeling of happiness that drew Qasim towards farming. Every day now travels around 30 Km away from Islamabad to be there on his land where he spends around 3 to 4 hours. "I take a lot of care of my farm. The water is tested, soil is tested and I ensure the biodiversity of my land by growing only organic, using absolutely no pesticides and chemicals", Qasim says.
Qasim understands the value of, and is an ardent believer in eating fresh and pure. Both his parents have had to deal with cancer. In the words of Qasim, "It is only with lifestyle changes and healthy diet that one can improve one's chances of fighting such lethal diseases". This is perhaps why Farmers Market is proving to be such a popular destination for conscientious people who believe in knowing about what they eat.
Farmers Market also features live cooking by Ruchira Hoon under the name of Cookaroo , a food enthusiast with her own set of innovative recipes which she also publishes on her blog (the great Cookaroo). Every Saturday, using the fresh produce from 'Isloo Fresh', she comes up with a delicious breakfast menu, which has helped create a regular clientele who come to relax and have a scrumptious breakfast in open air.
In order to ensure the quality of the foods put up for sale, 'Isloo Fresh' acts as a quality control entity as well. For a new entrant farmer, there is a questionnaire that needs to be filled. The shortlisted farmers are then interviewed by the 'Isloo Fresh' team to find out whether the food items are actually organic or not. After this, the team visits the farm itself.
Qasim Tareen's initiative which was welcomed by Kuch Khaas in September last year, provides a platform benefitting both the farmers and the consumers. The middle man has gone and with him the exponential profit making incentive. What remains is a collegial environment, where the farmers and the buyers interact in a friendly manner. The farmers get a platform to bring in their organic produce whereas the buyers get access to fresh and pure food along with the opportunity of enjoying a marvelous breakfast thanks to Ruchira and Lime Tree.
You may also like: