DANCE OF THE PEACOCKS - WAGHA BORDER
Written by: Shahida JJ - Posted on: July 17, 2013 |

Comments
Google Translation: اُردو | 中文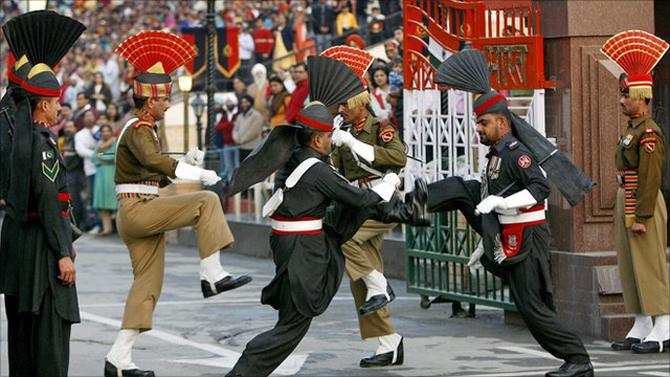 The performance
Performance of the Sentries. Lahore
After two failed attempts, we finally managed to visit Wagah border with family to witness and partake of the fancy performance of the flag down at dusk ceremony enacted by both Indian and Pakistani border security sentries.

This time we were I, accompanied by a driver and attendant - arrived at Wagah to packed balconies and the ceremony in full swing, with cheering crowds and Sentries shouting martial commands on both the Pakistani and Indian sides.

There were no seats for us, so we stood in front of the first row, close to the performers and the gates.

Frank Jacobs writes:

"The world's most spectacular border ceremony takes place every day before dusk at Wagah. Roughly halfway between Lahore in Pakistan and Amritsar in India, Wagah is where the Grand Trunk Road intersects with the so-called Radcliffe Line, dividing the Punjabi town between the two countries. The only official road link across the Indo-Pakistan border passes through the town's monumental border gate.

"As large crowds gather on either side of the gate, claps and cheers of "Pakistan Zindabad!" and "Jai Hind!" charge the air with anticipation, as if before a sports game. What follows the closing of the gate is indeed a contest between two teams. The khaki-clad ones are the Indian Border Security Forces; the Pakistan Rangers are resplendent in black. Each of the players is over six feet tall, sports fearful facial hair and carries impressive turban-cum-coxcomb headgear.

"The apparent intent of the synchronized ceremony is to lower the flag of both nations before sunset.

"The soldiers mirror each other's goose-steps, thumb-thumps, martial cries and intimidating stares. This curious hybrid of battle and ballet lasts up to an hour. When both flags have been brought down, the only physical contact between both sides occurs: a curt handshake between officials, which signals that the ceremonial border gate is officially shut."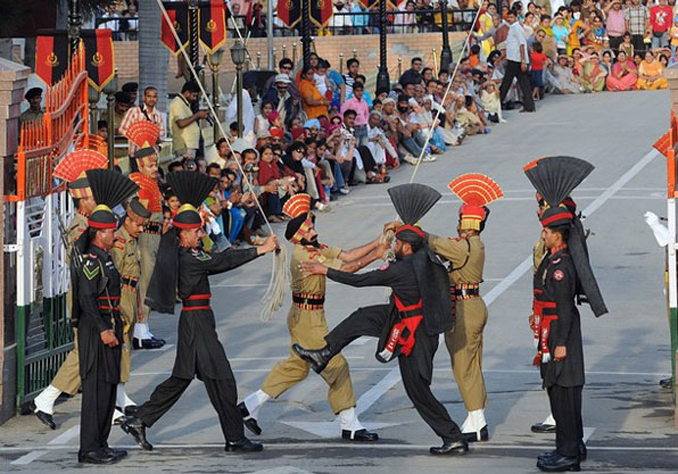 Flag ropes being pulled
Kiki stood very close to the performers and watched closely. With cheers of Pakistan Zindabad, she became emotional and had a lump in her throat!
She posed with the serious faced Sentries for photos.
On our return home, we stopped for tea on the banks of the Lahore Canal, where road traffic was minimal.
A beautiful memory Kiki took back home, to share with her family and friends!
You may also like: