Exotic Blown Glass Pumpkins at Stanford Shopping Mall, Bay Area. California
Written by: Shahida JJ - Posted on: November 02, 2012 |

Comments | 中国 (Chinese)
Google Translation: اُردو | 中文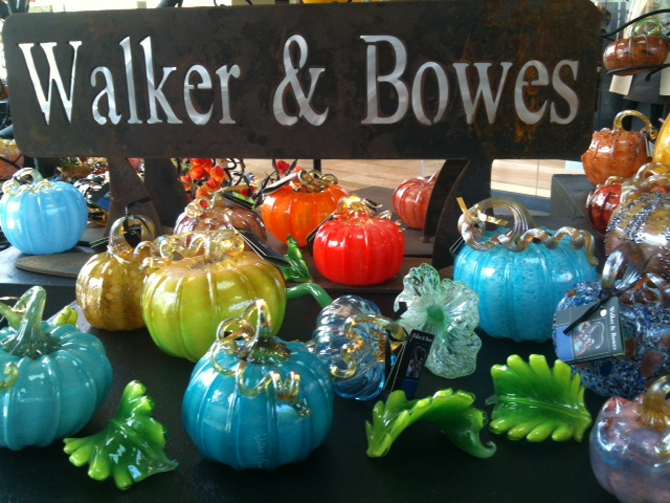 September 2012. Wow! So, so beautiful! Stanford Shopping Mall's main pavilion displays a major exhibit that began early September and will last through October: several tables covered with glowing, glistening, exquisite, artistic and immensely fragile Italian style blown glass pumpkins of different sizes, from an inch to over a foot in diameter, in all colors. Exhibit is organised by Walker and Bowes, an artist husband and wife glass blowing and manufacturing team in Silicon Valley, California.

With my camera and iPhone, I took several beautiful photographs and spoke to the creators of the exquisite art work

A large crowd of shoppers and collectors had gathered around the tables, admiring and purchasing. The creators were speaking and explaining their work to visitors.

Am reminded of a Fairy Tale, where a Fairy Godmother, using her magical wand, transforms Cinderella's pumpkin into a golden coach, drawn by six horses, that takes Cinderella to the King's palace for the Prince's dance ball.

These Pumpkins are more beautiful!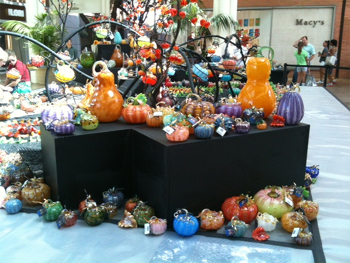 Complimented Bobby and Michele, the husband and wife, on their artwork. This is what I learnt from them, by observation and research:

Italian style blown glass pumpkins are created each year and sold prior to Halloween which falls on October 31, when children dress up as witches, ghosts, fairies and goblins and go knocking on neighbors' doors, trick or treating, and collecting candy.

Each pumpkin is a piece of art and prices are reflective of the time and work put into creation of each one; the smallest is an inch in diameter and the largest is 18 inches in diameter. Prices range from small $50, medium $200 and the best and largest up to $8000.

Why a Pumpkin:

A long tradition exists in Ireland, Scotland and Britain of carving vegetables into lanterns, using turnips or beets, which are hung outside their doors to ward off evil spirits. In the US, large native Pumpkins are used and carving pumpkins has turned into an art form.

Carving Pumpkins: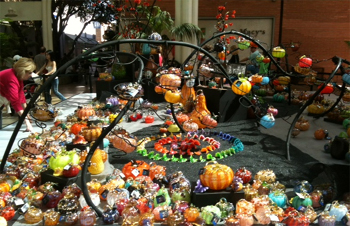 The top is cut off a large ripe pumpkin and the meat is scooped out, leaving the shell, into which are then carved funny faces, and a light or a candle is placed inside. It becomes a pumpkin lantern - a Jack-o- Lantern!

Biography of the artists:

Michele G. Walker and Bobby Bowes are founders of a glass studio in San Jose, CA, where they also live and work. Fifteen years ago, Bobby Bowes's idea for the first Glass Pumpkin Patch was born, focusing on Italian style glassblowing. A very well received exhibition was organized, so much so that all pieces were sold on the first day. And today, more than 46,000 of these one-of-a-kind pieces of art are held by collectors.

The artists are involved in supporting charitable organizations, and organize exhibitions where they sell their artwork to raise funds for numerous non-profit programs for local children, communities and educational programs.

Their education consists of time at Pilchuck Glass School, world renowned Italian glass masters and both are graduates of San Jose State University, California, with degrees in Bachelor of Fine Arts.

You may also like: