CUBA IV: LET'S GO TO HAVANA!
Written by: Dr. Dushka H. Saiyid - Posted on: September 16, 2013 |

Comments | 中国 (Chinese)
Google Translation: اُردو | 中文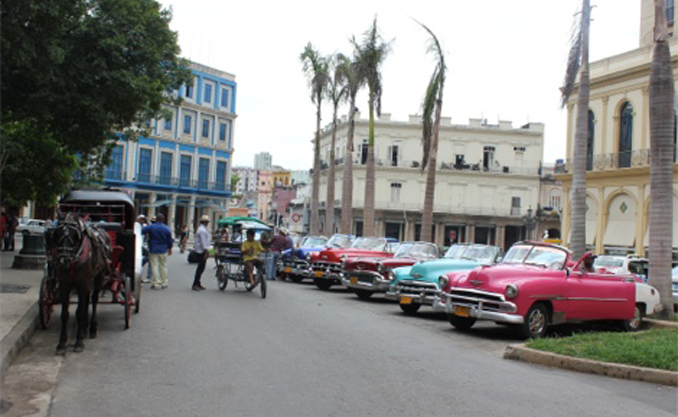 Havana
With the American embargo in place, Cuba became economically dependent on Soviet Russia. But since the collapse of the Soviet Union in 1991, when Cuba entered a period of hardship, Cuba has been taking small steps towards economic liberalization and becoming more open for tourists. Despite a stagnant economy, Castro has been able to provide free education and health service to all Cubans, although the latter is an impossible dream for a developing country. A one party state with limited political freedom, it has successfully done away with racial discrimination and the wide income disparities of the pre-revolutionary era.
Havana replaced Santiago as the capital in 1607, because of its strategically advantageous location. Just two hundred miles from Florida, it has been a magnet for adventurers, investors, mafia, intellectuals, artists and tourists. Just wandering around the cobbled stone roads of Habana Vieja, the historic center and a UNESCO World Heritage site, can be a heady experience. Plazas, museums, cafes and restaurants abound, and live music pours out from baroque buildings with stunning courtyards.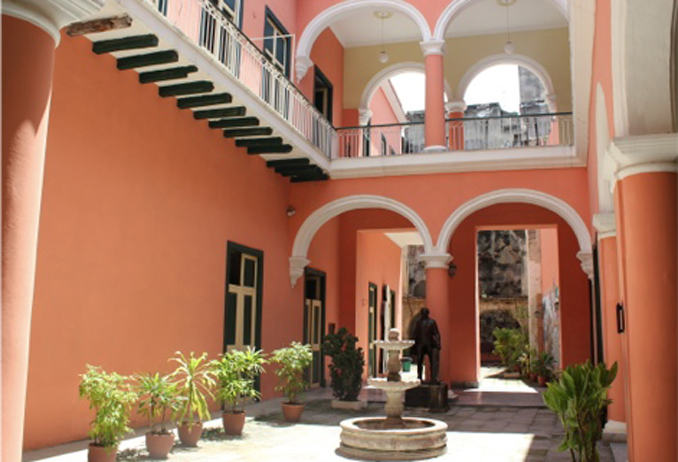 Casa de Mexico Benito Juarez, Havana
The museums, whether of the colonial or revolutionary period, are being maintained with loving care. They do not disown their colonial past, but have preserved it in museums across the country. One of the best museums is Museo de la Ciudad, home to Spanish captains general; it has a wonderful collection of horse carriages, furniture, military uniforms, and canons of the colonial period. It is located in the beautiful Plaza Armas, which is lined with royal palms, cafes, and a second hand book market.
Ernest Hemingway had a long association with Havana. He rented a room on the 5th floor of Hotel Ambos Mundos in 1932, with wonderful vistas of the harbor and Habana Vieja. His room No. 511, where he began writing his moving novel about the Spanish Civil War, For Whom the Bell Tolls, has been made into a small museum. Getting to his elegant villa in the suburbs of Havana takes a little more time, but is worth the effort. Hemingway first rented Finca la Vigia in 1939, and then bought it. When he finally went back to the USA in 1960, he gifted it to the Cuban people, and the government has done an exemplary job of preserving it. On this rambling and beautifully manicured estate is a big swimming pool where Ava Gardener is said to have gone skinny-dipping. Parked next to the pool is his boat, Pilar, and the graves of his four dogs. It's a peep into the life of a writer who led a fascinating and colourful life, and even volunteered to fight against the fascists in the Spanish Civil War.
Calle Obispo connects Habana Vieja to Centro Habana. Obispo is a long crowded commercial street, full of shops, fast food joints and restaurants; a good place to buy handicrafts and CDs of Cuban music. At the end of Obispo is Centro Habana, its skyline dominated by the grandiose Capitolio Nacional, modeled on Washington's Capitol and built in the 1920s, it now houses the Cuban Academy of Sciences. Adjacent to it is the stunning neo-baroque Centro Gallego, home of the Gran Teatro de la Habana, currently shut for renovation. The Museo de la Revolucion and the two branches of the Museo Nacional de Bellas Artes are a stone's throw from the Capitolio. The Museo de la Revolucion was also the Presidential Palace before the revolution, and after the revolution was used for meetings of the Council of Ministers up to 1965. Che Guevara and Camilo Cienfuegos chaired some of these meetings.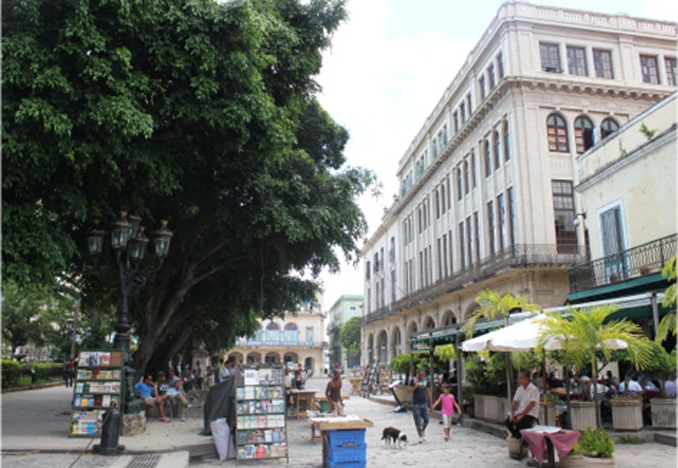 Plaza Armas and the market for second hand books
The best meals we had in Havana, if not Cuba, were at Los Nardos, situated opposite the Capitolio and easy to miss. This cavernous eatery is cheap and, not surprisingly, hugely popular, with long queues outside. Right behind the Capitolio is the Partagas cigar factory, makers of the famous Montecristo and Cohiba brand of cigars. The factory was closed, but the store, with a rich mahogany nineteenth century interior, has a good collection of cigars, and the wood-paneled smoking room with deep leather sofas looks inviting.
Kitsch and glitzy, the 50s Tropicana Club with its open-air cabaret, is a rite of passage for all tourists. Jazz and dance clubs abound. Salsa and rumba originated from Cuba and professionals perform at cafes, inviting the tourists to participate, but few are able to match the fluid and rhythmic movement of their bodies. As we walked down Mercaderes, one of the most interesting arteries in Habana Vieja, two young girls could not resist the music drifting out of a restaurant, stopped to give a brief but mesmerizing performance, and as the tourists fumbled with their cameras, they were gone with a laugh. It was a just a moment in the daily life of Habaneros, spontaneous and joyful and quintessentially Cuban.
Click to view picture gallery
RELATED STORIES:
You may also like: