Zhejiang Cuisine
Written by: Robynne Tindall - Posted on: September 17, 2014 |

Comments | 中国 (Chinese)
Google Translation: اُردو | 中文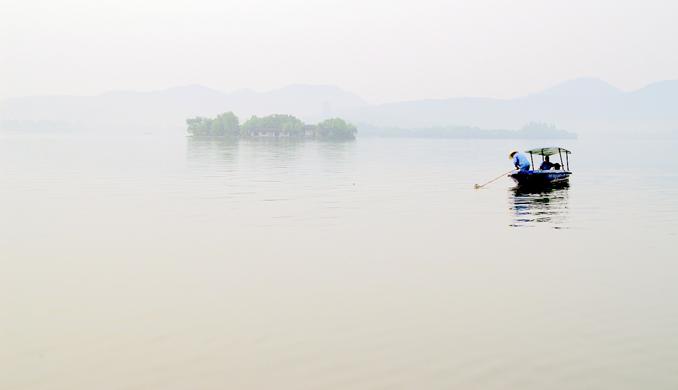 Fish from Hangzhou's tranquil West Lake plays a major part in Zhejiang cuisine (Flickr user Xianyi Shen)
Long referred to as the "land of fish and rice", Zhejiang province's location on the fertile lower reaches of the Yangtze River, where it rushes into the East China Sea, has blessed it with a vast array of natural ingredients. As its moniker suggests, Zhejiang's main agricultural crop is rice, while it is also one of the major centers of aquaculture in China. Zhejiang is also China's leading tea-producing province, which we will revisit later on. All of these factors have combined to create Zhejiang's unique regional cuisine.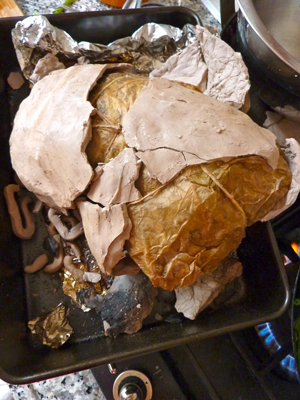 Beggar's chicken adds a touch of theater to any meal (Flickr user kattebelletje)
The flavors of Zhejiang cuisine are mellow by Chinese standards, emphasizing lightness and fragrance. This means that the food is noticeably less greasy than other cuisines, particularly that of nearby Shanghai. While it is easy to make these generalizations, Zhejiang cuisine can actually be broken down into three styles, each originating from a city in the province: Hangzhou, which includes dishes made with tea and bamboo shoots; Shaoxing, which specializes in poultry and freshwater fish, cooked with the city's famous rice wine; and Ningbo, whose coastal location makes it a haven for seafood lovers.
Famous dishes from across Zhejiang include:
Dongpo pork, a braised pork belly named after Song dynasty poet Su Dongpo who supposedly invented it;
Longjing shrimp, a delicate shrimp stir fry infused with the flavor of the province's famous Longjing tea;
West Lake fish in vinegar sauce, made with fish from Hangzhou's West Lake and fragrant black vinegar;
Beggar's chicken, in which a whole chicken is stuffed and wrapped in lotus leaves, before being coated with either clay or water-based pastry and baked until tender.
As touched on earlier, Zhejiang is one of China's major tea-producing provinces. Of all its teas, the most famous is Longjing tea (literally translated as 'Dragon Well tea'), a pan-roasted green tea from Hangzhou. Although the tea may be produced in other areas, only tea grown in the Xihu (West Lake) district of the city of Hangzhou is considered authentic. The delicate, grassy flavor is so prized that it has also found its way into the food of the region, added to the wok at the end of cooking in dishes made with freshwater fish and shrimp.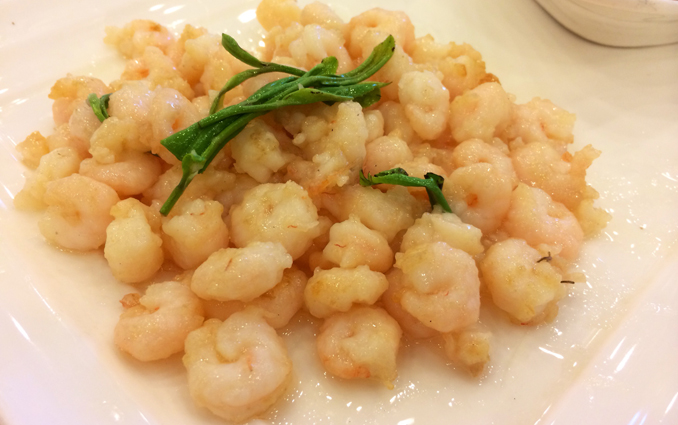 Dishes like this shrimp stir fry make the most of the subtle flavor of Longjing tea (Flickr user Carlos Rivera)
The most famous restaurant serving Zhejiang food also takes its name from the tea. Dragon Well Manor in Hangzhou serves a menu of locally sourced ingredients that are cooked fresh with no additives, inspired by the ideals of the Slow Food movement. The restaurant received a surge in attention after acclaimed food writer Fuchsia Dunlop wrote about it for The New Yorker in 2008. It is well worth a visit for anyone who happens to find themselves in Hangzhou, although, be warned, you may not find the prices so appealing!
Robynne lives in Beijing, having moved there from the UK in 2011. During the day she is the food and dining editor for a local expat magazine and at night she can be found all over town searching out the most interesting restaurants.
twitter.com/gongbaobeijing
instagram.com/gongbaobeijing

You may also like: