Khayaal Festival Day 2 - A New Era of Filmmaking in Pakistan
Written by: Mashal Imran Sadiq
Posted on: December 02, 2015 |

Comments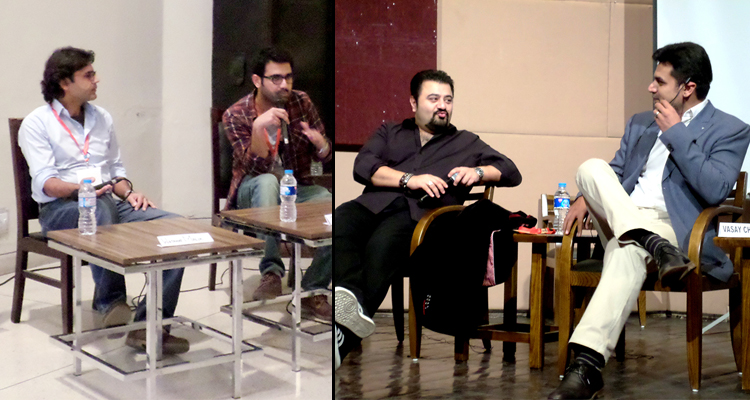 (l-r) Wajahat Malik, Jawad Sharif, Ahmed Ali Butt and Vasay Chaudhry
The Khayaal Festival, through houseful auditoriums led by star-studded panels, managed to achieve a great deal in a short span of two days. Not only did the variety of sessions inspire a rethinking of established conventions by featuring celebrities who have set new standards of excellence in their respective fields, but they also inculcated a sense of pride in the audiences by showcasing the very best of Pakistani culture. The collective moral of this event can be encapsulated by a realization amongst the public that groundbreaking levels of brilliance in fields as diverse as politics, art, dance, music, filmmaking and literature can truly and certainly be met, as long as Pakistanis learn to replace the feeling of victimized passivity to circumstances with a more proactive sense of optimism and determination.
With respect to the realm of filmmaking, the highlights of Day 2 included the screening of Lara Lee's acclaimed documentary, 'K2 & the Invisible Footmen', and later, a discussion with the team behind Pakistan's highest grossing film of all time, 'Jawani Phir Nahin Aani'.
A packed audience witnessed the snow-capped peaks of K2 in utter amazement in Alhamra's Lower Art Gallery, as the spellbinding documentary took them through the highs and lows of trekking in the northern areas of Pakistan. Jawad Sharif, who had spent nearly a year-and-a-half editing this project, shared the overwhelming experience of being associated with such a brilliant piece of art, in a memorable session moderated by Wajahat Malik. Aptly dedicated to Amir Mehdi, the high-altitude porter who lost his toes to frostbite as he accompanied the first completed ascent to K2 in 1954, the documentary sheds light on the plethora of daily problems governing the lives of the local porters, such as a lack of proper equipment, high exposure to extreme temperatures, and short life spans due to the harshness of their routines. With several mouths to feed, these men need to find ways to make ends meet even when they remain essentially jobless following the end of the mountain season in August each year.
Sharif faced many obstacles in the making of this ambitious project, such as the absolute incompatibility of harsh external conditions and the delicate care required to upkeep top-notch technical equipment such as cameras and batteries. The subject matter embodied another struggle altogether; Sharif humorously recalled how deeply accustomed the porters had become to their almost robotic lives. In his attempts to interview these men, Sharif would find himself treading on their carefully laid out plans for the day, which was why he became used to being brushed aside or ignored as these creatures of the mountain would briskly march up and onward.
In response to the praise lavished upon his work by the audience in the room, Sharif acknowledged how 'K2 & The Invisible Footmen' had surpassed his expectations by winning the 'Best Film' Award at several national and international forums, including the Rio Film Festival. However, he believes such accolades mean nothing if he is unable to achieve his primary goal. While paying tribute to these heroes for their courage and perseverance, he wants to simultaneously raise awareness about the reality of life on the mountains, and pave the way for a solution to the ongoing struggles faced by porters every day.
On the opposite end of the spectrum, 'Jawani Phir Nahin Aani' has won the hearts of viewers for being proudly and explicitly commercial in its content, direction and acting. Starring some of the biggest names in the industry, this blockbuster follows the side-splitting escapades of four men (Humayun Saeed, Ahmed Ali Butt, Hamza Ali Abbasi and Vasay Chaudhry) across Bangkok and Karachi, as they attempt to reconcile their differences with the women in their lives. With gross earnings totaling over 40 crores, this film has surpassed the 17-year long record held by Choorian, released back in 1999. In a thoroughly entertaining talk complemented by a serious discussion on the harsh realities of the media industry, Ahmed Ali Butt and Vasay Chaudhry used their fifteen-year long friendship to strike up unmatchable chemistry and dynamism as they addressed a hall full of people. Vasay Chaudhry instantly drew in hoards of applause as he remarked, "I believe the Pakistani film industry should not have to wait another 17 years before the box office record for the highest grossing film is surpassed. It should happen and will happen within the next two years!"
As they addressed controversies attached to the film and the problems faced during its making, the two experienced artists commented on the flawed mentality of Pakistanis regarding an inability to accept, and be proud of, what is truly theirs. With allegations equating JPNA to Indian cinema for being "a formula film with five songs and three action scenes, just like any Indian film", Vasay Chaudhry gave examples from the past, making the audience question why Waheed Murad, Pakistan's quintessential "chocolate hero" was never accused of betraying local cinema, even though his films featured use of the same "formula". He added that what the public should instead focus on is the way JPNA left no stone unturned in guaranteeing the best quality of editing and cinematography – recurring problems in films that are produced and edited at home.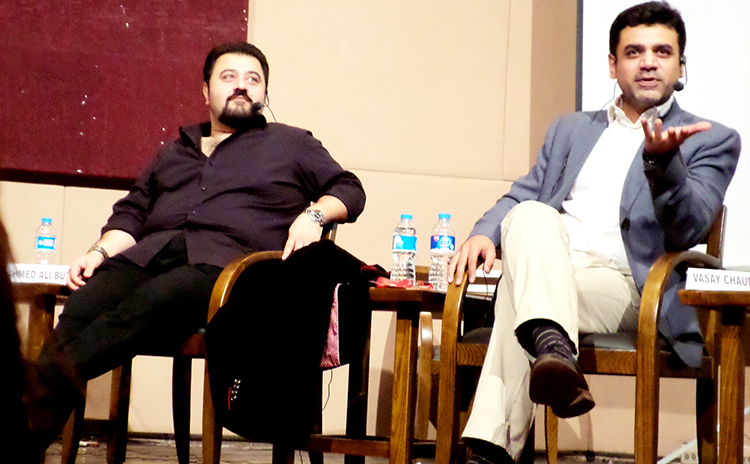 Ahmed Ali Butt furthered the discussion by highlighting the key difference between Pakistani and Indian cinema, namely the inherent tension between commercial and parallel cinema in the former as opposed to the latter. While low-budget films such as Shah, Moor and Karachi Se Lahore have succeeded in speaking to certain audiences, Butt believes that indie cinema will always remain under threat as long as cinema owners hold a monopoly over the industry and decide the number of openings given to each film.
Addressing the youth in the audience, Butt and Chaudhry commented on a key deficiency hindering the progress of the Pakistani film industry: the inefficient representation of what this brand of cinema truly entails in formal education. Narrating his own short experience teaching scriptwriting to students of Beaconhouse National University (BNU), Chaudhry shared his utter disappointment with the ignorance of the young generation regarding true gems produced by Lollywood in the past, such as Rangeela. For him, the biggest misconception is held by those who believe that owning top-quality cameras and equipment guarantees good direction. "Making it big in this industry works according to the "no pain, no gain" principle", said Butt. "I made minimal money for the first fifteen years of my career, until I finally found my niche". Both veterans, along with certain vocal members of the audience, advised young filmmaking students to prepare to take up internships and unpaid ventures before they found an opportunity to truly shine.
Taking 'K2 & the Invisible Footmen' and 'Jawani Phir Nahin Aani' in tandem, it is evident that Pakistani filmmaking ventures are touching new heights of success, thanks to their focus on direction, story, and cinematography. By providing a platform for the public to interact with the people behind these brilliant projects, Khayaal has reinforced the importance of maintaining this upward trend in cinema, and has shown how it is possible to create films that can proudly compete on an international scale.
RELATED ARTICLES:
You may also like: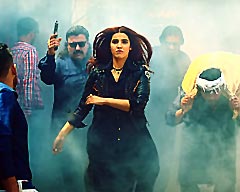 Film Review: Parchi
(January 08, 2018)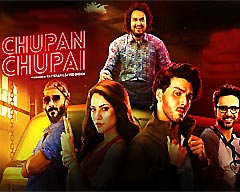 Film Review: Chupan Chupai - A Comedy of Literal Errors
(January 03, 2018)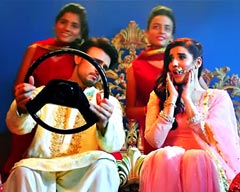 Parchi: Redefining Music Videos
(January 01, 2018)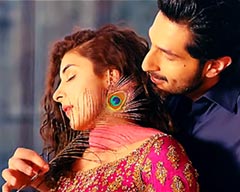 Film Review: Rangreza
(December 26, 2017)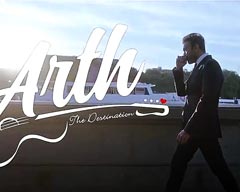 Film Review: Arth - The Destination
(December 22, 2017)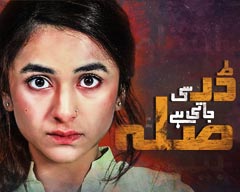 Drama Review: Dar Si Jati Hai Sila
(November 20, 2017)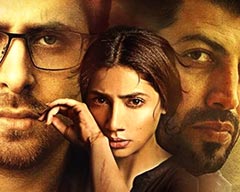 Film Review Verna: hell hath no fury as a woman scorned
(November 19, 2017)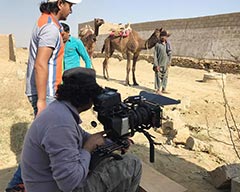 Farhan Alam: Director of 'Saawan', Pakistan's Nomination for the Oscars
(September 28, 2017)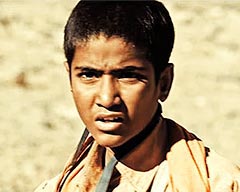 Film Review: Saawan
(September 19, 2017)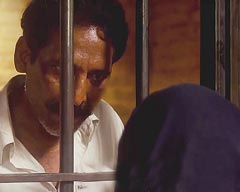 Film Review: My Pure Land
(September 18, 2017)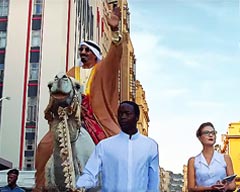 Film Review: Na Maloom Afraad 2 - Forgettable, If Not a Complete Failure
(September 05, 2017)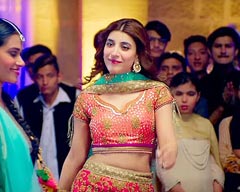 Film Review: Punjab Nahi Jaungi
(September 03, 2017)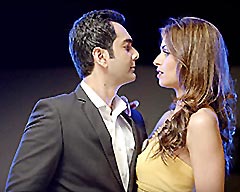 Film Review: 'Chain Aye Na,' - What true love is not!
(August 17, 2017)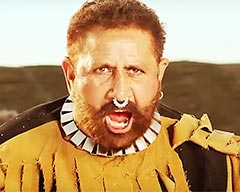 Film Review: Geo Sar Utha Kay
(August 15, 2017)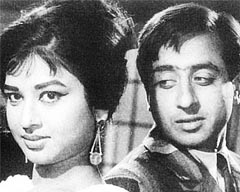 70 Years of Changing Tides in Pakistani Cinema
(August 01, 2017)