Dara - Narrating History Through Theatre
Written by: Salma Chaudhry - Posted on: April 10, 2014 |

Comments
Google Translation: اُردو | 中文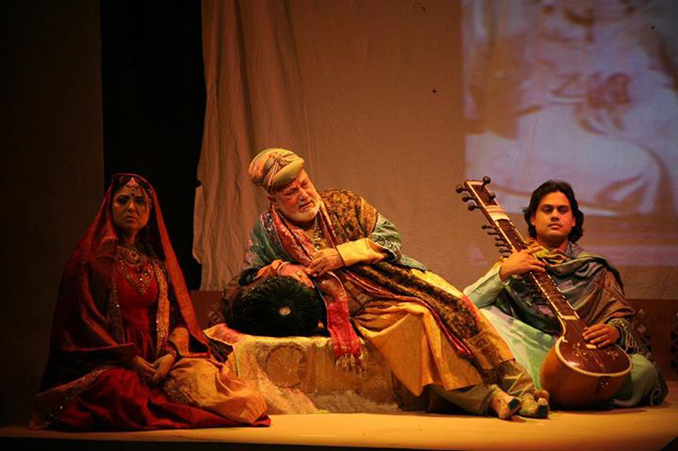 Emotive. Thought provoking. Wacky. Mesmerizing. All of these words could be used to describe Ajoka's wonderful plays that always come with a message for contemporary times. Dara, although a historical narrative of two Mughal princes, seems completely relevant to present-day Pakistan struggling with intolerance and hatred. Theatre often depicts our past; there are plays that take a jab at society's irrationality, theatre that makes us discern calamities and dramas that help us contemplate and mull over the rapidly shifting moral paradigm of contemporary society. Dara does this all with a heartrending blend of these various tinges that make people reflect on present-day circumstances by deriving lessons from history.
The play began with a rendition of Amir Khusro's enthralling poetry 'Aaj rang hai' set to a scene of veiled men and women mourning over someone's death. The first scene then opens to show Shah Jahan (Asim Bukhari) imprisoned in the Shah Burj of the Agra Fort, and the last few years of his life are skillfully depcited. Though he is permitted all comforts in the penitentiary and is in the company of his beloved daughter Jahanara Begum (Tahira Imam), in reality he is reduced to nothing but an imprisoned ex-emperor snubbed by the actions of his son Aurangzeb (Naseem Abbas). A discussion ensues between the ex-emperor and his daughter where Shah Jahan mourns over Aurangzeb's treatment of his brothers, especially Dara (Kamran Mujahid) who has also been incarcerated. The feeble ruler, having lost control over his empire struggles with the rival forces of his affection for his children and the grief of having lost his empire at the hands of his own son. Beautiful dance sequences illustrate the art and customs ubiquitous in those times.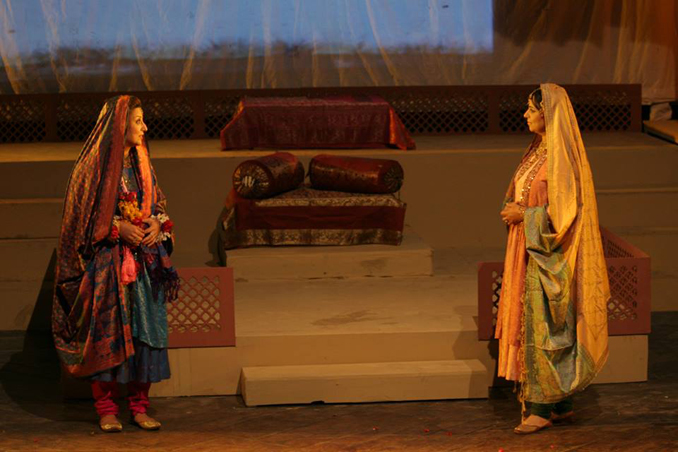 The play reveals Dara's story as opposed to the popular and exaggerated version of history usually taught in our text books, where Aurangzeb is depicted as a great ruler with unmatched humility. The play is a classic which illustrates the dynastic war between the Mughal princes to acquaint the audience with an ethical and forbearing metaphor about tolerance, empathy and the need for harmony amongst the various people of the sub-continent.
Esteemed by the people of Delhi, it is through its very avenues that Dara is paraded after his arrest. People greet him like an emperor despite the utmost efforts of Aurangzeb to humiliate his older brother. Dara Shikoh was the eldest son of Shah Jehan, and had a very special place in the hearts of the people of Delhi, loved by Hindus, Muslims and Sikhs alike, as portrayed beautifully in the play. He was popularly known as Shah Dara, the legal successor to the Mughal throne. A man of immense knowledge and research, Dara was inclined towards Sufism and negated the unyielding fundamentalism, focusing his energy on finding commonalities in all religions leading to the oneness of the people. The play cleverly illustrates how Aurangzeb and a few of his associates used religion to mark out Dara as an infidel, leveling skewed charges against Dara to have him executed. But although Aurangzeb is successful in his evil enterprise, it is Dara's bequest that shines through the past.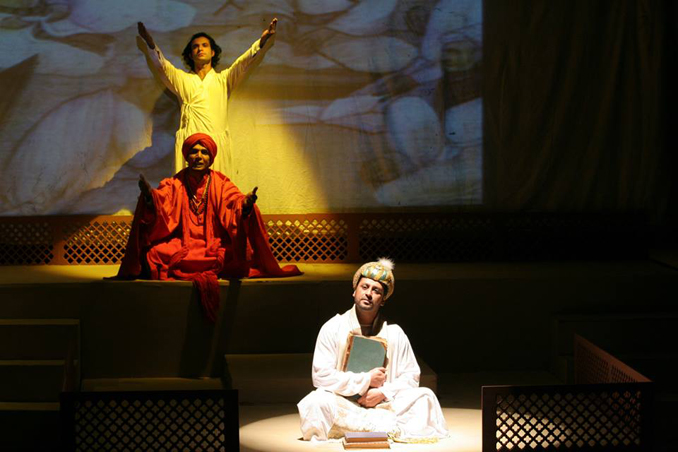 Dara is a tale with larger than life characters performed impeccably on stage, enclosing agonizing yet beautiful truths. The thrill lies in discovering the implicit message without the characters explicitly pointing it out. Sarmad, the Sufi saint who was Dara's spiritual mentor and inspiration, played by Nirvan Nadeem, stole the show with his enchanting performance. The play was sponsored by the Jahan Ara Memorial Trust and the audience included people from all walks of life. It was written by Shahid Nadeem and included live classical music and qawwali that pulled the audience right in from the very beginning. The set was ingeniously simple and plausible at the same time, and the use of lighting was perfect, making for a stimulating ambiance.
The play was indeed a brilliant effort on part of Ajoka theatre to bring back to life a forgotten, progressive and tolerant prince, whose message of peace, tolerance and harmony is needed the most in these times when our society is plagued with religious bigotry, abhorrence and prejudice.
You may also like: