Master Chef Walled City - Khaba Ustad 2014
Written by: Salma Chaudhry - Posted on: May 02, 2014 |

Comments
Google Translation: اُردو | 中文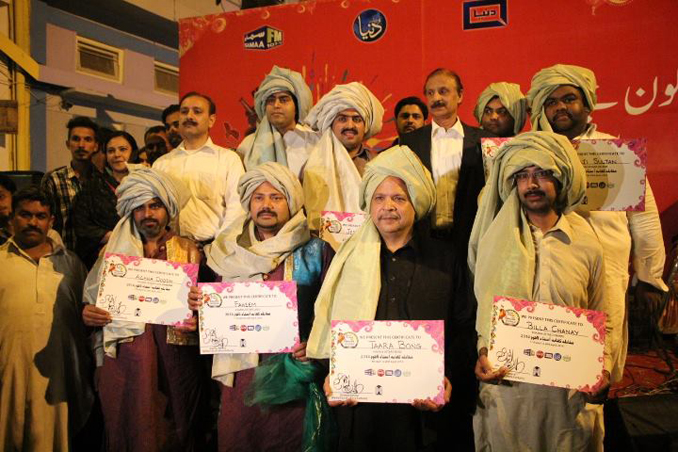 Kamran Lashari with the participants of Kaun Banega Khaba Ustad
With time Pakistani and, most significantly, Lahori food has undergone a makeover. We've hailed other food quite happily but have artfully tweaked these to go well with our tastes also. When it comes to influences, the desi Lahori cuisine is inspired by the culinary artisans from our very own androon shehr (the walled city); these guys still proudly present the true Lahori food which depicts the finely-honed craft that the city has cherished for centuries.
Lahoris typically have affluent traditions that entail food – in fact a lot of food. If you're a Lahori (or even if you're not, you'd probably know someone who is), your life will mostly just be about khaba (the desi word we have for lots of appetizing food). Lahoris love their love for food and that's precisely the reason celebrations here are usually synonymous with eating out in this vibrant and lively city. It can occasion of happiness or of sorrow, it generally doesn't matter because food is involved in almost everything in one way or the other. This love for food is not new; it has existed in the people of this historical city for hundreds of years. The walled city is famous for its wonderful food; the style is fundamentally special, yet so delicately accustomed to the taste of people, that all the restaurants do pretty well. These places offer cuisine ranging from Desi Perre Wali Lassi to the yummiest Haleem and Nihari.

Sheikh Ji Haleem Wale Taara Bong
With the expansion of the city and new places opening up in Gulberg and Defence, the age-old restaurants, though still popular for their unique taste, have lost their customers to these posh areas. The Walled City of Lahore Authority has been working hard to bring back to life the true Lahori spirit through various initiatives and Kaun Bane Ga Khaba Ustaad 2014 or Master Chef Androon Lahore, was one of them. The idea was to bring all these great chefs from androon shehr to one place where people could come and enjoy these delicious food items under one roof. The event took place at the Food Street in Lahore and continued for 10 days.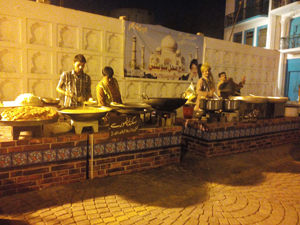 A nice food court set up for people to hang out with friends and family to enjoy a lazy evening was just perfect for food enthusiasts. The Halwa Poori stall of the Taj Mehal Sweets from Heera Mandi Chowk was abuzz with youngsters trying to grab a bite of their scrumptious poori chanay. The vendors at the stall had decorated it with stunning pictures of the famous Taj, adding an edgy flavor to the ambience. With its line-up of assorted cuisines, the food court had become the most happening spot at the Food Street. The master chefs were using every ploy in the book of delightful cuisine to beguile as many foodies as possible.
Haji Sb Haleem Wale from Bhatti Gate was dishing out his famous Haleem at another stall to entice guests. Their tongue-tickling Haleem is one of the finest this city has to offer. Contending for the interest of lassi lovers were Jeda Lassi Wala presenting Meethi Lassi from Gumti Bazaar and Faheem from Delhi Gate with his luscious Chati ki Lassi. If siri paye is cooked anywhere in a conventional way and with supreme technique, it has to be at Phajja Siri Paye Wala from Heera Mandi Chowk. The taste of their siri paye is inimitable and it was no wonder the stall attracted quite a number of people. People could be seen enjoying the delicacy despite getting their fingers glued together due to the gumminess of the gravy or shorba. Siri Paye are considered raw and uncooked without this particular stickiness. Other stalls included chefs from all gates of the walled city: Tara Bong from Gumti Bazaar, Achha Doodh Wala from Bhatti Gate and Billa Chanay Wala from Delhi Gate are just some of the names.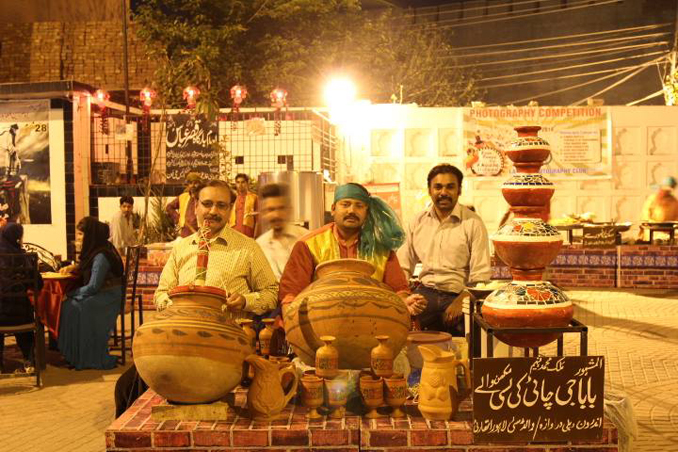 Chati ki Lassi
After a close competition, Taj Mehal Sweets and Phajja Siri Paye were declared the winners of the contest. The event ended with a musical evening which included lively recitals ranging from leisurely, pensive tunes to rapid and a thoroughly exhilarating prosaic interplay of melodies. The closing was attended by Director WCLA Kamran Lashari who distributed certificates amongst the participants of the contest.
The WCLA had also organised an art and crafts exhibition at the venue, with numerous craftsmen participating from all over Lahore – traditional khussa makers, choori walas (bangle makers), potters, fortune-tellers, and wood carvers were all showcasing their masterpieces and skill, adding a magnificent aroma to the overall atmosphere. The event was indeed a great effort on part of the organizers to revive the culture of androon Lahore as the visitors not only got a taste of the city's history and civilization through the assortment of themes the stalls had espoused, but also got a chance to savor the unusual and true Lahori Khaba.
You may also like: