Asim Butt - Remembering the 'Rebel Angel'
Written by: Amna Javed
Posted on: April 01, 2015 |

Comments | 中文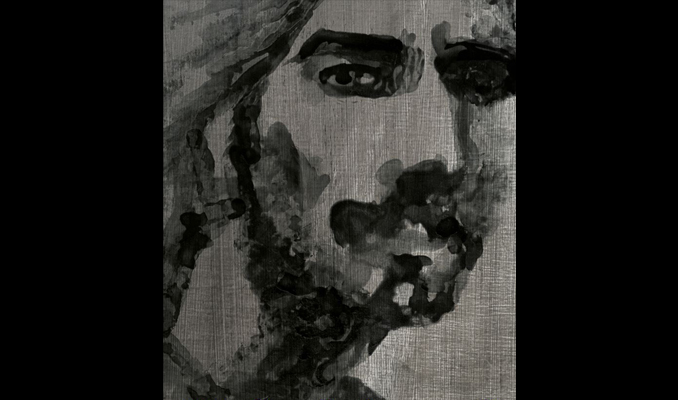 Asim Butt - The Rebel Angel
Khaas Gallery, on Wednesday, hosted the launch of Asim's monograph, 'The Rebel Angel', in Islamabad. Rebel Angel is a monograph based on the artworks of the late painter, graffiti artist, activist and muralist Asim Butt.
Prior to the discussion, the event featured a video depicting the artist's journey around the country for his street art as well as his views and contemplations in relation to art, religion, politics and humanity. The video clips had been taken from Adrian Fisk's documentation of Asim Butt's journey of political graffiti through Pakistan.
Butt's mother, Amna Zahid briefly commented on the monograph, which celebrates her son's contribution to the world of contemporary art. "The book is entirely family funded, and all book sales will be donated to 'Asim Butt Trust', which is dedicated to helping the underprivileged, particularly in the fields of health and education," she said.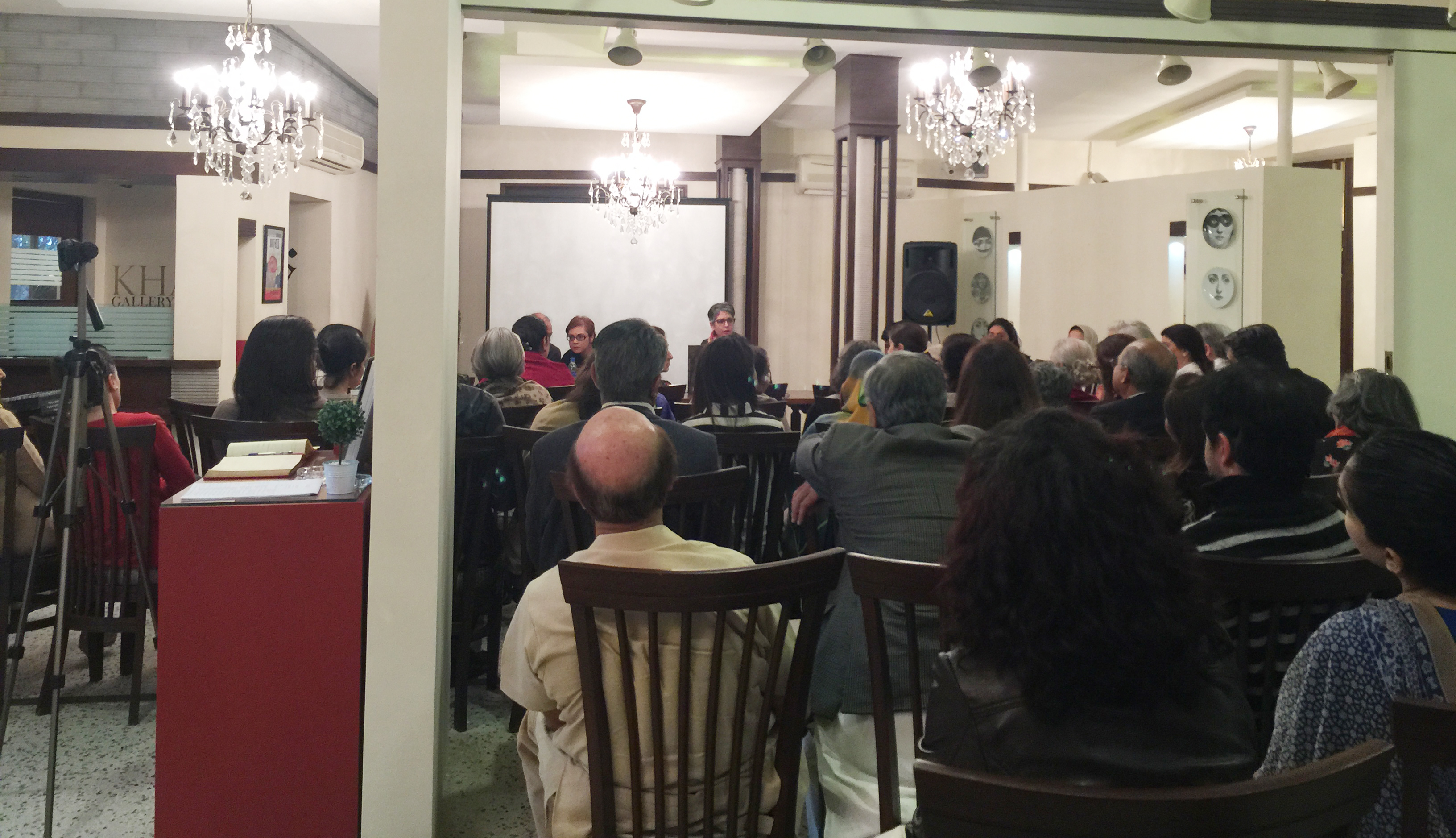 Monograph based on Asim Butt's artworks was launched before a packed hall, here at Khaas Art gallery, Islamabad
This was followed by a panel discussion on Asim Butt's works and life by art critics and friends Aasim Akhtar, Nafisa Rizvi and Sheherbano Hussain. Aasim Akhtar spoke, in great detail, about how their camaraderie grew with the passage of time. He talked about his interactions with Butt, their student-teacher relationship and his critique of Asim's artwork. To sum up his musings, Akhtar read out a three-page letter that Asim Butt had written to honor him once the term at college ended.
Sheherbano Hussain, a fellow artist as well as a close of friend of Asim, said, "He made his work subversive; Asim went against the grain when he painted." Hussain deliberated on how Asim got himself into trouble for painting on the streets, but remained undeterred by it. She also shared details of Stuckism (an International Art Movement) and how Asim founded the Karachi Stuckist Group.
Art critic, Nafisa Rizvi, (who also edited the book) elucidated how she felt that it was important to document Asim's work for the generations to come and for them to discover his art. Unlike the artists of today, who work nine-to-five, Asim's artwork meant everything to him. "He [Asim] always expressed a desire to read and learn more. The fact was that he had read and learnt more than most people he knew. This self doubt is what reflected in him as humility," added Rizvi.
Friends, colleagues and family, who had gathered to celebrate the late artist, expressed that it is hard to imagine what feats he would have achieved in the world of art, had he not died at such a young age of 32.
You may also like: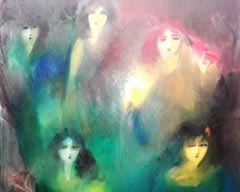 Art Review: Raja Changez Sultan at Tanzara Gallery
(January 19, 2018)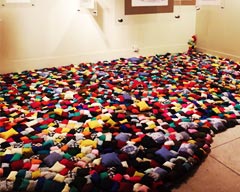 NCA Rawalpindi Degree Show 2017
(January 17, 2018)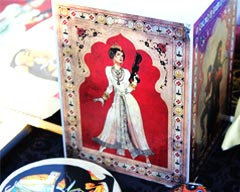 Winter Fete, Islamabad
(January 09, 2018)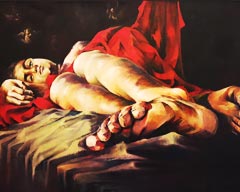 Review: 9th National Exhibition at PNCA
(January 02, 2018)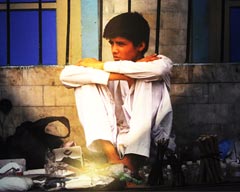 Yeh Hai Karachi 2: Photography and Film Exhibition
(December 20, 2017)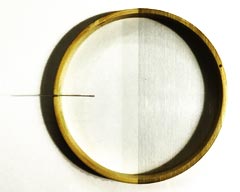 Art Review: Reading Between the Lines at Sanat Initiative, Karachi
(December 05, 2017)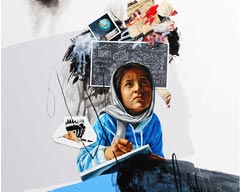 Art Review: The Onrushing 2 at Gallery 6, Islamabad
(December 04, 2017)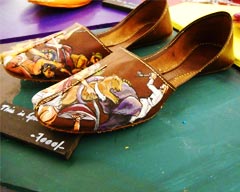 Daachi Arts and Crafts Exhibition 2017
(November 13, 2017)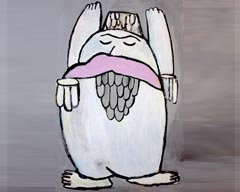 Art Review: 'Loompaland' at Studio Seven, Karachi
(November 09, 2017)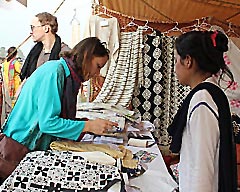 The Behbud Bazaar, Islamabad
(November 07, 2017)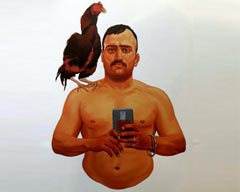 The Karachi Biennale 2017 (KB17)
(October 27, 2017)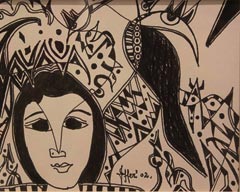 Wahab Jaffer Exhibition Opens at Tanzara Gallery, Islamabad
(October 20, 2017)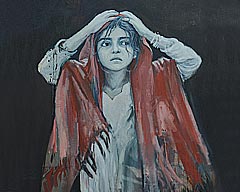 Art Review: Socio-Domestic at O Art Space, Lahore
(October 11, 2017)