The Lahore Literary Festival Comes to New York
Written by: Mehr Khan Williams
Posted on: May 10, 2016 |

Comments | 中文
The organizing committee (L-R): Nusrat Jamil, Ahmed Rashid, Anila Salman Shah, Dr Maleeha Lodhi and Razi Ahmed (CEO and Founder of LLF) (photo: Javaria Inam)
The vibrancy, color and cultural diversity of Lahore came to New York for two days over this Spring weekend at the Asia Society, the premier American institution which promotes a deeper cultural understanding and partnership between the United States and Asia.
In a burst of dance, music, literary and policy discussions, the Lahore Literary Festival event in New York sought to showcase an image of Pakistan as a complex society with pluralistic values and an ancient and rich literary and intellectual tradition. A tradition that is alive and thriving in Pakistan today. An image which reflects the very real aspirations and lives of Pakistanis but one which is seldom reflected in news coverage in the United States, where Pakistan is often associated with terrorism and Islamic fundamentalism.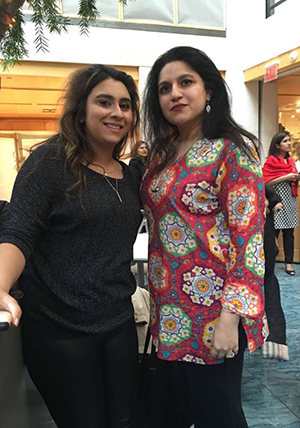 Rafia Zakaria with a guest (photo: Zeba Hyder)
Amidst all of the stimulating discussions and the joy of listening to great poetry and stirring music, both modern and devotional, there was also a moment of silence to honor the Pakistani human rights activist Khurram Zaki who was killed in Karachi on Sunday, when four men on two motorbikes sprayed Zaki with bullets as he was lunching with a friend at a road side cafe.
It was a solemn reminder of the backdrop against which many of the artists and activists work and live. And of the thousands of people across Pakistan who have flocked to the Lahore Literary Festival (LLF) and cultural events elsewhere in the country, hungry to connect or reconnect with their traditions, and to make sense of events currently shaping the future of their country.
According to its founder Razi Ahmed, this was the first time that the LLF, established four years ago in Lahore, has travelled outside South Asia. And, as Pakistan's Permanent Representative to the United Nations in New York, Dr Maleeha Lodhi put it, what better place for it to come to first then New York, a city rich in cultural diversity and one that never sleeps. She said Lahore was similarly a very vibrant and culturally rich city that never sleeps. Ambassador Lodhi played an important role in bringing the LLF to New York.
The two-day event, a partnership between the Asia Society and the LLF, was a great success. It was sold out within a couple of days of being announced and the 270 seat auditorium in the Asia Society was packed to capacity in the final event, when the Saami Brothers filled the space with beautiful devotional music from the Sufi traditions of Pakistan. The crowd, many of them young people who were either born in America or had lived here most of their lives, clapped and sang along with the Saami Brothers.
The Asia Society live streamed the event over their website and so it reached many others who could not get tickets to the festival.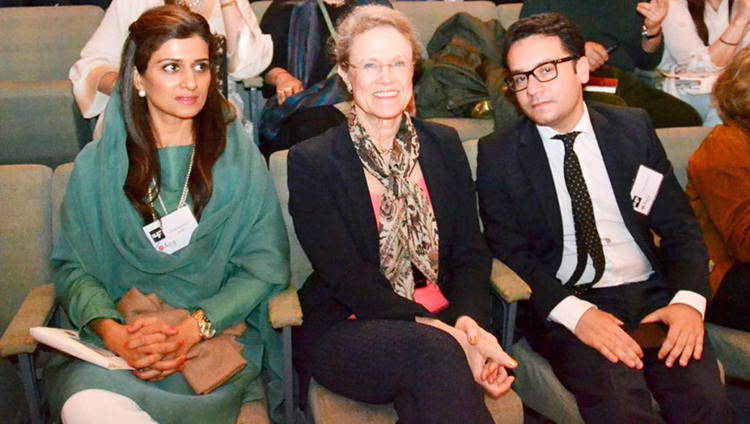 Hina Rabbani Khar, Robin Raphel and Razi Ahmed (photo: Javaria Inam)
The LLF at the Asia Society presented some of the most dynamic and promising voices from Pakistan, and the Pakistani diaspora mostly in the United States. Among the speakers were Bilal Tanweer, Rafia Zakaria, Ahmed Rashid, Syed Babar Ali, Salima Hashmi, Amna Nawaz, Tasneem Zehra Hussain, Sarmad Khoosat, Manan Ahmed, Tahira Naqvi, Bapsi Sidhwa, Hina Rabbani Khar, Amin Jaffer, and Salman Toor.
A number of key American commentators on Pakistan including author Stephen Cohen, Hugh Eakin senior editor at the New York Review of Books, New York Times correspondent, Roger Cohen and Francis Pritchett, Professor of languages at Columbia University also participated.
The festival opened with a dance performance by Ammr Vandal against a backdrop of street life on a screen and followed by innovative songs by Zeb Bangash, and her creative band from Brooklyn. The music was Pakistani rendered in many languages and the band played on diverse instruments including the harpsichord. It concluded with the Qav'vali performance by the Saami brothers.
Rachel Cooper, Zeba Hyder, Mehr Khan Williams (author), Dr Azra Raza, Dr Maleeha Lodhi, Marina Shaukat Fareed, a guest, and Mrs Nazli Javed Husain (photo: Javaria Inam)
Before the start of the sessions on Day 2, Azra Raza accepted the Lifetime Achievement award on behalf of Sara Suleri who could not travel to the conference.
One of the most interesting sessions was on "Urdu Literature— Binding South Asia" with Tahira Naqvi, who spoke of the ground-breaking work of Ismat Chughtai, Frances Pritchett who spoke of Ghalib and his poetry and Arfa Sayeda Zehra who spoke in Urdu and reminded the audience of the relevance today of the work of Saadat Hasan Manto. The session was moderated by Dr. Azra Raza, who urged the audience to re-acquaint themselves with some of the best literature in the world produced in Urdu and now also available in English. In this session, Arfa Sayeda Zehra's contribution received a standing ovation.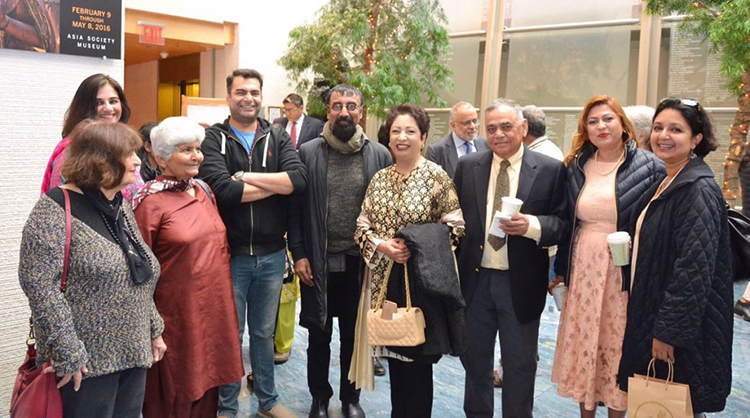 Arfa Zehra, Sarmad Khoosat and Dr. Maleeha Lodhi (photo: Javaria Inam)
Rachel Cooper, the Asia Society's Director of Global Performing Arts and Special Cultural Initiatives, went to Lahore to participate in the LLF in its home setting and arranged to bring the LLF to New York. She said that the LLF and the Asia Society shared the same goals of deepening the understanding of contemporary society by examining the questions that shape and inspire us through dialogue and cultural exchanges. She said this festival of ideas was helping to build bridges and create a nuanced understanding between people. It will continue to be held annually in New York for a period of three years.
Click to view related video
You may also like: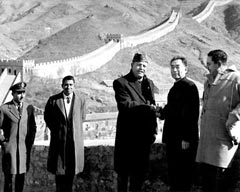 From People to People, Pakistan-China Relations since 1965
(December 12, 2017)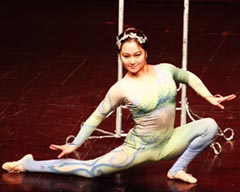 Rhythm of Liaohai Gala at PNCA, Islamabad
(December 08, 2017)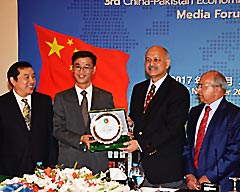 3rd CPEC Media Forum, Islamabad
(November 28, 2017)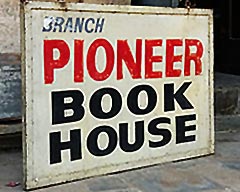 Pioneer Book House, Karachi
(November 24, 2017)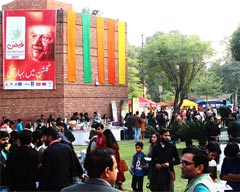 Faiz International Festival 2017
(November 22, 2017)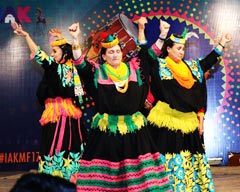 Lok Mela comes to Karachi
(November 17, 2017)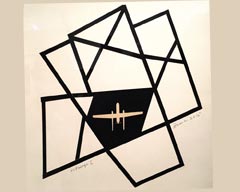 Writing Partition in Urdu
NYU's Urdu Conference
(October 13, 2017)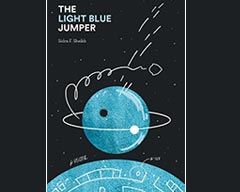 Book Review: The Light Blue Jumper by Sidra F. Sheikh (First Pakistani science fiction novel)
(October 02, 2017)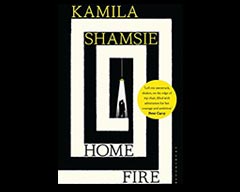 Book Review: Home Fire by Kamila Shamsie
(September 07, 2017)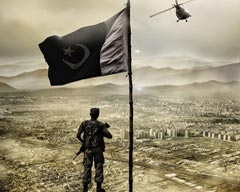 Pakistan's Armed Forces face challenges in 2017 with a New Confidence
(September 05, 2017)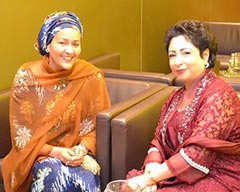 August 14 celebrations at the UN with the Sachal Orchestra
(August 15, 2017)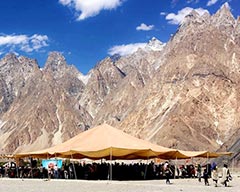 FACE Mela 2017, Passu
(August 10, 2017)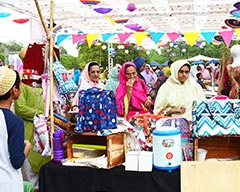 The Bohra Bazaar, Karachi
(August 07, 2017)