Farhan Alam: Director of 'Saawan', Pakistan's Nomination for the Oscars
Written by: Aiman Javed
Posted on: September 28, 2017 |

Comments | 中文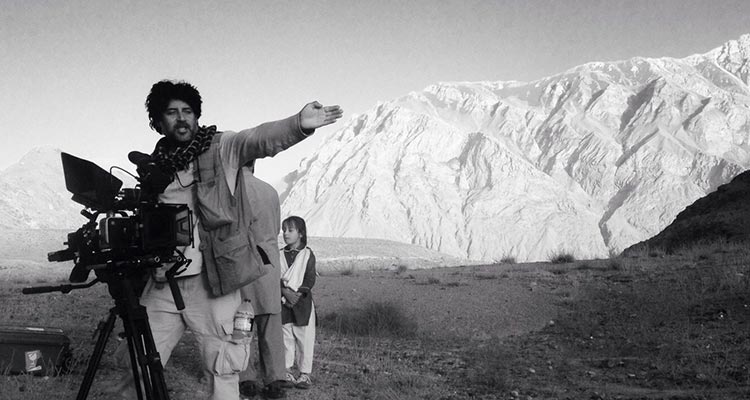 Farhan Alam shooting Saawan in Skardu
1. We know your work as a cinematographer (drama serial Daastan and film Bin Roye), but the film Saawan happens to be your first directorial venture that we know of. Where did it all begin?
It began very early for me. My father was one of the top cameramen in Pakistan, and watching him work inspired me to follow in his footsteps.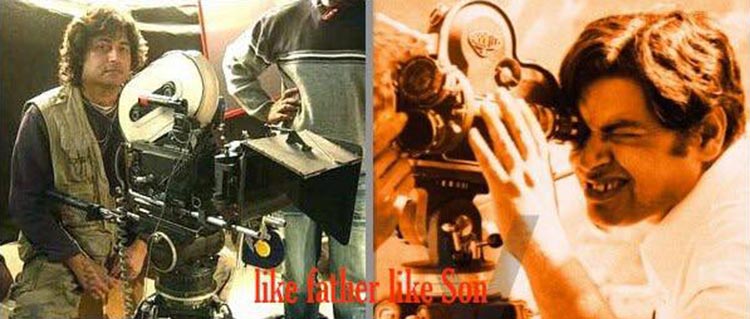 Farhan Alam and his father, Shah Alam
2. How and why did you become a film director? Describe your journey from television to film.
I began my journey at the bottom and took any job I could get; be it gaffer, assistant cameraman, sound engineer, production assistant or simply driving cast & crew around. This is a difficult field of employment, and no job is too small.
3. Where and what did you study? Do you believe this has contributed to your work?
I studied film-making and television production in Los Angeles, and continue to take workshops and classes to better myself as a filmmaker. I do believe this has contributed to my work, since having a good foundation is imperative, as is the willingness to learn new techniques.
4. Anyone in your life who has inspired you as a person?
My father is a big inspiration for me. Also my wife and children, without whose love and support, I wouldn't be here today, doing what I love.
5. Your favorite project from your past ventures?
That's like asking who my favorite child is. But if I had to pick, it would be the serial Dastaan (2010). This was a period drama set during the partition of India and Pakistan. I feel that this project set me apart from other director's of photography (D.O.P.) at the time.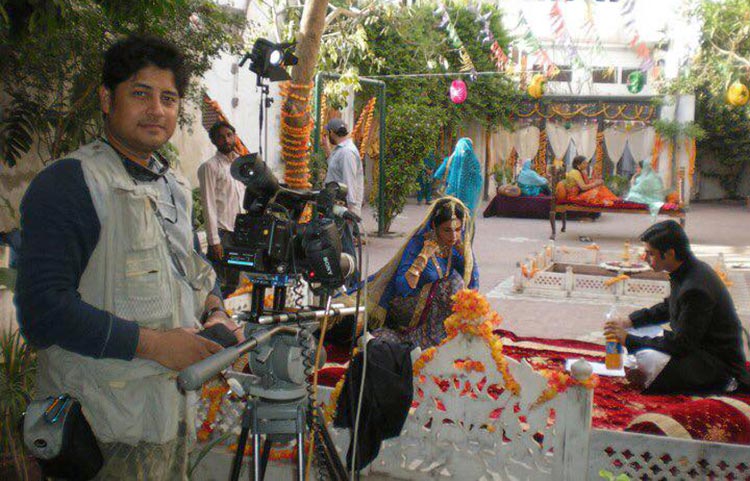 (L - R) Farhan Alam, Saba Qamar and Fawad Khan on the set of the television serial Daastan
6. How and why did you select this real life story of a disabled child and choose to make this the subject of your film Saawan?
I remember hearing this story on the news a few years back, and it was so inspiring; that a disabled girl from a remote village in Baluchistan was able to make it by herself to the city, to find her parents. I knew that this would be an excellent subject, and must be shown to the world.
7. Script is critical to the success of a film. Who wrote this and are you satisfied with it?
Yes, without a script there is no movie. Mashood Qadri, whom I met in the US, wrote the script for this movie, and I could not be happier with the result.
8. The film Saawan was initially slated for release in 2016. Why the delay?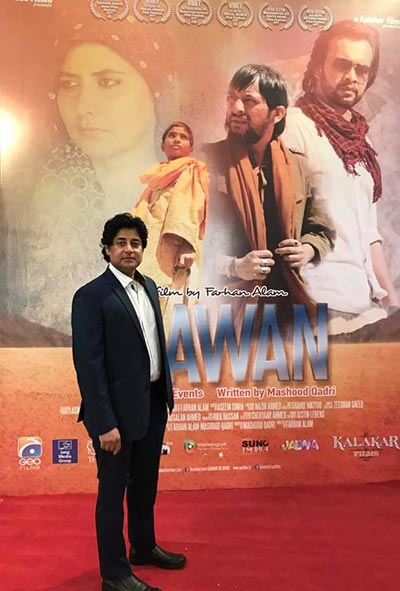 Farhan Alam at Karachi Premiere of Saawan
Mashood & I are perfectionists, and we wanted everything to be as perfect as possible, from editing to sound design. We wanted to set a new bar for film making in Pakistan.
9. How was the experience of working with the actors of Saawan?
Really wonderful! The shooting schedule was tough but all the actors were good players, who felt thoroughly involved with the movie they were making. A lot of the secondary characters in the movie are local people – not professional actors, and it was amazing to see their performances in what was their first experience of acting.
10. How was the experience of shooting Saawan in the Northern Areas of Pakistan?
Definitely more difficult than shooting a film in more popular parts of Pakistan, but it also gave me a chance to be more creative in my shooting style.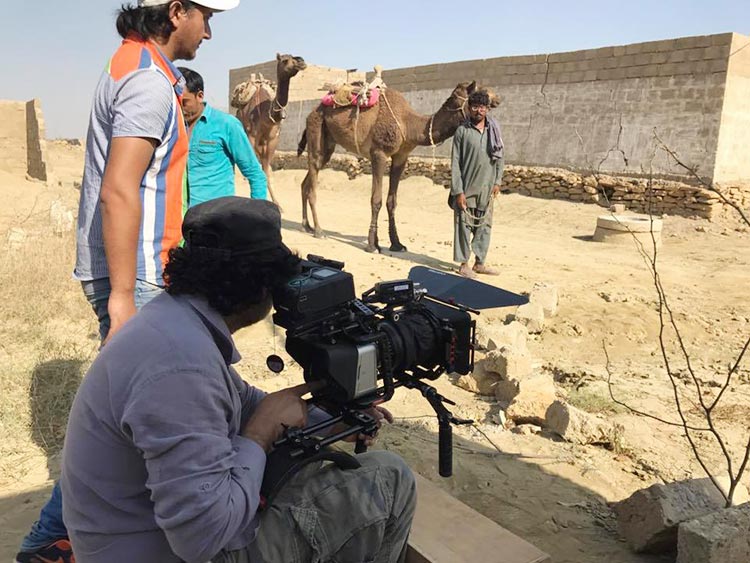 Shooting the film Saawan
11. Saawan has won numerous prestigious awards at foreign film festivals. How do you feel about this and what are your hopes for it in Pakistan?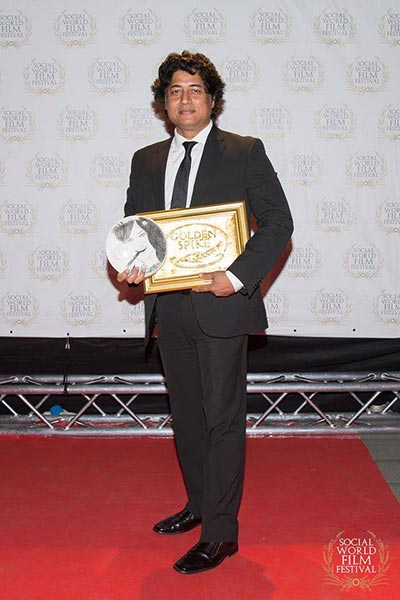 Farhan Alam with the Best Film and Best Director Award, Social World Film Festival 2017, Italy
It's an amazing feeling to get this kind of recognition at foreign film festivals. I know that this is not typical of the movies being made these days in Pakistan, but I can only hope that everyone gives the movie a chance and enjoys watching it.
12. How do you feel about representing Pakistan in the Oscar race? Do you think the film will make it to the top?'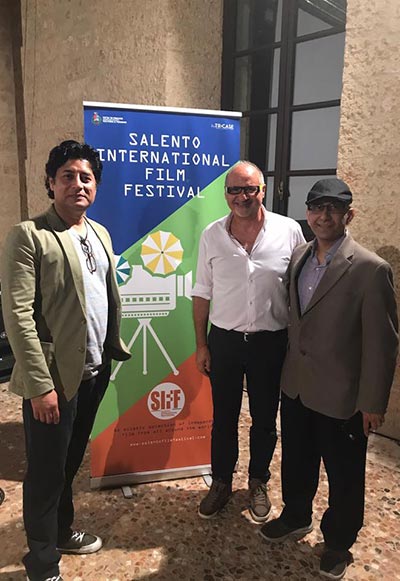 Farhan Alam and team after Saawan won the Salento International Film Festival Award for Best Film and Best Soundtrack
It's a very daunting task, but I'm ecstatic that we were selected to represent Pakistan at the 2018 Oscars. I can only hope and pray, and I ask the country to do so as well, that our film makes it to the top 5. Last year, there was a record of 85 films submitted in the Foreign Film Category, all the best movies from their respective countries. It will be a tough competition, but let's hope for the best.
13. Which director's work has inspired you?
Frank Darabont, the director of Shawshank Redemption & Green Miles.
14. What is your filmmaking philosophy?
Do you homework and get the job done.
15. What kind of subjects and themes do you wish to tackle as a film-maker? Sawaan is clearly a film on a serious subject, but do you plan on venturing into other genres?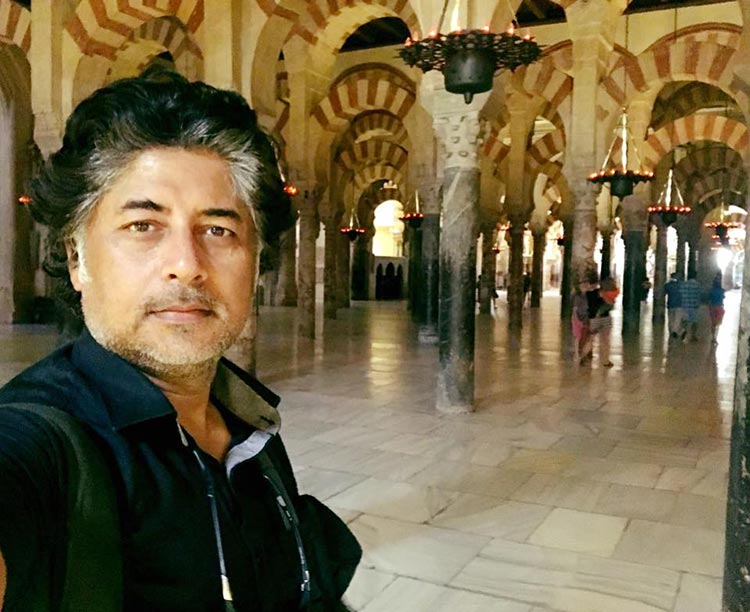 Farhan Alam in Cordoba
As a man who loves this industry, I can't wait to try all the other genres! That is how you become a more complete artist. You can't just box yourself into one category, and must be willing to take chances and make mistakes to better yourself.
16. Any other films in the pipeline? When should we expect to see these out in the cinema?
There are a few in the pipeline, in the pre-production stages, so I can't share release dates.
17. Advice for aspiring filmmakers?
Take chances, learn to take the rough with the smooth, and don't be afraid to make mistakes or ask for advice and help when you need it. No matter how much experience you have, you should be open to new ideas and new ways of creating your product, because it's a growing medium. Filmmaking is a collaborative effort, and everyone has to work together.
You may also like: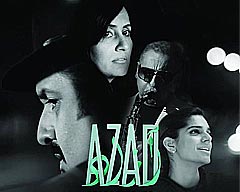 Film Review: 'Azad'
(February 14, 2018)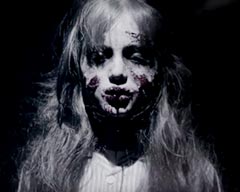 Film Review: Pari
(February 09, 2018)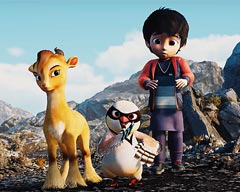 Film Review: Allahyar and the Legend of Markhor
(February 07, 2018)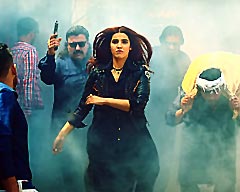 Film Review: Parchi
(January 08, 2018)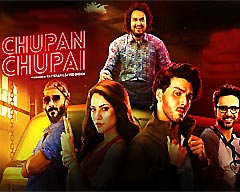 Film Review: Chupan Chupai - A Comedy of Literal Errors
(January 03, 2018)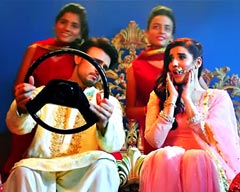 Parchi: Redefining Music Videos
(January 01, 2018)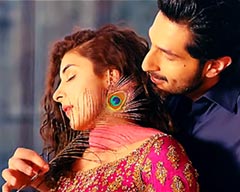 Film Review: Rangreza
(December 26, 2017)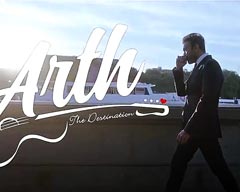 Film Review: Arth - The Destination
(December 22, 2017)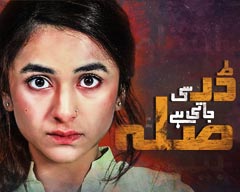 Drama Review: Dar Si Jati Hai Sila
(November 20, 2017)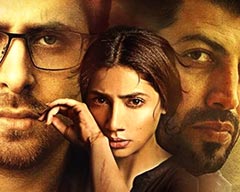 Film Review Verna: hell hath no fury as a woman scorned
(November 19, 2017)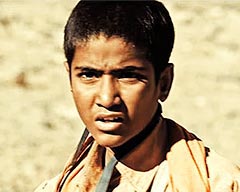 Film Review: Saawan
(September 19, 2017)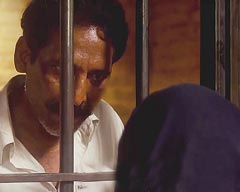 Film Review: My Pure Land
(September 18, 2017)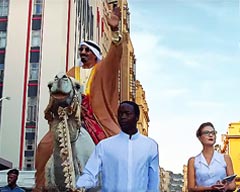 Film Review: Na Maloom Afraad 2 - Forgettable, If Not a Complete Failure
(September 05, 2017)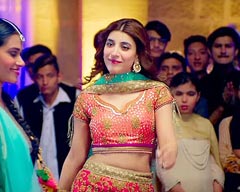 Film Review: Punjab Nahi Jaungi
(September 03, 2017)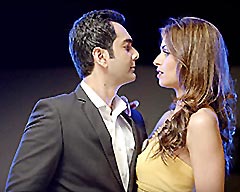 Film Review: 'Chain Aye Na,' - What true love is not!
(August 17, 2017)